USA Legal Sportsbetting Tracker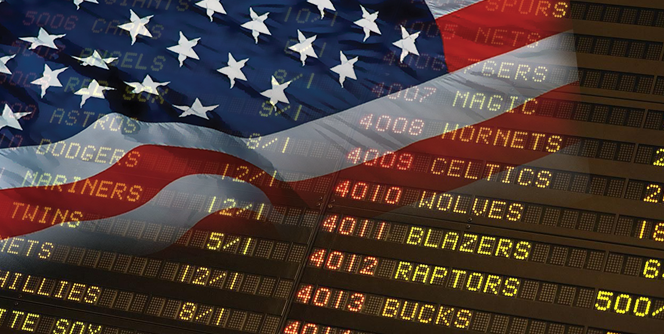 Individual states in the USA have been allowed to pass their own legislation in regards to legal sports betting – since the US Supreme Court overturned the federal ban on single-event sports wagering in 2018. The sports betting industry in the United States is evolving at a fast pace, as legislators push legislation in their respective states to boost state coffers.
Where in the United States is Sports-betting Legal?
The State of Nevada
In-person and online sports-betting services are available.
Nevada's sportsbooks have been in operation since the state legalized sports betting in 1949, making it the first state to have a legal sports betting market. However, while it is the oldest market, it is no longer the leader, as New Jersey has surpassed it in recent years.
The requirement for in-person registration at a retail sportsbook before placing bets online is one aspect of the Nevada sports betting market that is currently holding it back.
Alternatively many consumers choose to bet at trusted internationally licensed, offshore sportsbooks such as Bovada, GTBets, BetOnline, and MyBookie , which are sportsbooks which accept U.S based customers.
The State of Delaware
In-person registration for sportsbooks required.
On June 5th, 2018, Delaware became the second state in the United States to legalize sports betting (after Nevada) when single-event betting was introduced at three of the state's casinos under Title 29 of the Delaware Code. This came less than a month after the Supreme Court ruled that a federal law restricting single-event sports wagering to Nevada was unconstitutional.
Despite the fact that sports betting was legalized in Delaware early on, the state still lags behind newly established markets because there are no online sports betting options available.
The State of New Jersey
In-person and online gambling is legally available.
On June 11th, 2018, Governor Phil Murphy signed Bill 4111, allowing single-event sports betting at casinos and racetracks, making New Jersey the third state with a regulated sports betting market. On June 14th, the William Hill sportsbook accepted the state's first sports bet, which was placed by Governor Murphy himself.
In the years since, New Jersey has risen to the top of the sports betting industry, with a handle of $6,016,968,399 in 2020, easily surpassing Nevada.
read more: Legal sportsbetting in New Jersey.
Mississippi
In-person and online casino gambling in designated casinos is permitted.
Mississippi sportsbooks began accepting bets on August 1st, 2018, thanks to a sports betting ban repeal enacted in 2017 pending a favorable decision from the Supreme Court.
While in-person sports betting has been successful, the requirement that those wishing to place bets online do so in a physical sportsbook has stifled market growth.
West Virginia
In-person and online betting is legally available.
West Virginia became the fifth state to launch a regulated sports betting market on August 30th, 2018. The West Virginia Lottery Commission regulates the market, with the Hollywood Casino being the first retail sportsbook to open.
Mobile sports betting encountered a few setbacks during its initial launch, but it has been operating successfully since 2019.
New Mexico
Only in-person sportsbetting is currently legal in New Mexico.
Despite the fact that the government had yet to pass any specific sports betting legislation, New Mexico saw its first legal sports bet on October 16th, 2018. This is due to the fact that the New Mexico tribal gaming compact allows for "any or all forms of Class III Gaming." This includes sports betting and pari-mutuel wagering, according to federal regulations.
Unless the state passes sports betting legislation, we are unlikely to see any online sports betting options in New Mexico.
Pennsylvania
In-person and online legal sportsbetting are available.
The Hollywood Casino at Penn National Race Course began accepting sports bets in mid-November 2018. In 2017, the state passed legislation governing sports betting, online poker, and daily fantasy sports (DFS). The bill went into effect after the Supreme Court issued its decision in May 2018.
Pennsylvania had the third highest sports betting handle for the year in 2020, with $3,580,864,477.
Rhode Island
In-person and online legal sportsbetting are available.
Rhode Island's casinos opened their retail sportsbooks on November 26th, 2018. This came after Governor Gina Raimondo included sports betting in the state budget five months prior. With only two physical locations permitted to offer sports wagering services, the state lottery became the sports betting regulator.
The law was amended in 2019 to allow for mobile betting.
Arkansas
In person sportsbetting is legal (registration required).
Voters in the state of Arkansas legalized sports betting via a 2018 ballot initiative which allows sports-betting in casinos.
On July 1st, 2019, Arkansas became the ninth state to establish a regulated sports betting market. The Oaklawn Racing Casino Resort immediately opened the state's first sportsbook, and two more retail sportsbooks opened in the months that followed.
The state has a history of being conservative when it comes to gambling, and while some lawmakers considered online gambling, a lack of support means that legislation is unlikely to be introduced anytime soon.
New York
Only in-person; online availability is pending.
The state's first authorized sports wagers were placed on July 16th at Rivers Casino in Schenectady. This occurred six years after the state had passed legislation allowing four retail sportsbooks to start in the state. The state began to develop serious measures to establish a regulated market only following the Supreme Court verdict in 2018.
Despite the fact that the state does not yet allow online sports betting, Governor Andrew Cuomo included mobile sports betting in the state budget in April 2021. A release date has yet to be determined.
Iowa
In-person and online gambling is available.
Three months after Governor Kim Reynolds signed a sports betting bill into law (Iowa sports betting and fantasy sports bill – 13th May 2019) , Iowa sportsbooks opened on August 15th, 2019. Certain in-game prop bets on college games are prohibited under the measure, which will be regulated by the Iowa Racing Commission.
Mobile betting is permitted, however registration must be completed in person. This, however, will come to an end in 2021.
Oregon
In-person and online sportsbetting is available.
On August 27th, 2019, Oregon sportsbooks began accepting sports wagers. Interestingly, Oregon is another state where no explicit sports betting legislation was required because existing state laws allow for various forms of sports betting. As a result, the state's tribal casinos did not need to renegotiate their gaming agreement to accept sports wagers.
With the launch of the Oregon Lottery's sports betting app and website just two months later, online sports betting became a reality.
Indiana
In-person and online sportsbetting is available.
On May 8th 2019,  HB 1015 was signed into law and on September 1st, 2019, Indiana's sports betting market launched for business. Betting on professional and collegiate sports is legal, but not on high school sports or esports. Regulations also allow providers to install a geo-fence to prevent wagering at a sporting event.
The Indiana Gaming Commission oversees the sector.
New Hampshire
In-person and online sportsbetting is available.
HB480 was passed in July 2019, legalizing sports betting in New Hampshire. The state lottery is in charge of industry regulation, and while betting on college sports is legal, betting on college teams from within the state is not.
With such a small population, the fact that there is only one online service is predictable. DraftKings is the only online sportsbook, a monopoly granted when the operator promised the state 51 percent of its sportsbook earnings.
Illinois
In-person and online gambling is available in Illinois via the Sports Wagering Act.
Illinois legalized retail sports betting on March 9, 2020, and online sports betting a month later. In-person registration was required for mobile sports betting, which hampered market expansion, especially during the pandemic. Governor J.B. Pritzker, however, disregarded this requirement, allowing for online registration.
Since then, the market has only become stronger, with the state's operators raking in $509.8 million in sports betting revenue in February 2021.
Michigan
Online Sportsbetting is legal, both online and in-person.
On March 11th, 2020, two casinos in Detroit opened Michigan's first licensed sportsbooks. Governor Gretchen Whitmer signed the 'Lawful Sport Betting Act' just three months prior to the debut.
The statute permits betting on all professional and college sports, as well as internet sports wagering, which has attracted a number of operators to the local market.
Montana
Sports betting is only legally available in person.
Montana bookmakers began accepting bets on sports in March 2020. Governor Steve Bullock signed a sports betting bill in May of this year, paving the way for the launch. The state lottery regulates and runs the sports betting market, and there are no provisions for mobile betting.
As a result, Montana's sports betting market is a state-run monopoly, and given the state's tiny population and little revenue, this is unlikely to change anytime soon.
Colorado
Betting on sports in Colorado is legally allowed both in person and online.
On May 1st, 2020, Colorado became the first state to legalize sports betting. This came less than six months after Colorado voters approved sports betting at licensed casinos through a ballot initiative. The state has quickly grown into a high-revenue sector by allowing both in-person and internet betting.
The state's numerous retail and online sportsbooks now handle more over $200 million in bets each month, joining a small group of states that includes New Jersey and Nevada.
Washington, D.C
In-person and online gambling on sports is legal in Washington, D.C.
In June 2020, the D.C. Lottery introduced GameBetDC. While in the District of Washington, sports fans can wager on major sports from across the world. At Capital One Arena, William Hill operates a temporary retail counter that accepts mobile bets.
The government's lack of competitiveness GameBetDC has seen its market shrink, and Handle 19, a locally owned company, had hoped to compete by opening a physical shop. The company's permit application, however, has run into numerous issues, and the operator has subsequently withdrew its application.
Tennessee
Legal sportsbetting in Tennessee is only available online.
Tennessee legalized online sports betting on November 1st, 2020, with four online sportsbooks accepting the state's first legal sports wagers. In contrast to several other states. Because Tennessee law does not require an online sportsbook to be linked to a physical location, there are no retail sportsbooks in the state.
Tennessee's sports betting law also mandates that all live betting services use only official league data.
Virginia
Legal sportsbetting in the state of Virginia is available online only.
Online sportsbooks launched in Virginia in January 2021 and reported a sports betting handle of $58 million for the first 11 days of operation. While retail sports betting is allowed by law, there are no physical locations in the state as there are no casinos as of yet. Sports fans can bet on all major sports and college events with the exception of Virginia-based college teams.
The market is regulated by the Virginia State Lottery.
North Carolina
In-person only
The Virginia sports-betting bill was signed into law April 2020.
In March 2021, legal sports betting came to North Carolina. The launch followed signing of a 2019 bill (Bill S 154 which was made law on July 26, 2019) that would allow sports wagering on tribal lands in a similar compact to that of New Mexico. With Sports betting designated as a Class III gaming activity, two of the state's tribal casinos opened retails sportsbooks.
Although there are no online betting options as of yet, lawmakers are set to discuss the possibility of statewide mobile wagering with the introduction of Senate Bill 688 that would see 12 new sports wagering license issued that include mobile betting options.