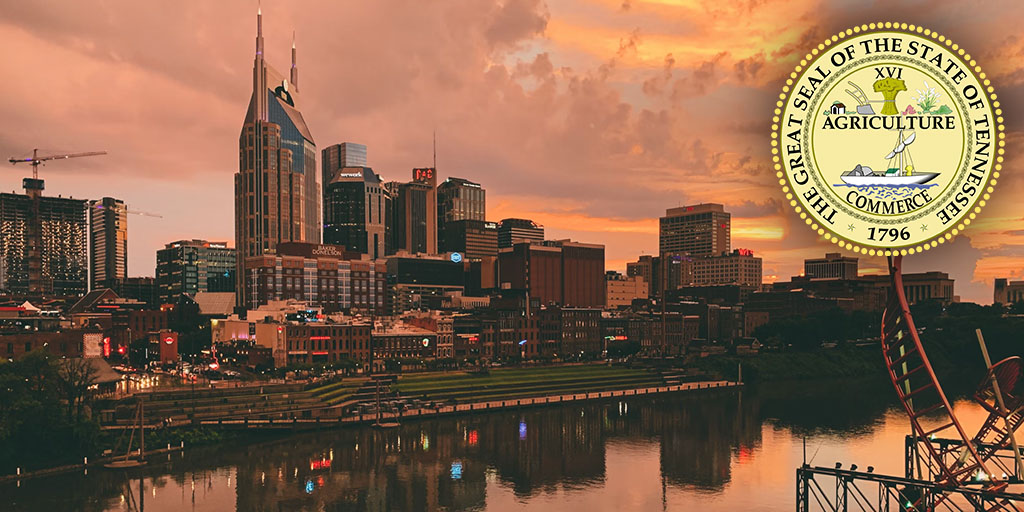 You can legally bet on sports in the state of Tennessee. However, you can only wager on sporting events online and not at brick-and-mortar establishments. The Volunteer State's online-only approach to sports betting is unique in the US.
It has been legal to wager on sports online in Tennessee since November 1, 2020. The Tennessee Education Lottery Corporation regulates all gambling activity within the state.
Tennessee made headlines when Gov. Bill Lee allowed the sports betting bill to pass without his signature. After the House of Representatives approved the bill, the Senate passed legislation to permit online sports gambling on July 1, 2019. However, the law would continue to prohibit the practice of wagering on sports at brick-and-mortar locations, such as casinos. Senate Bill 16 narrowly passed on a vote of 19 to 12, as it did in the House 58 to 37. The House then adopted some minor Senate amendments with 51 votes.
Rules for sports bettors and betting providers in Tennessee are relatively straightforward.
Sports Wagering Rules in Tennessee
All sports betting activities in the state of Tennessee must adhere to these regulations:
You can only have one account per licensed sportsbook app or site.
You can bet on college and school games, but live prop betting on college sports is not permitted.
Prop betting on individual college athletes is not allowed.
Tennessee limits the amount online sportsbooks can payout to 90% of bets taken annually. Therefore, TN sportsbooks and apps must generate a 10% annual hold. As a result, the vig (bookmakers fee that affects odds) on sports bets in Tennessee is higher than in other states where a 5-7% annual hold is the norm.
Individuals under the age of 21 can't bet on sports.
Anyone directly involved in professional sports – such as athletes, team owners, people who run sports betting operations, and others with influence over a game's outcome – can't cast sports bets.
Licensees must pay an annual fee of $750,000.
License holders must use official league data purchased from professional sports leagues to take in-game bets.
People in Tennessee cannot wager on sports at physical establishments – only online.
Sports Betting Apps in Tennessee
Online sportsbooks and apps in the state of Tennessee

| Sportsbook/App | Status |
| --- | --- |
| DraftKings Sportsbook Tennesse | Online |
| FanDuel Sportsbook Tennessee | Online |
| BetMGM | Online |
| Action 24/7 | Online |
| TwinSpires | Online |
| Caesars Sportsbook Tennessee (formerly known as William Hill) | Online |
| WynnBet | Online |
| Bally Bet | Online |
| BetRivers | Online |
| Gamewise | Online |
| Wagr Sportsbook | Online |
| PointsBet | Online |
| SuperBook | Online |
| Zen Sports | Online |
| Fubo Gaming | Approved but yet to launch |
There are currently only a few online sportsbooks that operate in Tennessee. If you want to bet on the NBA, NFL, MLB, and other sports leagues in this Southern State, you must sign up with one of the online sportsbooks listed above.
Upon verifying your new player account, you will have access to various wagering options, including NBA futures, NFL prop bets, etc.
Betting Taxes
All online sportsbooks providing services to customers in Tennessee must pay a 20% privilege tax on their adjusted gross income every month. Initiatives then divide this tax revenue: the Tennessee Lottery For Education account receives 80%, 15% goes to local road and infrastructure projects, and the final 5% goes to gambling addiction programs based in Tennessee.
Tennessee Lottery
The state of Tennessee is new to the lottery world, offering games since January 2004 after a state-wide referendum made it legal back in 2002. Now you can play a wide range of games that go towards helping the local educational system. Since making lottery games legal, over $6 billion has been raised for the Education Fund.
If you want to know more about the lottery in the state, then check out the Lottery In Tennessee page.

The History of Gambling in Tennessee
Until fairly recently, Tennessee had very restrictive gambling laws. Although the new bill to legalize sports gambling has changed that, it didn't happen overnight.
1987 – The Racing Control Act becomes law and allows pari-mutuel horse race bets – however, many parts of Tennessee don't implement this law.
June 30, 1997 – Tennessee Racing Commission terminates its charter.
November 2002 – Voters approve Amendment 1, creating the Tennessee Education Lottery.
January 20, 2004 – The Tennessee Education Lottery sells its first tickets.
April 6, 2015 – The state repeals the Racing Control Act.
April 28, 2016 – Daily fantasy sports betting is made legal in the state.
May 25, 2019 – Online sports betting and March Madness pools become legal in Tennessee when Gov. Bill Lee declines to sign or veto the bill.
November 1, 2020 – The first sports betting sites – DraftKings Sportsbook, FanDuel Sportsbook, BetMGM, Tennessee Action 24/7 – launch.
March 2021-  Action 24/7 is suspended for an investigation concerning money laundering and proxy betting.
2022 – The Sports Wagering Advisory Council takes over as the new regulatory body for betting.
Professional Sports Teams in Tennessee
Tennessee loves its sports teams. The state has various semi-professional and professional football, baseball, and soccer teams.
NBA: Memphis Grizzlies
The Memphis Grizzlies were originally the Vancouver Grizzlies until 2001. The Grizzlies are the only NBA outfit in Tennessee that competes in the Western Conference Southwest Division. Their home is the FedExForum, located in downtown Memphis. The NBA team has had little success since relocating south of the Canadian border. Arguably, the highlight of their brief history is when Pau Gasol joined the franchise. Gasol won the NBA Rookie of the Year Award in his first season with the Grizzlies.
In 2019, owner Robert Pera outlined his vision to bring NBA success to Memphis by restructuring the basketball operations department.
NFL: Tennessee Titans
Previously known as the Houston Oilers, the Titans moved from Houston to Nashville, Tennessee, in 1997. The NFL outfit currently plays at the Nissan Stadium in Nashville. The Titans have only played once in the Super Bowl at the end of the 1999 season. The Titans lost the game 23-16 to the St. Louis Rams. Since the relocation, the Tennessee football team has made the playoffs nine times (1999, 2000, 2002, 2003, 2007, 2008, 2017, 2019, 2020).
The Titans are the only team in the league to have had two players rush for 2,000 yards in a single season (Chris Johnson in 2009 and Derrick Henry in 2020).
Frequently Asked Questions
What are daily fantasy sports?

Daily fantasy sports are games that allow players to create professional teams of athletes from specific leagues - like the NBA, for example. When selecting the team, each entrant must adhere to a budget cap to 'buy' players for their daily team. The teams that gain the most points on that day (accrued total from the individual stats of each player) win. The winners then get a share of a pre-determined pot funded by their entry fees. Daily fantasy sports are a short version of fantasy sports leagues that last a whole season.
Can I bet on college games in Tennessee?

you can bet on college games in the state of Tennessee but only online. Also, live prop bets on a team or individual player are forbidden. To bet on college basketball or football games in the Volunteer State, you have to be 21 or over and register with a betting site/app regulated by the Tennessee Education Lottery Corporation.
What is TEL?

TEL stands for the Tennessee Education Lottery Corporation. This organization was the regulator for all online sports wagering in Tennessee. Its Board of Directors was approved on April 15, 2020. The Regulations and Standards set by TEL were amended on August 18, 2021.

Recently though this has changed and as of 2022 The Tennessee Sports Wagering Advisory Council is now the regulatory body.
Can I use my smartphone to place sports bets in Tennessee?

Yes. In fact, licensed sports betting providers in Tennessee can only operate online. As a result, you must use either a computer or a cellphone with iOS or Android software to wager on sports. To place sports bets in Tennessee you must first open an account with one of the licensed betting providers mentioned on this page.
What types of bets are available in Tennessee?

There are many popular bet types available in Tennessee: money lines, parlays, prop bets, totals, and futures. However, you can't place prop bets on college sports games.
What is an online sportsbook?

An online sportsbook is like a physical bookie. You can place various wagers via a mobile app or by accessing the site's page with your internet browser. Online sportsbooks usually offer you sign-up bonuses to get you to join. Always check the terms and conditions of these offers before accepting.