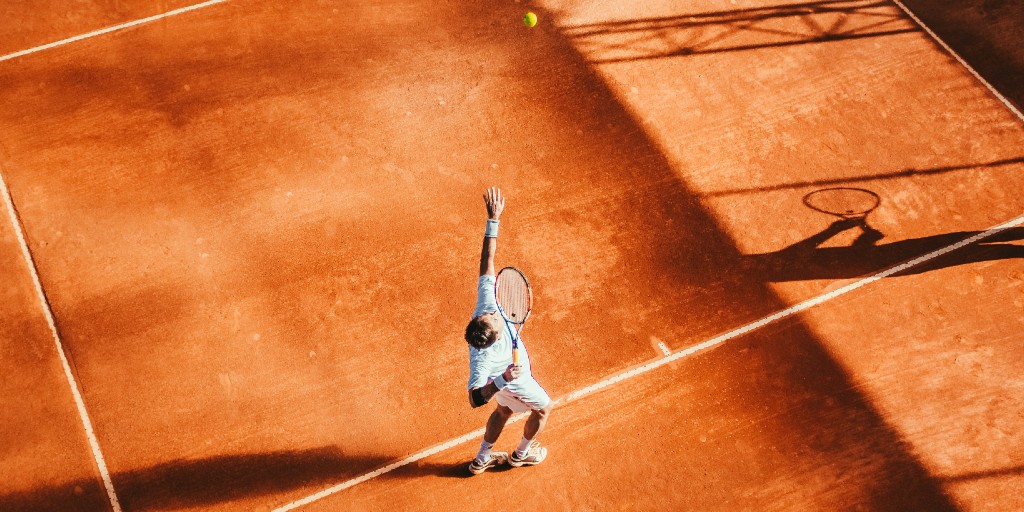 Check out tennis betting odds and match-ups at all four Grand Slams and other professional international tennis tournaments for both men and women.
Want to bet on the outright winner of the U.S Open, French Open, or Wimbledon, or on which player will reach the men's final of the Roland Garros, or other futures wagering options? Visit the tennis futures page.
---
ATP Astana
ATP Beijing
WTA Tokyo
ATP Doubles Beijing
ATP Doubles Astana
Challenger Orleans, Doubles
Challenger Braga
Challenger Bogota
ITF Women ITF USA 42A, Women Singles
ITF Women ITF USA 42A, Women Doubles
(Tennis Betting Odds via Bovada)
---
Tennis Leagues
Tennis betting sites provide you with wagering options for all professional tennis events. However, most bettors place action on Grand Slam (Australian Open, French Open, US Open, Wimbledon) matches.
Learn about tennis organizations below.
The ATP
Established in 1972, the Association of Tennis Players is the top-level men's professional tennis tour. As ATP events have the highest viewership and earnings, bookmakers provide you with various wagering options for these top-level competitions.
The ATP Tour comprises ATP Masters 1000, ATP 500, and ATP 250.
WTA-Women's Tennis Association
Shortly after the ATP was established, Billie Jean King founded the WTA in 1973 for professional women tennis players. Martina Navratilova and Serena Williams are some of the most famous participants to compete at these events.
ITF-International Tennis Federation
The International Tennis Federation is the oldest governing body of world tennis, beach tennis, and wheelchair tennis. It began in 1913 as the International Lawn Tennis Federation and consisted of twelve national associations. It is now affiliated with 211 national tennis associations and six regional associations.
Top 10 ATP Tennis Rankings
---
Tennis Betting FAQ
What are the different types of tennis bets?

There's a great range of straight-up tennis bets available on individual matches from tennis betting sites online. There are also 'futures' bets on players to win an entire tournament.

This is obviously a risky wager because you are effectively betting on one player winning every match they play to claim the title. However, these types of wagers usually have much higher payouts.
What is the moneyline in tennis betting?

A moneyline tennis bet is when you wager on who will be the outright winner of a matchup. These simple wagering options are extremely popular with occasional bettors.
What is handicap betting in tennis?

One way of avoiding backing a favorite at particularly short odds is to use the handicap betting markets, as the underdog is given a theoretical number of games start to level the field.
What is parlay betting in tennis?

A parlay bet (or accumulator) is a single wager that links together two or more individual selections and is dependent on all of those wagers winning together. It's another way of building up some decent betting odds when backing several short-priced favorites in many different tennis matches.

Watch out for bookies that offer 'Parlay Insurance' that offer you free bets or refunds if one selection lets you down.
What is set betting in tennis?

Set betting can provide more attractive odds, as here you are predicting the correct score by which a player wins (e.g. 3-1 or 2-0 in sets – depending on whether the match is best of three or five sets).
What is 'Over/Under' in tennis betting?

This is a type of Totals market is a way of backing the total number games or sets there will be in a given match. The sportsbook will predict how long they think the match will last and you, the bettor, decides whether they think there will be more or less games or sets than the total specified.

If you think a game will go all the way, then go high with an Over bet, but if you think it will be over in the flash then go low (Unders).
What are some good tennis betting tips & strategies?

In addition to current form and player rankings, the court surface can have a major bearing when betting on tennis matches. For example, a clay court specialist may well struggle on a surface such as grass and vice versa.

Although it's by no means clearcut, the French Open on clay tends to favour players from southern Europe and Latin America, whereas the Wimbledon betting lines will tend to favour big-serving players.

It's also worth looking at the head-to-head record of players and to be aware if a player is coming into a match on the back of a heavy schedule or has had a recent illness or injury.
Is there live in-play betting on tennis?

Betting in-play is hugely popular on tennis matches, as it enables bettors to watch the action unfolding and then to use their judgement and bet accordingly.

A player might be struggling with an injury, serving strongly or struggling with their volleys. A player with a big serve on a grass court can usually be relied upon to deliver a few aces and to hold their serve, which can be used when betting on individual points or games.

These are all factors that can be used to your advantage when in-play betting with live tennis odds.

With many online sportsbooks providing extensive coverage of live tennis, it's very straightforward to follow the action as it takes place and as a consequence, in-play betting has never been easier or more popular.
How can I get some free tennis bets?

In a highly competitive market, online sportsbooks look to attract new customers to their platforms with bonus promotions in the form of free bets. These free bets usually come in the form of an initial deposit bonus match of a certain percentage when opening a new account.

For example, were there to be a 50% deposit bonus and you deposited $500, you would get an additional $250 added to your account. Keep in mind that, these promos vary from sportsbook to sportsbook and there will be certain criteria the bettor needs to adhere to in order to receive the free bet.
What are the major tennis tournaments?

The highlight of the tennis year are always the Grand Slam events. These four tournaments are comprised of (in chronological order – coronavirus pandemics notwithstanding) the Australian Open, the French Open, Wimbledon and the US Open.

These Grand Slam tournaments are by far the most popular from a betting perspective, with all the major online sportsbooks offering a vast range of tennis betting odds and tennis free bets (if you know where to look).

Tennis Grand Slam events:


January - Australian Open

May - French Open

June/July - Wimbledon

September - US Open
What are the other major tennis tournaments?

The ATP Finals are the highly prestigious season-ending championships of the ATP Tour and features the top eight singles players (and doubles teams) of the ATP rankings. The WTA Finals are the women's equivalent. Both are great tournaments for tennis betting lines, featuring as they do the world's leading players.

Other big tennis tournaments include the Davis Cup, which is effectively a World Cup of men's tennis between international teams. The Fed Cup is basically the women's version of the Davis Cup. Both events are popular with bettors as they often provide competitive tennis odds.

The Hopman Cup is almost a combination of the Davis Cup and Fed Cup, featuring both men and women in international teams.
Who are the top 10 ranked female players?

Women's Top 10 Rankings
1. Ashleigh Barty
2. Simona Halep
3. Karolina Pliskova
4. Sofia Kenin
5. Elina Svitolina
6. Bianca Andreescu
7. Kiki Bertens
8. Belinda Bencic
9. Serena Williams
10. Naomi Osaka
* Tennis rankings correct as at August 18, 2020
What are the annual Tennis Grand Slam tournaments?

The Grand Slam tennis calendar starts with the Australian Open in January, the French Open (also known as Roland Garros) from around late May to early June, then Wimbledon in June–July, and finally in August–September the US Open