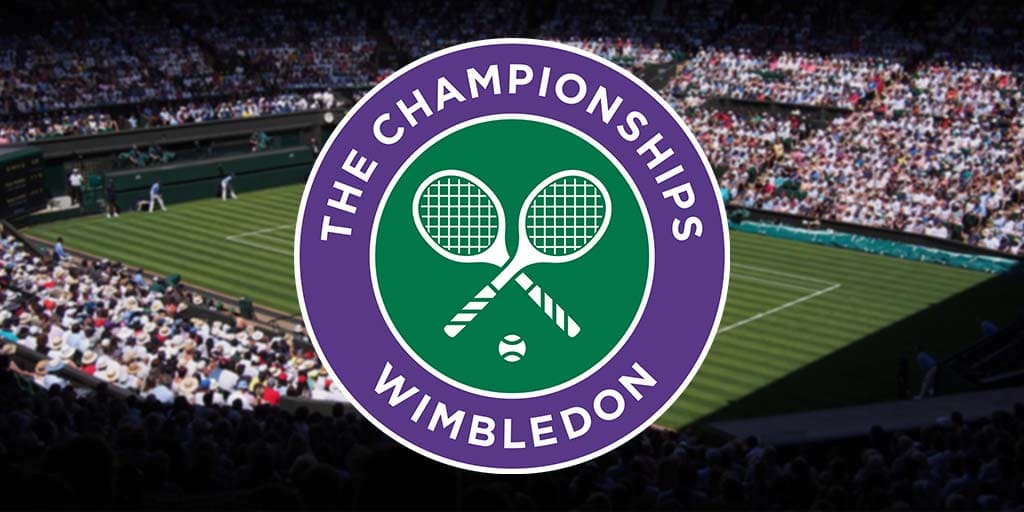 Spaniard Carlos Alcarez earned his second major title beating Novak Djokovic who endured his first Centre Court defeat in over 10 years 1-6, 7-6(6), 6-1, 3-6, 6-4.
The best tennis players in the world head for the leafy suburbs of Wimbledon, SW19 in London every year to compete in the oldest tennis event in the world in singles and doubles events, hoping to put their names into the history books.
Also known as The Championships, Wimbledon is the most prestigious competition on the professional tennis calendar. The 2024 edition of Wimbledon runs in London, England in June 2024..
The Grounds has capacity for 42,000 spectators at any one time. Re-selling of used or unwanted tickets for charity also creates turnover – so the cumulative daily spectators figure may be higher.
Where to watch Wimbledon 2024: TV: ESPN, ESPN2, ABC.
Wimbledon Finals 2023: Results
ATP Wimbledon Finals: Spaniard Carlos Alcarez won wimbledon 2023 earning his second major title. He beat Djokovic who endured his first Centre Court defeat in over 10 years 1-6, 7-6(6), 6-1, 3-6, 6-4.
WTA Wimbledon Finals: Czech Marketa Vondrousova stunned Tunisia's Ons Jabeur to win the 2023 Wimbledon title 6-4, 6-4 on Center Court.
---
---
How & Where to Bet on Wimbledon 2024
Tennis betting sites offer you a range of wagering options for Wimbledon while the tournament is underway. Also, you can make futures bets months before the event – winner odds released just before an event begins are referred to as the "opening" odds.
Tennis Futures Bets: What Are They?
Tennis futures bets are wagering options that let you place action on certain outcomes before the tournament. Online sportsbooks usually release odds for Wimbledon shortly after the conclusion of the previous tournament. The most popular futures bet is wagering on who will be the outright winner of the tournament. Other popular options include:
Stage of Elimination
To Reach The Final
Name The Finalists
Quarter Winners
First Time Winner
Tournament Specials
---
Things to look out for when betting on the Wimbledon Tennis Championships
Grass courts can be unpredictable due to their natural surface, leading to a lower bounce and greater speed off the surface.
Both aces and service holds are more frequent on grass than on either hard or clay courts while, obviously, breaking an opponent's serve is less frequent.
Typically, clay court specialists tend to do less well on grass.
It can pay to look for big servers in the men's game to cause a few upsets, with the likes of Marin Cilic, Kevin Anderson, John Isner and Matteo Berrettini all capable of going a long way in the tournament.
Top returners capable of regularly breaking serve include Novak Djokovic, Roger Federer, Alexander Zverev and David Goffin.
Wimbledon Tennis – Moneyline Betting
This wagering option lets you bet on the outright winner of a specific matchup. The underdog in a matchup usually has positive (+) odds, and the favorite has negative (-) odds. Positive odds show how much you can win from a $100 stake, while negative odds show how much you need to wager to secure a potential return of $100.
Tennis Betting Odds:
Spread
Win
Total

04/03/22 @ 10:00

Roger Federer

-2.5 (-150)

-235
O22.5 (+110)
Andy Murray

+2.5 (+130)

+190
U 22.5 (-130)
Using the example above, if you place a $100 moneyline bet on Murray to beat Federer, you will win $190 and a total payout of $290 ($100 initial stake + $190 – +190 odds – in winnings = $290) if your prediction is correct. However, if you place a $230 bet on Federer to beat Murray and the favorite wins, you make $100 and get a total return of $330 ($230 initial stake + $100 – -230 odds – in winnings = $330).
Wimbledon Game Spread Bets
Betting on the game spread in a tennis match is when you wager on a player to cover his or her spread with the total number of games won. For example, if Gael Monfils (+4.5) plays Novak Djokovic. Monfils could lose the game (6-7, 6-7, 4-6) in straight sets but would still secure you a winning return because he only lost by four total games and therefore has covered the spread.
Betting on Set Spreads at Wimbledon
Wagering on set spreads is similar to game spreads but easier to track. Spreads are usually set at 1.5 — (at 2.5 for mismatches). For instance, if you make a set spread bet on Djokovic at -1.5 in his match against Nick Kyrgios, he needs to win the match in no more than four total sets for you to get a winning return.
Over/Under (total games) Tennis Bets
Over/under bets let you wager on the length of the match. The over/under line can vary and depends on how evenly matched Vegas oddsmakers expect the two competitors to be. For example, a matchup expected to go five sets would have a higher over/under total than a matchup between two mismatched players.
Prop Bets
An array of prop betting options for Wimbledon become available a few days before and throughout the prestigious event. Popular prop bets include predicting the exact score or whether there will be a tiebreak during a specific matchup. Other Wimbledon prop bets let you place action on which round a player will exit the tourney or if a certain competitor will score an ace. More bizarre prop bets include whether a player will hit a ball boy or if a player will argue with the umpire.
Live Wimbledon Bets
Online sportsbooks provide you with a variety of wagering options while a Wimbledon tennis match is in play. Odds on the moneyline or set spreads change according to what happens in the matchup, which you can lock in by placing a bet mid-match.
What's the history of the Wimbledon Championships?
The Wimbledon Championships is the oldest tennis tournament in the world and is widely regarded as the most prestigious. The All England Club in Wimbledon has been its home since the inaugural tournament in 1877.
That first championship saw Spencer Gore defeat William Marshall 6-1, 6-2, 6-4 in the final. The 22 contestants paid a guinea each to enter the tournament and Gore was presented with the silver challenge cup and prize money of 12 guineas. Approximately 200 spectators paid one shilling each to watch the final.
Maud Watson won the first Women's Singles in 1884, when she beat her older sister Lilian Watson 6–8, 6–3, 6–3.
The tournament traditionally took place over two weeks in late June and early July, but changes to the tennis calendar in 2015 have seen the event moved back by a week to begin in early July.
Wimbledon traditions include a strict all-white dress code for competitors and royal patronage. Umpires may ask a player to change if they don't meet the dress code.
Recent Winners of Men's Wimbledon Tournament – Opening Odds
| Year | Winner | Opening Odds of Past Wimbledon Winners (Men's Singles) |
| --- | --- | --- |
| 2022 | Carlos Alcarez | -220 |
| 2022 | Novak Djokovic | +150 |
| 2021 | Novak Djokovic | +150 |
| 2020 | canceled due to COVID-19 | N/A |
| 2019 | Novak Djokovic | +145 |
| 2018 | Novak Djokovic | +600 |
| 2017 | Roger Federer | +225 |
| 2016 | Andy Murray | +330 |
| 2015 | Novak Djokovic | +110 |
Recent Winners of Women's Wimbledon Tournament – Opening Odds
| Year | Winner | Opening Odds of Past Female Wimbledon Winners(Women's Singles) |
| --- | --- | --- |
| 2023 | Marketa Vondrousova | |
| 2022 | Elena Rybakina | +1200 |
| 2021 | Ashleigh Barty | +600 |
| 2020 | canceled due to COVID-19 | N/A |
| 2019 | Simona Halep | +1800 |
| 2018 | Angelique Kerber | +1200 |
| 2017 | Garbine Muguruza | +1600 |
| 2016 | Serena Williams | +160 |
| 2015 | Serena Williams | +160 |
View the latest betting lines for upcoming tennis matches.
Official Wimbledon Website: Wimbledon.com
Frequently Asked Questions
Who is the favorite to win Wimbledon in 2023?

Novak Djokovic is the early favorite to win the men's Wimbledon title.
What's the Wimbledon prize purse?

Although organizers haven't released official details of this year's prize budget, the event had a total prize purse of £35 million in 2021. See a full breakdown of the Wimbledon singles (men's and women's) tournament prizes for that year below.

| 2021 | Prize Money £ GBP | Prize Money $ USD | Prize Money € EUR | % Change vs 2019 |
| --- | --- | --- | --- | --- |
| Winner | £1,700,000 | $2,399,520 | €1,979,979 | -27.66% |
| Runner-up | £900,000 | $1,270,334 | €1,048,224 | -23.40% |
| Semifinal | £465,000 | $656,339 | €541,582 | -20.92% |
| Quarterfinal | £300,000 | $423,445 | €349,408 | 2.04% |
| Round 4 | £181,000 | $255,478 | €210,810 | 2.84% |
| Round 3 | £115,000 | $162,320 | €133,940 | 3.60% |
| Round 2 | £75,000 | $105,861 | €87,352 | 4.17% |
| Round 1 | £48,000 | $67,751 | €55,905 | 6.67% |
| Q3 | £25,500 | $35,993 | €29,700 | 13.33% |
| Q2 | £15,500 | $21,878 | €18,053 | 16.98% |
| Q1 | £8,500 | $11,998 | €9,900 | 21.43% |
How do players qualify for Wimbledon?

From 128 players that make the singles main draw for Wimbledon, 104 are the top-ranked players and therefore make it to the tourney. Sixteen of the remaining 24 spots are taken by players who make it through the qualifying tournament, held just before the main event. The last eight spots are wild cards, which the tournament's committee hands out to players local star players, young up-and-comers, or veteran players.
Who has won Wimbledon the most times?

Roger Federer is the most successful Wimbledon participant, having won the event eight times. As for the women's singles tournament, Martina Navratilova has won the Venus Rosewater Dish nine times.
When does Wimbledon 2023 start?

This year's edition of the Wimbledon tennis tournament begins on Monday, June 26, and concludes on Sunday, July 9, 2023.
Can I bet on Wimbledon online?

Yes, many Tennis betting sites offer a variety of wagering options throughout the tournament and have futures options available all year round.
What type of court is Wimbledon?

Wimbledon - the oldest and most prestigious Grand Slam - is played on grass tennis courts in London, England.
What surface is the Wimbledon Championships played on?

The Wimbledon Championships are the only Grand Slam tournament still to be played on grass. The courts are sown with 100 per cent Perennial Ryegrass (since 2001) to improve durability and to help withstand the increasing wear of the modern game.

The grass has been cut to a height of 8mm (since 1995), as this has been found to be the optimum for present day play and longevity.

The main factor regarding the bounce of the ball is the soil, not the grass. The ball will seem heavier and slower on a cold damp day and conversely lighter and faster on a warm dry day.
Is it true that tennis balls are kept in fridges at Wimbledon ?

Yes - throughout the history of tennis fridges have been deployed at the side of courts in order to maintain the consistency of the bounce of each ball when it gets used.
How much does a portion of strawberries and cream cost at Wimbledon Tennis?

A portion of ten strawberries and a dash of whipped cream costs £2.50 at the Championships - a price that has remained unchanged for more than a decade.
Which players had the most aces of all time at Wimbledon?

Gentlemen: 214 - John Isner (USA) 2018
Ladies: 102 - Serena Williams (USA) 2012
Who won the Ladies Final at Wimbledon 2023?

Unseeded World No 42 - Czech Marketa Vondrousova stunned Tunisia's Ons Jabeur to win the 2023 Wimbledon title
6-4, 6-4 on Center Court