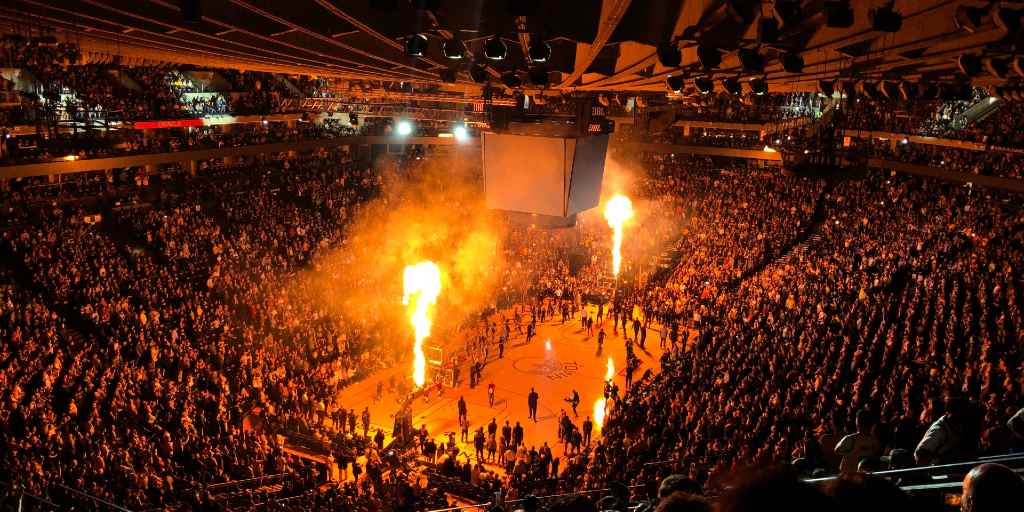 NBA Calendar 2023/24 – Key Dates
The current champions are the Denver Nuggets
The 2023-24 NBA season is the 78th season of the National Basketball Association League
Training camps start – Late September
Preseason – Early October
Regular season start – Mid-October 2023 (TBC)
Regular season end – Mid-April 2024
NBA playoffs – Mid-April 2024
NBA Betting Odds & Live Game Lines
NBA Odds

Team
Win
Spread
Total
Date/Time
Los Angeles Lakers
+170
+5 (-115)
O227.5 (-110)
Oct 24 - 19:30
Denver Nuggets
-200
-5 (-105)
U227.5 (-110)
Phoenix Suns
+105
+1.5 (-110)
O231.5 (-110)
Oct 24 - 22:00
Golden State Warriors
-125
-1.5 (-110)
U231.5 (-110)
Atlanta Hawks
-125
-1.5 (-110)
Oct 25 - 19:00
Charlotte Hornets
+105
+1.5 (-110)
Boston Celtics
-125
-1.5 (-110)
Oct 25 - 19:00
New York Knicks
+105
+1.5 (-110)
Houston Rockets
+135
+3.5 (-110)
Oct 25 - 19:00
Orlando Magic
-160
-3.5 (-110)
Washington Wizards
+260
+7.5 (-110)
Oct 25 - 19:00
Indiana Pacers
-320
-7.5 (-110)
Cleveland Cavaliers
-125
-1.5 (-110)
Oct 25 - 19:30
Brooklyn Nets
+105
+1.5 (-110)
Detroit Pistons
+400
+10.5 (-110)
Oct 25 - 19:30
Miami Heat
-575
-10.5 (-110)
Minnesota Timberwolves
-110
+1 (-115)
Oct 25 - 19:30
Toronto Raptors
-110
-1 (-105)
New Orleans Pelicans
+105
+1.5 (-110)
Oct 25 - 20:00
Memphis Grizzlies
-125
-1.5 (-110)
Oklahoma City Thunder
+1 (-110)
Oct 25 - 20:00
Chicago Bulls
-120
-1 (-110)
Sacramento Kings
-120
-1 (-110)
Oct 25 - 21:00
Utah Jazz
+1 (-110)
Dallas Mavericks
-225
-5 (-110)
Oct 25 - 21:30
San Antonio Spurs
+185
+5 (-110)
Phoenix Suns
+105
+1.5 (-110)
Oct 26 - 22:00
Los Angeles Lakers
-125
-1.5 (-110)
Miami Heat
+165
+4.5 (-110)
Oct 27 - 19:30
Boston Celtics
-195
-4.5 (-110)
Golden State Warriors
+1 (-110)
Oct 27 - 22:00
Sacramento Kings
-120
-1 (-110)
Cleveland Cavaliers
-120
-1 (-110)
Nov 3 - 19:00
Indiana Pacers
+1 (-110)
Brooklyn Nets
+125
+3 (-110)
Nov 3 - 20:00
Chicago Bulls
-145
-3 (-110)
Golden State Warriors
-115
-1 (-110)
Nov 3 - 20:00
Oklahoma City Thunder
-105
+1 (-110)
Washington Wizards
+270
+8 (-110)
Nov 3 - 20:00
Miami Heat
-340
-8 (-110)
Dallas Mavericks
+170
+5 (-110)
Nov 3 - 22:00
Denver Nuggets
-200
-5 (-110)
Memphis Grizzlies
-195
-4.5 (-110)
Nov 3 - 22:00
Portland Trail Blazers
+165
+4.5 (-110)
Charlotte Hornets
-105
+1 (-110)
Nov 10 - 19:00
Washington Wizards
-115
-1 (-110)
Philadelphia 76ers
-250
-6 (-110)
Nov 10 - 19:00
Detroit Pistons
+210
+6 (-110)
Brooklyn Nets
+305
+9 (-110)
Nov 10 - 19:30
Boston Celtics
-410
-9 (-110)
Minnesota Timberwolves
-150
-3 (-110)
Nov 10 - 20:00
San Antonio Spurs
+130
+3 (-110)
New Orleans Pelicans
-115
-1 (-110)
Nov 10 - 20:00
Houston Rockets
-105
+1 (-110)
Utah Jazz
+220
+6.5 (-110)
Nov 10 - 20:00
Memphis Grizzlies
-270
-6.5 (-110)
Los Angeles Clippers
-105
+1 (-110)
Nov 10 - 20:30
Dallas Mavericks
-115
-1 (-110)
Los Angeles Lakers
+125
+3 (-110)
Nov 10 - 22:00
Phoenix Suns
-145
-3 (-110)
Oklahoma City Thunder
+120
+2.5 (-110)
Nov 10 - 22:00
Sacramento Kings
-140
-2.5 (-110)
Atlanta Hawks
-145
-3 (-110)
Nov 14 - 19:00
Detroit Pistons
+125
+3 (-110)
Indiana Pacers
+210
+6.5 (-110)
Nov 14 - 19:00
Philadelphia 76ers
-250
-6.5 (-110)
Miami Heat
-145
-2.5 (-110)
Nov 14 - 19:00
Charlotte Hornets
+125
+2.5 (-110)
Orlando Magic
+120
+2.5 (-110)
Nov 14 - 19:30
Brooklyn Nets
-140
-2.5 (-110)
San Antonio Spurs
+250
+7.5 (-110)
Nov 14 - 19:30
Oklahoma City Thunder
-300
-7.5 (-110)
Dallas Mavericks
+120
+2.5 (-110)
Nov 14 - 20:00
New Orleans Pelicans
-140
-2.5 (-110)
Portland Trail Blazers
+125
+3 (-110)
Nov 14 - 20:00
Utah Jazz
-150
-3 (-110)
Los Angeles Clippers
+190
+5.5 (-110)
Nov 14 - 22:00
Denver Nuggets
-230
-5.5 (-110)
Minnesota Timberwolves
+160
+4.5 (-110)
Nov 14 - 22:00
Golden State Warriors
-185
-4.5 (-110)
Memphis Grizzlies
+145
+4 (-110)
Nov 14 - 22:30
Los Angeles Lakers
-170
-4 (-110)
New York Knicks
-140
-2.5 (-110)
Nov 17 - 19:00
Washington Wizards
+120
+2.5 (-110)
Boston Celtics
-185
-4.5 (-110)
Nov 17 - 19:30
Toronto Raptors
+160
+4.5 (-110)
Detroit Pistons
+340
+9.5 (-110)
Nov 17 - 19:30
Cleveland Cavaliers
-460
-9.5 (-110)
Philadelphia 76ers
-110
-1 (-105)
Nov 17 - 19:30
Atlanta Hawks
-110
+1 (-115)
Sacramento Kings
-130
-2 (-110)
Nov 17 - 19:30
San Antonio Spurs
+110
+2 (-110)
Denver Nuggets
-120
-1 (-110)
Nov 17 - 20:00
New Orleans Pelicans
+1 (-110)
Orlando Magic
+125
+3 (-110)
Nov 17 - 20:00
Chicago Bulls
-145
-3 (-110)
Los Angeles Lakers
-160
-3.5 (-110)
Nov 17 - 22:00
Portland Trail Blazers
+135
+3.5 (-110)
Phoenix Suns
-140
-2.5 (-110)
Nov 17 - 22:00
Utah Jazz
+120
+2.5 (-110)
Houston Rockets
+220
+6.5 (-110)
Nov 17 - 22:30
Los Angeles Clippers
-270
-6.5 (-110)
Toronto Raptors
+120
+2.5 (-110)
Nov 21 - 19:00
Orlando Magic
-140
-2.5 (-110)
Cleveland Cavaliers
+140
+3.5 (-110)
Nov 21 - 19:30
Philadelphia 76ers
-165
-3.5 (-110)
Indiana Pacers
+160
+4.5 (-110)
Nov 21 - 19:30
Atlanta Hawks
-185
-4.5 (-110)
Portland Trail Blazers
+300
+8.5 (-110)
Nov 21 - 21:00
Phoenix Suns
-400
-8.5 (-110)
Utah Jazz
+260
+7.5 (-110)
Nov 21 - 22:00
Los Angeles Lakers
-320
-7.5 (-110)
Boston Celtics
-185
-4.5 (-110)
Nov 24 - 14:30
Orlando Magic
+160
+4.5 (-110)
Phoenix Suns
-110
+1 (-115)
Nov 24 - 15:00
Memphis Grizzlies
-110
-1 (-105)
Chicago Bulls
+120
+2.5 (-110)
Nov 24 - 19:30
Toronto Raptors
-140
-2.5 (-110)
Miami Heat
+110
+2 (-110)
Nov 24 - 19:30
New York Knicks
-130
-2 (-110)
Denver Nuggets
-175
-4 (-110)
Nov 24 - 20:00
Houston Rockets
+150
+4 (-110)
Detroit Pistons
+205
+6 (-110)
Nov 24 - 20:00
Indiana Pacers
-245
-6 (-110)
Sacramento Kings
+120
+2.5 (-110)
Nov 24 - 20:00
Minnesota Timberwolves
-140
-2.5 (-110)
New Orleans Pelicans
+130
+3 (-110)
Nov 24 - 21:30
Los Angeles Clippers
-150
-3 (-110)
San Antonio Spurs
+375
+10 (-110)
Nov 24 - 22:00
Golden State Warriors
-525
-10 (-110)
Atlanta Hawks
+145
+4 (-110)
Nov 28 - 19:30
Cleveland Cavaliers
-170
-4 (-110)
Charlotte Hornets
+235
+7 (-110)
Nov 28 - 19:30
New York Knicks
-285
-7 (-110)
Chicago Bulls
+315
+9 (-110)
Nov 28 - 19:30
Boston Celtics
-420
-9 (-110)
Toronto Raptors
+120
+2.5 (-110)
Nov 28 - 19:30
Brooklyn Nets
-140
-2.5 (-110)
Oklahoma City Thunder
+125
+3 (-110)
Nov 28 - 20:00
Minnesota Timberwolves
-145
-3 (-110)
Houston Rockets
+180
+5.5 (-110)
Nov 28 - 20:30
Dallas Mavericks
-220
-5.5 (-110)
Golden State Warriors
+160
+4.5 (-110)
O230.5 (-110)
Dec 25 - 14:30
Denver Nuggets
-185
-4.5 (-110)
U230.5 (-110)
Boston Celtics
-120
-1.5 (-110)
O236.5 (-110)
Dec 25 - 17:00
Los Angeles Lakers
+1.5 (-110)
U236.5 (-110)
Philadelphia 76ers
+110
+2 (-110)
O218.5 (-110)
Dec 25 - 20:00
Miami Heat
-130
-2 (-110)
U218.5 (-110)
Dallas Mavericks
+185
+5.5 (-110)
O225.5 (-110)
Dec 25 - 22:30
Phoenix Suns
-225
-5.5 (-110)
U225.5 (-110)
Houston Rockets
+240
+7.5 (-110)
Jan 15 2024 - 12:00
Philadelphia 76ers
-290
-7.5 (-110)
New Orleans Pelicans
+135
+3.5 (-110)
Jan 15 2024 - 13:30
Dallas Mavericks
-160
-3.5 (-110)
Detroit Pistons
+120
+2 (-110)
Jan 15 2024 - 14:00
Washington Wizards
-140
-2 (-110)
Orlando Magic
+185
+5.5 (-110)
Jan 15 2024 - 14:00
New York Knicks
-225
-5.5 (-110)
San Antonio Spurs
+250
+7.5 (-110)
Jan 15 2024 - 14:30
Atlanta Hawks
-300
-7.5 (-110)
Golden State Warriors
+110
+2 (-110)
Jan 15 2024 - 17:00
Memphis Grizzlies
-130
-2 (-110)
Chicago Bulls
+215
+6.5 (-110)
Jan 15 2024 - 18:00
Cleveland Cavaliers
-260
-6.5 (-110)
Miami Heat
-130
-2 (-110)
Jan 15 2024 - 18:30
Brooklyn Nets
+110
+2 (-110)
Indiana Pacers
+1 (-110)
Jan 15 2024 - 20:00
Utah Jazz
-120
-1 (-110)
Oklahoma City Thunder
+160
+4.5 (-110)
Jan 15 2024 - 21:30
Los Angeles Lakers
-185
-4.5 (-110)
---
NBA playoffs: Did you know?
No team has gone 16-0 in the NBA playoffs (the closest any team has come to going undefeated was the 2016-17 Warriors, who went 16–1).
View NBA Futures | NBA Team Schedules | NBA Betting Guide
What Happened Last Season?
2023 NBA Conference Finals
In the East, the Boston Celtics (#2) hosted the Miami Heat (#8). Out West, the underdog Los Angeles Lakers faced the top-seeded Denver Nuggets.
Western Conference
LeBron James and the Lakers made games 1 & 2 of the Western Conference Finals interesting, but it wasn't enough to avoid a sweep at the hands of the Denver Nuggets.
Eastern Conference
The Miami Heat and the Boston Celtics were tied at (3-3) following a comeback from 3-0 down by the Celtics – forcing a Game 7. NBA history buffs may know that the 2003 Portland Trail Blazers, 1994 Denver Nuggets and 1951 New York Knicks also managed to even a series after being down 3-0.
In game 7 the Miami Heat avoided becoming the first team to squander a 3-0 NBA playoff series lead – beating the Boston Celtics 103-84.
The NBA Finals
The Denver Nuggets won the 2023 NBA finals beating Miami Heat 4-1..
Frequently Asked Questions
Who Are The Current NBA champions?

The 2022/2023 Season NBA champions are the Denver Nuggets who won the 2023 NBA finals beating Miami Heat 4-1
Which teams have the most NBA Championship wins?

Boston Celtics - 17
Los Angeles Lakers - 17
Golden State Warriors - 7
Chicago Bulls - 6
San Antonio Spurs - 5
Detroit Pistons - 3
Miami Heat - 3
Philadelphia 76ers - 3
Milwaukee Bucks - 2
Houston Rockets - 2
New York Knicks - 2
What is the point spread in NBA betting?

The Point Spread is the most popular NBA betting option. With games rarely featuring two evenly matched basketball teams, the point spread is a market the sportsbooks use to 'level up' the event.

Rather than just having to win the game (as is the case with the moneyLine), with the point spread, the team deemed to be the favorite must win by a specified number of points (the spread) to secure a winning return when wagering on this.

For example, the favorite team might have a point spread of -5.5 (the half-point is the "hook", which ensures there is no possibility of a push or tie). This means the favorites would need to win by a 6-point margin or more for a wager on them to win.

In this instance, the underdogs would have a point spread of +5.5, meaning they would have to either win the game or lose it by no more than 5 points for a wager on them to win.