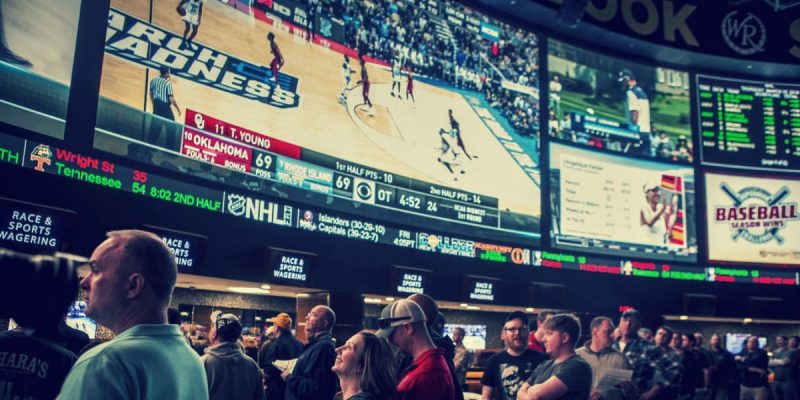 A moneyline bet lets you wager on the winner of a head-to-head sporting event. For example, If you want to bet on Conor Mcgregor to win against a specific fighter in the UFC, or wager on the Tampa Buccaneers beating the Philadelphia Eagles in the NFL, this is a moneyline bet.
With moneyline bets, bettors are simply wagering on which team or player will win a particular event, without the need to worry about spreads, totals or complex betting formulae
This betting guide gives you everything you need to know about this simple wagering option.
Placing A Moneyline Bet
Once you know how to interpret different odds systems and work out implied probability, you're ready to make a moneyline bet. Remember, this wagering option lets you choose the winner of a sporting event and nothing else.
After signing up with an online sportsbook, view the latest moneyline odds for the game or fight you want to bet on.
NFL Betting Odds Example:
| Team | Spread | MoneyLine | Total |
| --- | --- | --- | --- |
| Cincinnati Bengals | | -180 | |
| Detroit Lions | | +155 | |
Once you have the odds table in view (like above), just click on the moneyline number next to the team you think will win the game/fight. Using this example above, if you believe the Cincinnati Bengals will win, click the -180 number. However, if you fancy the Detroit Lions to pull off an upset, click the +155 number.
Upon doing this, your pick will go onto a bet slip. Now all you have to do is select how much money you want to wager on your choice. Your potential winning payout will be calculated automatically.
Moneyline American Odds Explained
The figures that appear next to each team on the moneyline are displayed as American odds. The team with a positive sign (+) next to its odds is the underdog. The team with a negative sign (-) is the sportsbook's favorite. The moneylines with a plus symbol tell you the amount of money you will win on a successful $100 wager, while odds with the minus sign indicate the amount you need to bet to win $100.
Using the odds above, if you wager $100 on the Detroit Lions to win, you will profit $155 and get a total payout of $255 ($100 initial wagered sum + $155 winnings = $255 total payout).
However, if you wager on the Bengals at -180 odds, this shows that you need to wager $180 on them to win to get a potential winning profit of $100 and a total payout of $280 ($180 initial wagered sum + $100 = $280 total payout).
In some cases, you might see both opponents with two negative figures on the moneyline. In this case, the opponent with the highest negative number is the favorite (e.g., -150 would be the favorite over -120). Also, you might see the same negative number on the moneyline for both competitors – this means that they both have an equal chance of winning.
You will always receive a higher potential payout when you bet the underdog on the moneyline, as it's more unlikely to occur.
Popular Sports for Moneyline Bets
You can get moneyline odds for most sports and even other less-common betting markets such as politics. The most popular moneyline bets are on games in the following leagues:
Line Movement & Opening/Closing Odds
Online sportsbooks usually adjust their moneyline odds when a side gets more action from bettors. These changes affect the potential returns of bets. For example, one team could start as -125 favorites, but if many people place moneyline bets on this team, the sportsbook could adjust the odds to -150 or more. Betting providers do this to cover themselves financially. Keep in mind that your bet will correspond to fixed odds given by the sportsbook when placed.
Other Odds Systems
Online bookmakers sometimes display the moneyline using different odds systems. Regardless of the odds are shown, the moneyline always refers to betting on the winner of the sporting event. If you want to understand how other odds systems work, how to calculate implied probability, and learn how to remove the vig from betting lines, check out this comprehensive sports betting odds guide.
What To Consider Before Betting on The Moneyline
Keep these points in mind when you're looking at moneyline odds at online betting sites:
Shop around – money-line odds can vary at different sportsbooks
Don't bet over your head – only ever bet with money that you can afford to lose
Asses your options – learn about different bets before wagering
Frequently Asked Questions
How do you read moneylines?

Moneyline odds usually show the favorite with a negative (-) number, whereas the underdog has a positive (+) number. They are always shown as if you've placed a $100 wager on the team winning. For example, a favorite at -150 moneyline odds means a $150 winning wager wins you $100 in profit, whereas an underdog at +150 moneyline odds means a $100 winning bet will make you $150 in profit. Your online sportsbook will also return your initial wager.

If both teams/fighters/players have negative figures on the moneyline, the highest negative number is the favorite. For example, -180 would be the favorite over -130)

How much can I win from a +200 moneyline?

If a moneyline has +200 odds you could win $200 if you place a $100 wager. If it comes off, you will receive a total payout of $300 ($100 Initial stake + $200 winnings = $300 total payout). Keep in mind that you can wager smaller sums than $100.

What's the difference between a point spread and a moneyline?

A moneyline bet lets you pick a winner between two competitors. For point spreads, the team you select must win by a certain number of points or not lose by a certain number of points determined by your sportsbook. Learn about other popular betting options such as parlays and teasers.

What is handicapping your Bet?

Handicapping is when bettors use analytical research or any other knowledge when betting. Handicapping assigns an advantage to a team based on statistics or unreported injury news rather than a gut instinct - this is also known as beating the oddsmakers. Professionals that do this well are known as sharps.