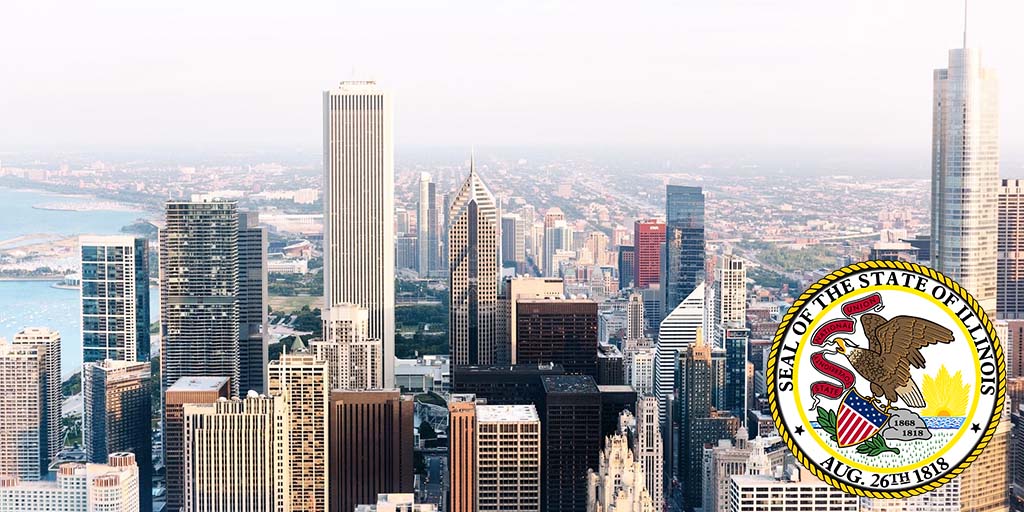 Illinois made sports betting legal in 2019 and on March 9, 2020. The first bets were placed less than a year after the state passed legislation that allowed for both online and retail betting.
Despite being legal, with an operator tax rate of 72% (the highest in the nation) it's not the friendliest state for providers. However, as many casinos suffered huge financial losses because of restrictions brought about to tackle the COVID-19, Governor Pritzker signed a new bildidn'tune 30, 2020, to cut the taxes on casinos.
Get the lowdown on how sports betting became legal, approved providers, and conditions in The Prairie State.
---
Betting Conditions in Illinois
Players must be at least 21 years of age to place bets.
The Ilstate'sGaming Board is responsible for handling new sport betting operator applications, issuing new licenses, and ensuring sportsbooks are abiding by the state's gambling code.
Bets can only be placed on sports events. Wagers on things like the US elections, TV shows, and various popular awards like the Oscars are not allowed.
People involved with sports leagues cannot bet on their own sports.

state'sou cannot place bets on local college teams.

The state collects 15% of net revenues as taxes from bettors.
Bettors originally had to visit a brick-and-mortar casino in order to complete the sign-up process to be able to open an online betting account. However, in-person registration is no longer required in the state of Illinois.
In October 2020, the state collected $6.3 million from sports betting wagering totaling $435 million. More than 94% of this action was made online, as mobile apps and websites were the only legal options available during the pandemic.
Legal Sports Betting Options
Licensing doesn't come cheap in Illinois either – It can cost $20 Million for an online-only sportsbook license. For this reason, you won't find the largest selection of sportsbooks and apps in this state.
Despite these high fees, BetRivers launched in Illinois on June 18, 2020.
Illinois has ten riverboat casinos, seven of which have already obtained licenses for an online sportsbook. Some of these are still awaiting approval from the gaming board, so expect to see more options come available soon.
Retail sportsbooks in Illinois and their respective casino partners
| Casino | Sportsbetting Partner |
| --- | --- |
| BetRivers | Rivers Casino |
| Penn National | Argosy Casino Alton |
| Draft Kings | Casino Queen |
| FanDuel | Par-A-Dice Casino |
| PointsBet | Hawthorne Race Course |
| Caesars (Formally William Hill) | Grand Victoria |
| Penn National/BarStool | Hollywood Casino Aurora |
| Penn National/BarStool | Hollywood Casino Joliet |
---
The Path to Illinois Legalizing Sports Betting
January 2017 – bill SB0007 is introduced by Senator Terry Link, Dave Syverson, Donne E. Trotter, and Mattie Hunter as well as supporters in the house to legalize sports betting within the state.
February 2017 – Much opposition from local casinos ensues and the proceedings are delayed.
June 2019 – A year after the Supreme Court ruled the PASPA was unconstitutional, Governor Pritzker signs SB 690 in order to legalize sports betting in the state.
June 2018  – Governor Phil Murphy signs Assembly Bill 4111, legalizing sports betting at casinos and racetracks and allowing applications for online sports betting.
March 2020 – The first legal sports bets are taken at Rivers Casino.
February 2021 – Bob Rita pushes to bring online casino gaming to the state with bill HB 3142,which proposes to allow licensed casinos to have up to three online skins or apps.
March 2021 – The bill has been taken to the committee by Bob Rita and Jonathan Carroll, but a result on whether it is to be passed is yet to be decided.
---
Illinois Sports Franchises
Illinois has the sixth largest population in the USA, making for some seriously successful sports teams. Locally you can support professional football, baseball, basketball, and hockey teams.
NFL: Chicago Bears
Established in 1920, the Bears play at Soldier Field in Chicago. They have played in multiple conferences during their time in the NFL but have called the North Division home since 2002.
Chicago has won the conference championships four times (1956, 1963, 1985, 2006) and the Super Bowl in 1985. Since then, the Bears have made plenty of playoff appearances but have fallen short of lifting the Vince Lombardi trophy.
Basketball: Chicago Bulls
Founded in 1966, the Bulls won six NBA championships (1991, 1992, 1993, 1996, 1997, and 1998). This NBA domination led by Michael Jordan is widely considered the greatest sporting achievement of all time.
It all started when the Bulls got the third pick in the draft back in 1984. After choosing shooting guard Jordan, he went on to win the Rookie of the Year award for taking the Bulls to the playoffs.
In 1990, Chicago won 61 games and went on to sweep the defending champions, the Detroit Pistons, in the playoffs and then made light work of the LA Lakers, winning in five games.
The Bulls went on to win a three-peat, (back-to-back NBA championships) until Jordan retired to try his luck at baseball. But the story of what most people consider the best player ever to play the game wasn't over. In 1995, Jordan joined Pippen, Harper, and Rodman to dominate the league once again and complete another three-peat.
Netflix would go on to make a documentary about the highs and lows of this sporting feat titled The Last Dance.
NHL: Chicago Blackhawks
Founded in 1926, six-time Stanley Cup winners play out of United Center in Chicago. Owned by the Wirtz Corporation and coached by Jeremey Colliton, the team found a hot streak of success in the last decade, winning championships in 2010, 2013, and 2015.
Since this impressive run, the Blackhawks have dramatically reconstructed their roster, losing key players to them being free agents and rising salary demands.
MLB: Chicago Cubs
Founded back in 1876, This Illinois team has a rich history. However, after winning the World Series in 1907 and 1908, they had to wait nearly one hundred years to repeat the feat.
On November 2, 2016, the Chicago Cubs beat the Cleveland Indians 8-7 to lift the Commissioner's Trophy once again.
---
Illinois Sports Betting Frequently Asked Questions
Is sports betting legal in Illinois?

Yes, Illinois legalized sports betting in 2019, and the first bets were placed with Rivers Casino on March 9, 2020.

What is the legal age to bet in Illinois?

To legally place sports bets in the state of Illinois, you must be at least 21 years old. Although you originally had to register in-person to open a sports betting account, this is no longer necessary.

What sports can I bet on in Illinois?

The majority of professional and college sports are available for wagering. However, betting on in-state college teams is prohibited.

How can I deposit funds into my Illinois sports betting account?

You can deposit using credit/debit card, online banking, PayPal, Skrill, PayNearMe, Echeck/ACH Transfer, and Casino Cage payments to fund your sports betting account.

Can I use an Illinois sports betting app out of state?

No, in order to use a state-licensed sports betting app, you must be physically present in Illinois.