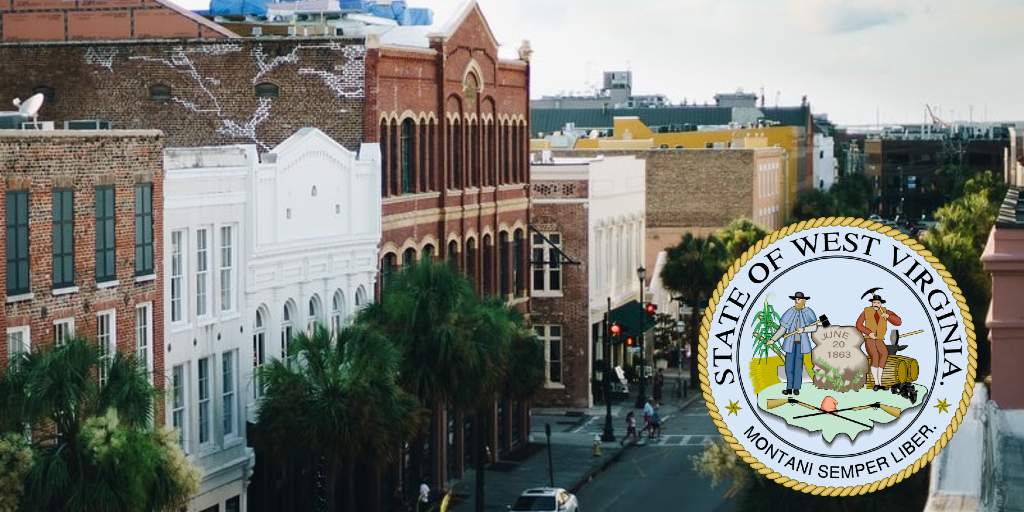 Sports betting has been legal in West Virginia since March 2018. State-approved sportsbooks accepted the first wagers in August 2018 – just two months after Delaware became the second state after Nevada to facilitate this form of gambling.
Find out about betting restrictions and approved sportsbooks in The Mountain State.
Sports Betting in West Virginia: Key Info
The West Virginia Lottery regulates the local sports betting industry.
The lottery is responsible for issuing licenses, collecting fees, and ensuring operators follow the rules and regulations set out in state legislation.
Operators pay a 10% revenue tax on all sports betting activity, earnings from which help fund state services.
Sports bettors must be 21 or above to place sports bets within the state.
Bettors can place in-person bets at the five existing gambling facilities or online at Betly, Bet MGM, DraftKings, FanDuel, PointsBet, or Caesars Sportsbook.
Since the passing of House Bill 2934 in March 2019, poker players have been able to legally enjou cash games, tournaments, and sit-n-gos on various apps, such as WSOP.com and Pokerstars.
Legal Sports Betting Options in West Virginia
Initially, the only online operator within the state was BetLucky. But due to a reported contract dispute with a third-party technology supplier, the company ceased operations in March 2019. However, DraftKings and FanDuel went live in August of the same year.
There are various retail gambling locations in West Virginia that let you place bets in person and six betting apps currently in operation within the state.
Retail Sportsbooks in West Virginia and their respective casino partners

| Casino | Partner |
| --- | --- |
| Hollywood Casino at Charles Town | DraftKings Sportsbook |
| The Greenbrier Casino (Private) | FanDuel |
| Mardi Gras Casino | Betly Sportsbook |
| Mountaineer Casino | Caesars Sportsbook |
West Virginia Sports Betting Apps
There are seven sports betting apps that let you place wagers using your iPhone or iPad, or Android smartphone or tablet.
DraftKings Sportsbook
BetMGM Sportsbook
BetRivers Sportsbook
FanDuel Sportsbook
Caesars Sportsbook
Betly Sportsbook
PointsBet Sportsbook
The Path to West Virginia Legalizing Sports Betting
June 2014 – The West Virginia Attorney General, Patrick Morrisey files amicus curiae briefs in support of the Supreme Court New Jersey case that aims to legalize gambling.
March 2017 – Delegates introduce HB 2751 in a bid to add legal sports betting to the constitutional laws of the state.
January 2018 – A further two bills hit the judiciary committees but fail. However, a third bill (Senate Bill 415) moves through the legal system without a hitch.
February 2018  – The Senate bill passes the matching House bill H4396 passed soon after.
March 2018  – State Governor Jim Justice approves the bill to become law.
August 30, 2018 – Hollywood Casino takes the first legal bet on August 30th and by the end of 2018, all five of the casinos based in WV had active sportsbooks.
December 2018 – all five West Virginia casinos launch sportsbooks. BetLucky is the first online sports, making The Mountain State was just the third state to offer legal mobile sports wagering and
March 2019 – The BetLucky app goes offline due to a dispute with a platform provider, leaving bettors without online options.
August 2019 – FanDuel and DraftKings apps go live in late August.

West Virginia Sports Franchises

West Virginia is the most populous state without any major professional sports franchises. Yet there are various college teams.

Football: West Virginia Mountaineers

This NCAA Division I team plays out of Mountaineer Field at Puskar Stadium. The Mountaineers have captured 15 conference titles since forming in 1891. The team that plays "Take Me Home, Country Roads" at every game since 1972, even had John Denver himself come and perform the team's adopted anthem back in 1980.

The team has offered up some notable draft picks, including Kevin White (Chicago Bears) and Dick Leftridge (Pittsburgh Steelers).

Frequently Asked Questions

Is sports betting legal in West Virginia?

Yes. The Mountain State was one of the first states to legalize this form of gambling. After becoming legal in March 2018, state-approved sportsbooks began operations in August of the same year.

Can I use my mobile to bet on sports in West Virginia?

Yes, there are currently six mobile apps that you can use to place sports bets within the state, including DraftKings, FanDuel, and BetMGM.

What's the legal betting age in West Virginia?

You must be at least 21 years of age to place bets in both retail locations and via online apps within West Virginia.

Can I still use websites like MyBookie and Bovada in West Virginia?

Yes, you can still access international sportsbooks like these brands. However, they are not regulated by the state.

Check out new sign-up offers from MyBookie and Bovada.