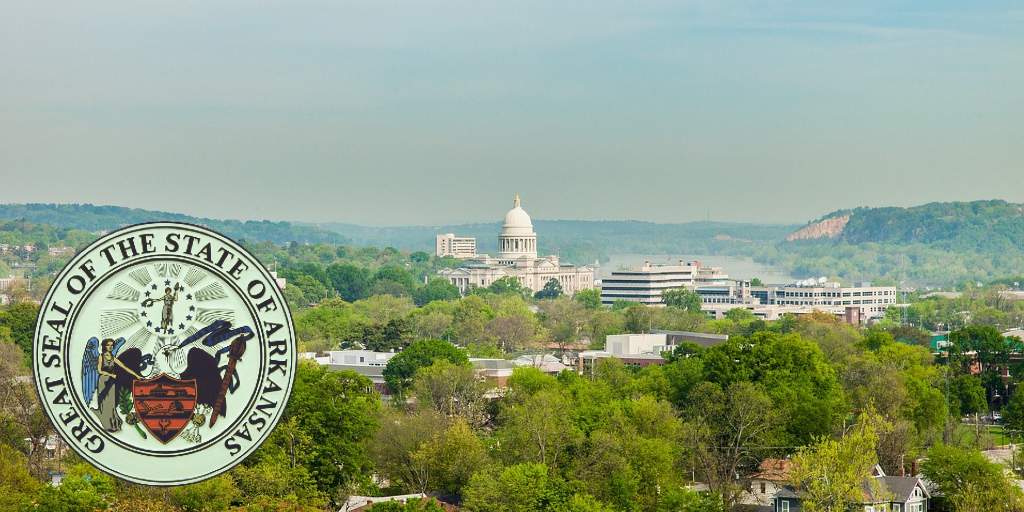 Soon after the Supreme Court ruled that the Professional and Amateur Sports Protection Act of 1992 was unconstitutional, Arkansas residents voted to legalize sports betting in November 2018.
The result allowed retail sportsbooks in the state's four casinos to open for business, with the first bets placed on July 1, 2019. However, bettors had to wait until March 2022 to access state-approved online sportsbooks.
Learn about sports betting laws, available operators, and how this form of gambling became legal in The Natural State.
Sports Betting Rules in Arkansas
The legal age for placing bets within Arkansas is 21 years or older.
The sports betting industry is regulated by the Arkansas Racing Commission.
Four casinos in the state have opened retail sportsbooks.
Sports betting revenues are to be taxed at 13% on the first $150 million and then 20% thereafter.
The Arkansas vote did not approve online sports books until February 2022.
Arkansas Sports Betting Apps
After the Joint Budget Committee accepted a controversial 51% revenue sharing rule, the state-approved online sports betting market launched in March 2022. Betly Sportsbook went live on March 5, 2002, and BET Saracen also entered the market a few months later on May 10.
The ruling means that third-party apps like FanDuel and DraftKings would have to give their casino partners at least 50 percent of net online sports betting receipts if they enter into a partnership. Lobbyists for these national brands have stated that this has prevented these companies from entering the market.
Also, various international sportsbooks operate within the state.
Legal Sports Betting Options in Arkansas
Alongside online options, many retailers offer in-person sports betting services.
Oaklawn Racing Casino Resort
This establishment offers patrons various wagering options for worldwide sporting events. There's even the option to place bets on NCAA games, such as parlays and props.
Saracen Casino
The Saracen casino has a purpose-built sportsbook extension that offers sports fans their own space with kiosks, slots, and even a bar.
Southland Casino
You can place sports bets at this West Memphis casino on a wide array of sports, including college games, football, basketball, golf, hockey, racing, MMA, soccer, etc.
Arkansas Lottery
Since a law change in 2008, the state lottery has gone from strength to strength in Arkansas. You can buy tickets for various lottery games from 2,000 retail locations.
Check out the dedicated Arkansas State Lottery for more detailed info.
The Path to Arkansas Legalizing Sports Betting
May 2018 -The Professional and Amateur Sports Protection Act (PASPA) is deemed unconstitutional by the Supreme Court, allowing states to legalize sports betting if they see fit.
November 2018 – The residents of Arkansas vote to legalize sports betting.
July 2019 – The state's first sports bets are placed.
April 2021  – House Bill 1942 is passed that will look to permit online sports betting.
November 2021 – Arkansas Racing Commission votes to publish rules for online sports wagering and allow for a 30-day public comment period.
December 2021: Lawmakers voice opposition to a rule change that would give Arkansas casinos 51% of mobile sports betting profits.
December 30, 2021 – The Arkansas Racing Commission approved this rule change, clearing the way for approval from the joint legislative Rules Committee and Gov. Asa Hutchinson.
January 2022 – The 51% revenue sharing rule, is removed from the legislative agenda
February 2022 – A subcommittee agrees with the 51% rule for Arkansas online sports betting and is accepted by the Joint Budget Committee, allowing Arkansas mobile sports betting to launch in time for March Madness.
March 5, 2022 – Southland Racing Casino becomes the first operator to offer state-approved online sports betting in the state via its Betly online sportsbook. Yet, it's not available on mobile.
April 8, 2022 – Southland Casino's Betly online sportsbook (Android only) is the lone state-approved betting platform.
April 26, 2022 – Betly's sportsbook app is enabled for iOS users.
May 10, 2022 – Saracen Casino's BET Saracen app goes live.
Arkansas Sports Franchises
The state of Arkansas has never had a professional sports team. However, they have several minor league and college baseball and football teams.
The most famous of which is the Arkansas Razorbacks. Playing out of Fayetteville, the second-largest city in the state, the team represents the University of Arkansas. Arkansas has won 13 conference championships and has seen 58 of its past players feature in the College Football All-America Team.
Frequently Asked Questions
Is sports betting legal in Arkansas?

Can I use my mobile to bet on sports in Arkansas?

Yes, there are two state-approved options - Betly Sportsbook and BET Saracen - and international sportsbooks also accept wagers from bettors in Arkansas.
View our in-depth review section to find out more aboutreputable sportsbooks and links to exclusive welcome bonuses.

How old do I have to be to sports bet in Arkansas?

You must be at least 21 years of age to place bets within Arkansas.

Can I still use websites like MyBookie and Bovada from within Arkansas?

Yes, there are plenty of international betting sites available in Arkansas.

Check out in-depth sportsbooks reviews
to find one that's perfect for you.