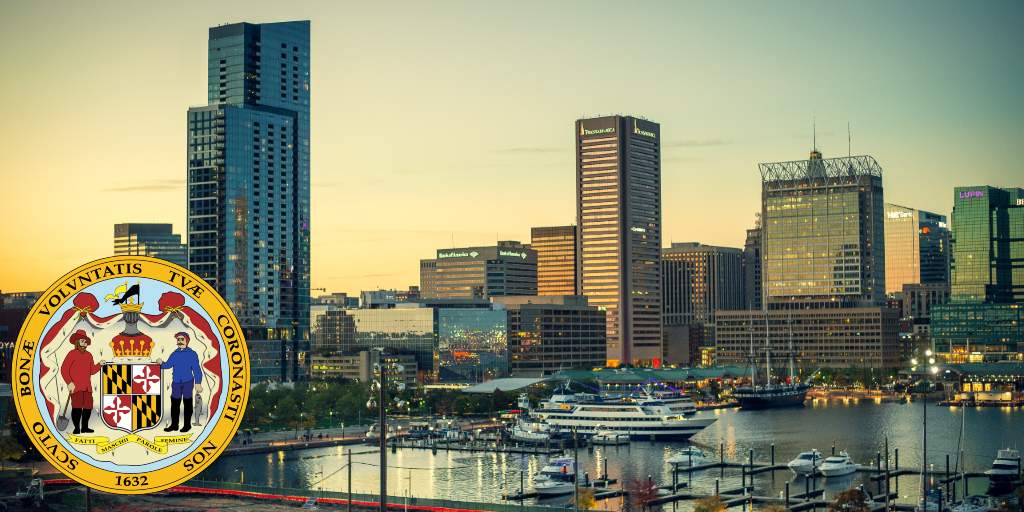 On Monday, April 12, 2021, the Senate and House voted to pass the bill and set the rules for sports betting. The bill, one of the largest ever to pass in the USA, allows 60 online sportsbooks and 40 retailers to operate within Maryland.
In May 2021, Gov Larry Hogan signed and approved the bill, and many believed sports betting operators would be open to the public before the NFL season started. Yet, regulatory issues delayed the arrival of legal sports betting in MD.
Can I Bet On Sports Online in Maryland?
Gamblers in Maryland can bet at online sports betting sites and land-based, brick and mortar sportsbooks in the state.
---
Sports Betting License Holders in MD
There are two types of licenses available in Maryland:
Class A licenses: 10 licenses are available in total. Six will go to Maryland's casinos – Hollywood Casino Perryville, Ocean Downs, Rocky Gap, MGM National Harbor, Horseshoe, and Maryland Live. Maryland's three professional sports teams – the Baltimore Orioles, the Baltimore Ravens, and the Washington Football team. The last goes to the Maryland Jockey Club, which will allow the company to provide betting facilities at Laurel Park and Pimlico Race Course.
Class B licenses: 30 licenses for other businesses with brick-and-mortar locations in Maryland will be up for competitive bidding. Seven Class B licenses are targeted for the Maryland State Fairgrounds, four off-track betting parlors, and two commercial bingo halls with 200 or more machines.
Both types of license holders can apply to provide mobile wagering services. Also, the state will revisit whether it needs to add more licenses in December 2025.
---
Timeline of Sports Betting Legalization in Maryland
Oct. 11, 2023 — The first September following Maryland's online betting debut saw a substantial surge in sports betting, with a remarkable $442.5 million in handle. This represented a significant 67.8% increase from August, marking the second-highest monthly total in Maryland's history.
Oct. 3, 2023 — The Greene Turtle restaurant in Towson made history by becoming Maryland's 13th retail sportsbook, joining forces with BetPARX to offer in-person betting.
Sept. 28, 2023 — During a thought-provoking panel discussion held at Morgan State University, state regulators, officials, and experts, past and present, reached a consensus that the legalization of online casino gaming in Maryland is just a matter of time.
Sept. 21, 2023 — BetPARX solidified its partnership with Playtech, a move set to revolutionize the Maryland gaming landscape as Playtech's Information Management System seamlessly integrates into the BetPARX platform.
Sept. 13, 2023 — The month of August witnessed a 6% increase in Maryland's sports betting handle, reaching an impressive $263.7 million, although revenue took a slight dip of 11% compared to the preceding month.
Sept. 11, 2023 — Maryland welcomed the addition of two fresh retail sportsbooks, one located in Baltimore and the other in Bethesda. With these new openings, the state boasts a total of 12 in-person sports betting facilities.
Oct. 18, 2023 — As the year draws to a close, state officials project that Marylanders will have collectively wagered approximately $4 billion from the onset of online sports betting in November 2022 through the end of 2023.
Nov. 4, 2020 – Maryland set to welcome legally regulated sports betting becomes after voters approve Maryland Question 2 during the election. The referendum, passed by a 2 to 1 margin, asks voters to approve or deny the expansion of commercial gaming to "authorize sports and events betting."
Feb. 2, 2021 – A bill to legalize sports betting in Maryland (HB0940) gets its first reading in front of the House Ways and Means Committee. The bill also makes daily fantasy sports contests legal in Maryland.
March 10, 2021 – HB0940 passes the Maryland House by a vote of 130-9. The main amendments to the bill addressed a public opinion that had stated there was not enough local business involvement. As a result, the passed version of the bill expands the number of potential licenses from 23 to 37.
April 12, 2021 – After the Senate changes aspects of Maryland's sports betting bill, it passes unanimously in the upper chamber. The amended version HB0940 passes by a vote of 122-16. The bill then heads to Gov. Larry Hogan for his approval. The final version of the proposed law allows a maximum of 60 mobile licenses making it the highest sports betting provider allowance in the US.
May 18, 2021 – Gov. Larry Hogan affixes his signature to HB0940 to make sports betting legal in Maryland. Lawmakers state that they hope to have Maryland sportsbooks operational by the beginning of the 2021 NFL season
May 19, 2021 – The NFL's Baltimore Ravens announce BetMGM as the team's official gaming partner. The deal gives BetMGM advertising rights at the Ravens' M&T Stadium and opens the door for other cross-promotional activities.
June 10, 2021 – PointsBet Sportsbook gets access to the Maryland sports betting market by partnering with the Riverboat on the Potomac, which is one of four licensed off-track betting providers because of its location on the river.
June 30, 2021 -Thomas M. Brandt, Jr. and Bert Hash, Jr. are appointed to the Sports Wagering Application Review Commission by Gov. Larry Hogan. These appointments complete the seven-seat commission.
July 15, 2021 – The MLGCC approves a set of regulations for sports betting.
August 5, 2021 – The Maryland General Assembly Joint Committee on Administrative, Executive, and Legislative Review approve the regulations and submit them for publication in the Maryland Register – the date of which is not set. Upon publication, a 30-day public comment period begins. During this time, members of the public can submit feedback on the regulations.
August 14, 2021 – Gov. Lawrence J. Hogan Jr. tells Maryland Matters that although sports betting providers won't be operating by the start of the NFL season, he hopes that it will launch in time for the NFL playoffs.
August 16, 2021 – The Sports Wagering Application Review Commission (SWARC) meets for the first time. The meeting lays out the commission's responsibilities, and commissioners voted that it will not require additional information from certain licensees. Instead, the MLGCC will be in charge of reviewing licensees named in the law and distribution.
December 2021 – Retail sportsbooks open in the state
January 10, 2022 – Maryland five retail retail sportsbooks totaled $16.55 million in handle. Operators made $3.17 million (19.2%), and tax contributions to public education from that revenue were $469,297.
February 24, 2022 – BetRivers applies for a Maryland sports betting retail license. If given the green light, Rush Street Interactive (RSI) sportsbook would be the official sports betting operator at Bingo World in Baltimore – one of 17 facilities designated for this form of gambling.
March 1, 2022 – Maryland Lottery and Gaming announces that over $32 million was wagered in the first full month of operation in the state (January 2022).
April 21, 2022 – Greenmount Station in Hampstead and Riverboat on the Potomac sportsbooks gain approval from Maryland Lottery and Gaming (MLG) regulators.
June 23, 2022 – Fanatics are deemed fit to hold a retail sports betting operator license by the Maryland Lottery and Gaming (MLG) Commission.
June 27, 2022 – Sports apparel and memorabilia company Fanatics gain a partial approval to operate sports betting in Maryland.
Retail Sportsbooks in Maryland
There are 13 land-based retail sportsbooks in the State of Maryland:
Maryland Retail Sportsbooks & their partners

| Venue | Location | Sportsbook Partner |
| --- | --- | --- |
| Horseshoe Casino | Baltimore | Caesars Sportsbook |
| Hollywood Casino | Perryville | Barstool Sportsbook |
| Live! Casino & Hotel | Hanover | FanDuel Sportsbook |
| MGM National Harbor | Forest Heights | BetMGM Sportsbook |
| Ocean Downs Casino | Worcester County | TwinSpires Sportsbook |
| Bingo World | Baltimore | BetRivers Sportsbook |
| Riverboat on the Potomac | Colonial Beach, VA | PointsBet Sportsbook |
| Greenmont Station OTB | Hampstead | BetPARX Sportsbook |
| FedEx Field | Landover | Fanatics Sportsbook |
| SuperBook Sports Lounge at Camden Yards | Baltimore | SuperBook Sportsbook |
| Greene Turtle BetPARX Sporsbook | Towson | BetPARX Sportsbook |
| Greene Turtle BetPARX Sportsbook | Baltimore | BetPARX Sportsbook |
| FanDuel Sportsbook | Bethesda | FanDuel Sportsbook |
Marlyland Betting Bonuses & Promotions
Maryland sportsbook bonuses and promotions come in several forms:
No Deposit Bonuses: Receive site credits or bet vouchers when creating an account without needing to make a deposit. Initial bonuses can't be withdrawn, but you can use them for betting.
Deposit Bonuses: New users often get deposit bonuses where the sportsbook matches part or all of your deposit as bonus funds. These funds become withdrawable once you meet the wagering requirements.
Odds Boosts: Sports betting apps offer odds boosts, increasing the odds by 15% to 35% on specific wagers to encourage more betting.
Loyalty Programs: Automatic enrollment in loyalty programs rewards bettors with site credits for merchandise, hotel stays, or event tickets. Points accumulate with app usage and wagering, and joining is typically free.
Professional Sports Franchises in Maryland
The densely populated state of Maryland boasts three professional sporting franchises: two NFL teams and one MLB team.
NFL: Baltimore Ravens
The Baltimore Ravens are a relatively young NFL franchise that competes in the North Division of the American Football Conference (AFC). Its home is the M&T Bank Stadium in Owings Mills, which has a maximum capacity of 71,008.
Although only established in 1996 by Art Modell, the Ravens have been highly successful. The team has qualified for the NFL playoffs 13 times since 2000, won two Super Bowl championship titles (Super Bowl XXXV and Super Bowl XLVII), two AFC Championship titles (2000 and 2012), four AFC Championship game appearances (2000, 2008, 2011 and 2012), and six AFC North division titles (2003, 2006, 2011, 2012, 2018, and 2019).
Arguably, the greatest player to turn out for the Ravens was a middle linebacker, Ray Lewis. From 1999-2004, Lewis made the First-Team All-Pro five times and won the AP Defensive Player of the Year twice in 2000 and 2003.
Fun fact: Baltimore Ravens fans call themselves "Purple Murder" because a collection of crows (as ravens are similar to crows) is called a murder, and the team's colors are purple. The fans don't use the name for a group ravens – called an unkindness – as it's not as catchy.
NFL: Washington Football Team
Formerly known as the Washington Redskins, the Washington Football team competes in NFL as a member of the NFC (National Football Conference) East division. The outfit plays its home matchups at FedExField in Landover, Maryland. However, its headquarters and training facility are in Ashburn, Virginia.
The franchise has enjoyed relative success since its inception in 1932. The team has won two NFL championships (1937 and 1942) and three Super Bowls (1983, 1988, and 1992). The football team underwent various changes in 2020, including retiring the controversial Redskins name and logo. This capped an unsuccessful period in the club's history. The image change heralded a new era as they made the playoffs in the same year after a five-year absence.
Three Washington players are in the Pro Football Hall of Fame, including quarterback Warren Moon.
MLB: Baltimore Orioles
This MLB (Major League Baseball) outfit is an American League (AL) East division member. The Baltimore Orioles play home games at Oriole Park at Camden Yards.
The Orioles had their most success from 1966 to 1983. They made six World Series appearances during this time, winning three (1966, 1970, 1983). The team of this era contained several future MLB Hall of Famers who would later be inducted representing the Orioles. These include third baseman Brooks Robinson, outfielder Frank Robinson, starting pitcher Jim Palmer, first baseman Eddie Murray, shortstop Cal Ripken Jr., and manager Earl Weaver.
Known affectionately by fans as the O's and "Birds", the Baltimore Orioles have won a total of nine division championships (1969–1971, 1973–1974, 1979, 1983, 1997, 2014), six pennants (1966, 1969–1971, 1979, 1983), and three wild card berths (1996, 2012, 2016).
Maryland Sports Betting Frequently Asked Questions
Can I wager on sports in the state of Maryland?

yes, residents can bet on sports or gamble at casinos - both online and at land based licensed and regulated premises in the sate.
How old do you have to be to gamble in Maryland?

The legal gambling age is 21. This age limit applies to all bets on sports such as the NFL, NBA, MLB, etc. This is the same minimum age requirement to play casino games like poker, blackjack, craps, roulette, slot machines, and any other games of chance.
Do I need to be a Maryland resident to bet on sports online in the state?

No, you do not need to be a resident to register and bet with a Maryland sports betting website or app. However, you will need to prove that you are over the age of 21, and gamble from within state boundaries.
Who regulates sports betting in Maryland?

As mentioned on this page, the MLGCC (Maryland Lottery and Gaming Control Commission) will be in charge of regulating all sports betting practices in the state of Maryland. The Sports Wagering Application Review Commission (SWARC) agreed in August 2021, that the MLGCC is in control of reviewing sports betting licensees.
Can I make sports bets using my smartphone in Maryland?

Yes - sports betting sites can track your location to ensure you are within the state - and legally able to gamble - enabling you to easily wager on sports via your PC, Mac, Android or iOS device.
Is it legal to wager on college sports in Maryland?

It is legal to bet on college sports, such as the NCAAB, in Maryland, as well as on professional sports like the NBA, NFL, NHL, MLB and UFC