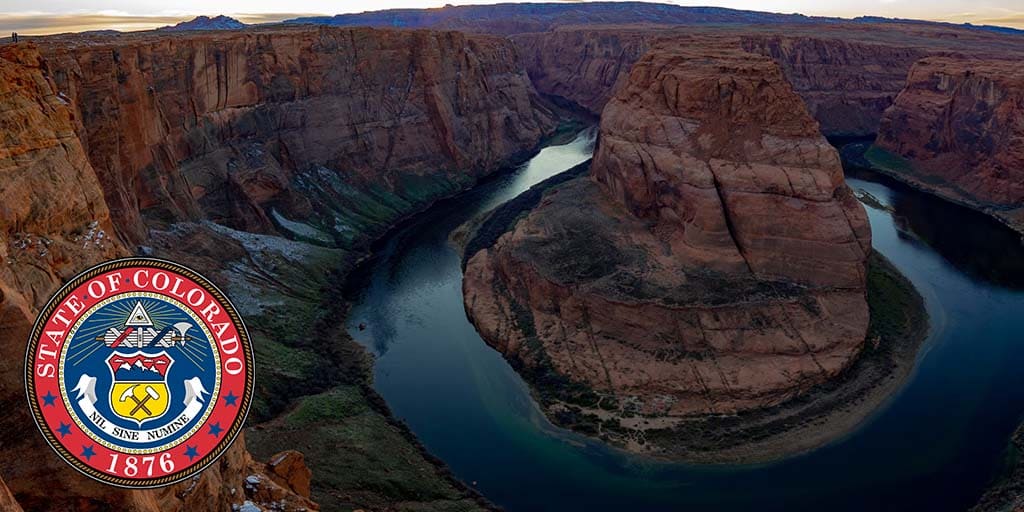 Sports betting has been legal in Colorado since November 2019 and is available to anybody over the age of 21, both online and in person.
The new Colorado sports betting law allows the state's 30-plus casinos to offer online sports betting via authorized sportsbooks. This form of gambling went live in The Centennial State on May 1, 2020.
Get the lowdown on sports betting in Colorado.
Betting Conditions in Colorado
Sports betting is regulated by the department of revenue and is be subject to supervision from the limited control commission that's already in existence.
Entities that are licensed currently are the only entities that are eligible to hold a master license to conduct sports betting.
The state collects a 10% tax from the net revenue of all sports betting activity. These funds are dedicated to implementing a state water plan and other public services.
While these taxes may seem a little high compared to states like Nevada, where casinos only pay 6.75% on revenue, many other states have higher taxation. Casinos in Pennsylvania, for instance, have to pay a 36% tax on sports betting revenues.
So far, sports betting in Colorado has been going down a storm, with basketball seeing the most action, raking in nearly $75 Million in June 2021 alone. With $229 Million in total wagered in June – nearly all of that action was placed online.
In fact, only1% of the income from sports betting is now made up on the retail level.
Unfortunately for poker fans, the law doesn't allow online card rooms to open up as they have done in states like Nevada and New Jersey. So you'll need to wait a bit longer to battle your fellow Colorado players on the felt.
Who Regulates Sports Betting in Colorado?
The Colorado Division of Gaming oversees the Colorado sports betting industry. The division is in charge of the operator application process, issuing licenses, and data collection on sports betting revenue.
Legal Sports Betting Options
Casinos licensed within Central City, Black Hawk, and Cripple Creek have set up mobile and online sports betting apps and websites. Residents of Colorado can access these online sportsbooks from anywhere within the state.
There are now plenty of casinos offering online sportsbooks and apps for you to access with your iPhone or Android devices.
Retail sportsbooks in Colorado and their respective casino partners

| Casino | Sportsbetting Partner |
| --- | --- |
| Betfred Sports | Saratoga Casino |
| BetMGM | Midnight Rose Casino |
| BetMonarch | Monarch Casino |
| BetRivers | JP McGill's Casino |
| BetWildwood | Wildwood Casino |
| Circa Sports | Century Casinos |
| DraftKings | Mardi Gras Casino |
| Elite Sportsbook | Red Dolly Casino |
| FanDuel | Golden Gates Casino |
| PlayMaverick | Maverick Gaming |
| PointsBet | Double Eagle Casino |
| SBK Sportsbook | Bronco Billy's Casino |
| Sky Ute | Sky Ute Casino Resort |
| SportsBetting.com | Johnny Nolan's Casino |
| SuperBook USA | The Lodge Casino |
| TheScore Bet | The Gilpin Casino |
| Caesars Sportsbook | Lady Luck Casino, and Isle Casino |
| WynnBet | Bronco Billy's Casino |
Colorado Lottery
The lottery has long been around in the state of Colorado. It became legal back in 1983 when the state sold the first scratch-off tickets. Since its launch, the state lottery has raised over $3.7 billion for nature conservation efforts within state lines.
If you want to learn more about the lottery games available in the state, visit our dedicated Colorado lottery page.
The Path to Colorado Legalizing Betting
May 2018 – The supreme court rules that the Colorado General Assembly can have the option to pass a statute or offer a public referendum to bring sports betting to the state.
August 2018 – Republican Mike Coffman goes public with his opinion that his dealing with standards on limited gaming.
April 2019 – Alec Garnett crafts HB 1327, and sates that collecting taxes from gambling taking place on the black market could help the state greatly. The bill opens with "collection of a tax on the net proceeds of sports betting through licensed casinos, directing the revenues generated through the collection of the sports betting tax to specified public purposes, including the state water plan through creation of the water plan implementation cash fund, and making an appropriation."
May 2019  -The bill sails through both chambers, with only minor criticisms being thrown Garnett's way for not allowing track sports from seeking licenses.
May 2020 – Online Sportsbooks hit the Colorado market on the May 1, giving Colorado legal sports betting options .
Mobile Betting Apps in Colorado
There are a variety of mobile sports betting apps available, and more are expected to be released in 2021. Here's a list of betting and gaming sites that are open people over 21 in Colorado:
Betfred
BetMGM
BetMonarch
BetRivers
BetWildwood
Circa Sports
DraftKings
Elite Sportsbook
FanDuel
FOX Bet
PointsBet
SBK Sportsbook
Sky Ute Sportsbook
SportsBetting.com
SuperBook USA
theScore
TwinSpires
William Hill
Colorado Sports Betting Handle Tops $200m per Month
Daily fantasy sports sites FanDuel and DraftKings were first out of the blocks with their mobile betting apps thanks to their agreement with Twin River Worldwide Holdings allowing them to offer sportsbooks inside several Colorado casinos.
Twin River paid $51 million to Affinity Gaming for three casinos in Black Hawk, Colorado (the Golden Gates, Golden Gulch, and Mardi Gras).
As reported in May 2021, the state's numerous retail and online sportsbooks now process over $200 million in bets each month. New York, New Jersey, and Nevada are the only other states to generate over $200m per month.
Colorado Sports Franchises
Colorado is home to Major League Baseball, basketball, football, hockey, lacrosse, rugby, soccer, and even Aussie rules football teams. Take a look at some of the most well-known franchises in the state.
MLB: Colorado Rockies.
Named after the majestic mountainous region of Colorado, this Denver-based franchise is owned by Richard and Charles Monfort.
The outfit has made the post-season a total of five times. Despite never winning a title, they hold the highest attendance average record. The team etched its name into the history books in 1994 after securing a 57,570 average for 57 home games at Mile High Stadium.
Basketball: Denver Nuggets
Founded in 1967, the Nuggets play out of the Ball Arena. The team had only minor success until Allen Iverson was brought in via two first-round draft picks in 2008. In his debut season, Iverson led them to their first 50-win season since 1988 and even made the playoffs.
Football: Denver Broncos
The Denver Broncos play at the Empower Field at Mile High Denver. As they have captured three Super Bowls (1997, 1998, 2015), they are the state's most famous sports team.
NHL: Colorado Avalanche
Known initially as the Quebec Nordiques, the team moved in 1995 and now plays from the Ball Arena in Denver. The Colorado Avalanche are now one of the strongest teams in the NHL and famous for their fierce rivalry with the Detroit Red Wings.
Colorado Sports Betting Frequently Asked Questions
Is sports betting legal in Colorado?

Yes, sports betting became legal in 2019, and the industry began operating in 2020.
Is mobile betting legal in Colorado?

Yes, there are more than 20 mobile sports betting applications accessible in Colorado right now.
What is the legal betting age in Colorado?

You must be aged 21 or older to place a bet at a Colorado sportsbook.
Who regulates the sports betting industry in Colorado?

The Colorado Division of Gaming oversees the state's sports betting business. The division is in charge of the operator application process, license issuance, and data collection on sports betting revenue.