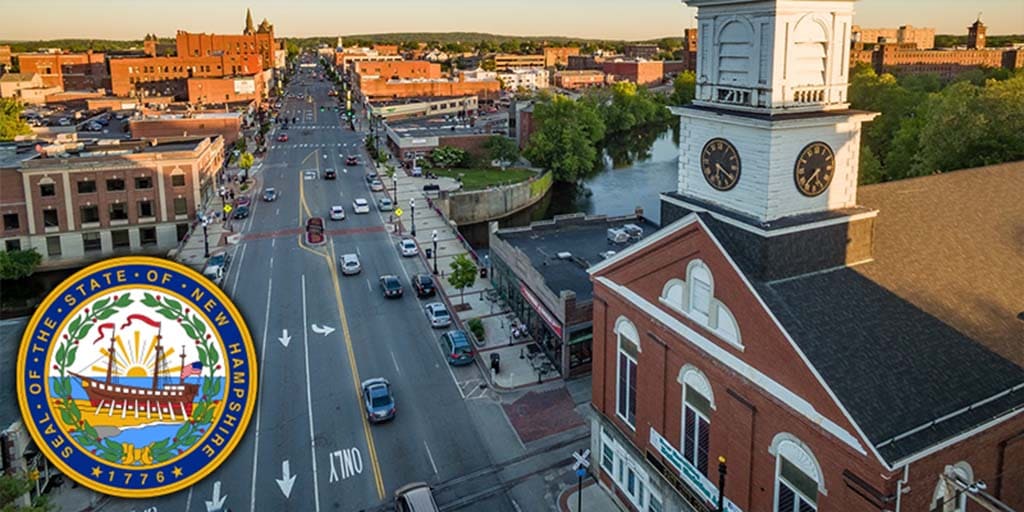 New Hampshire opted to legalize sports betting around a year after the Supreme Court deemed the Professional and Amateur Sports Protection Act of 1992 (PASPA) unconstitutional.
The passing of House Bill 480 in July 2019, made sports betting legal in the Granite State.
Bettors in New Hampshire can enjoy placing Daily Fantasy Sports (DFS) and regular sports bets. Learn about wagering restrictions, taxes, and legal providers in New Hampshire.
Sports Betting Conditions in New Hampshire
The New Hampshire Lottery oversees all sports wagering within the state.
DraftKings were given the monopoly of the sports betting app market within the state.
The cost of a sports wagering certificate is set at $100,000 with annual renewal fees of $10,000.
Although bettors don't need to be New Hampshire residents, they must be within state lines to place bets.
Wagering on in-state college teams is not permitted.
DraftKings is the sole operator and returns up to 51% of revenues to the state in exchange for having the monopoly.
The legal sports betting age within New Hampshire is 18 and above.
Legal Sports Betting Options in New Hampshire
You can now enjoy an in-stadium betting experience in two locations across New Hampshire, with DraftKings Sportsbook exclusively in charge of providing the facilities. You'll find legal betting kiosks, walls filled with huge screens to watch games, comfortable seating, and plenty more luxury facilities.
Draftkings teamed up with the New Hampshire Lottery to offer the first retail sportsbook named The Brook. This retailer offers pari-mutuel wagering, casino table games, poker tables with daily tournaments, restaurants, and much more.
Retail Gambling In New Hampshire
Legal Sports Betting Apps in New Hampshire
New Hampshire's state executive council voted 3-1 to approve a contract that makes the Boston-based DraftKings the state's exclusive operator and this applied to the online market too. The state looked to launch in time for the 2020 SuperBowl and everything went according to plan with DraftKings going online on December 30th, 2019.
The state's model seems to be running smoothly, despite having a lack of competitors, there has been $21,760,536 in tax revenue earned since launching as of July 2021, with betting in the state sometimes reaching handle figures of nearly $60 million. All of this is despite being just the tenth least populous state in the USA with a mere 1.36 million residents according to 2019 figures.
---
The Path to New Hampshire Legalizing Sports Betting
May 2018 – the PASPA is deemed unconstitutional, allowing states to decided on whether legalize sports betting within their jurisdictions.
July 2019 – Governor Sununu signs House Bill 480 into New Hampshire law, making sports betting legal within the state.
August 2019 – A bidding process begins with 13 proposals received by the state for owning the monopoly on sports betting within New Hampshire. DraftKings win by offering up to to pay a revenue tax rate of 51%.
December 2019  – The DraftKing mobile app accepts the first bets in time for the Super Bowl 2020 as planned
August 2020 – The first two retail betting locations are launched in the state, with plans for another 2-8 to be launched in coming years, bringing the total to 10 retail sports betting providers.
---
New Hampshire Sports Franchises
Founded in 1881, this college football team plays in the NCAA Division I from their home stadium, Memorial Field, which can hold up to 15,600 fans.
They have captured an impressive 27 conference titles and won a national championship in 1925. The team has a fierce rivalry with Cornell University's team, Big Red.
Baseball: New Hampshire Fisher Cats
Founded in 1994 in New Haven, Connecticut, the team has been based in Manchester, New Hampshire, since 2004. The Fisher Cats have an illustrious history, with four league titles and three division titles.
New Hampshire Sports Betting Frequently Asked Questions
What is the legal age to bet In New Hampshire?

All gamblers must be 18 years old to place bets in New Hampshire either online or at retail sportsbooks.

Can I bet using my mobile phone in New Hampshire?

Yes, there is the DraftKings app which is available as well as many other internationally-based and offshore sportsbooks.

Here you'll find our review section where you can check out the highest rated sportsbooks available for New Hampshire bettors.

What sports can I bet on in New Hampshire?

New Hampshire sportsbooks accept bets on all major sports including all college sports with the exception of in-state college teams.