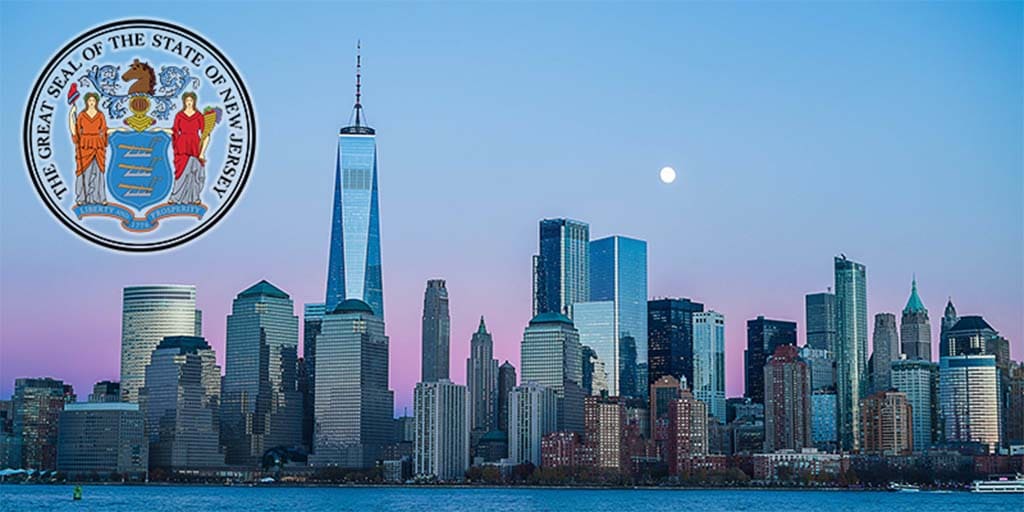 Bettors in New Jersey have been allowed to place wagers online since June 11, 2018, after Governor Phil Murphy signed assembly Bill 4111.  
Upon signing the bill, the governor expressed his delight and said it will boost long-term financial prospects and strengthen the economy.
Betting Conditions in New Jersey
Players must be at least 21 years of age to sign up and place bets.
The New Jersey Division of Gaming Enforcement regulates the sports betting industry.
The New Jersey Racing Commission regulates horse racing betting, including exchange wagers as well as parimutuel and account wagering.
The state collects a 13% tax from sports wagers placed online.
Mobile sports betting has seen a great deal of action since launching in August 2018. In fact, it's now one of the biggest mobile betting markets in the US.
New Jersey law requires all online sportsbooks to partner with a brick-and-mortar casino. Any casino or racetrack with a sports betting license can launch up to three different mobile betting skins or apps.
However, licenses aren't cheap either, costing $400,000 to anyone looking to set up shop in New Jersey.
Legal Sports Betting Options
There are plenty of brick-and-mortar casinos for these online sportsbooks to partner up with to create their apps and websites. Right now you can access over 20 online sportsbooks within the state of New Jersey. These come under the umbrella of nine trusted brick-and-mortar casinos.
Sportsbooks in New Jersey and their respective casino partners
Casino(s)
Sportsbetting Partner

Wynn Bet
Caesars Casino
888 Sport
William Hill

Caesars Interactive Entertainment
William Hill
Harrah's Casino
Borgata Hotel Casino

Hard Rock Casino Sportsbook
Unibet
Bet365

Hard Rock Hotel Casino

Golden Nugget Sportsbook
Bet America

Golden Nugget Casino

Resorts Casino
DraftKings
Fox Bet

Resorts Casino
William Hill
Tropicana
Ocean Casino

Sugar House
The Score
William Hill

Monmouth Park
Meadowlands Racing & Entertainment
Mobile Sports Betting Apps in New Jersey
New Jersey has established one of the strongest mobile sports betting markets in the United States, having launched quickly in August 2018.
In August 2018, DraftKings became the first company to launch an online sportsbook in New Jersey. Since then, almost every major online sports betting company has jumped on board and released a betting app in New Jersey. The state has since become the market leader in sports betting, with many of the country's largest retail and online sportsbooks based there.
There are plenty of options when it comes to mobile betting websites and sports betting apps in New Jersey:
Barstool Sportsbook
Bet365 Sportsbook
BetMGM Sportsbook
Betway Sportsbook
Borgata Sportsbook
Caesars Sportsbook
DraftKings Sportsbook
FanDuel Sportsbook
Fox Bet Sportsbook
Golden Nugget Sportsbook
Hard Rock Sportsbook
PlayUP Sportsbook
PointsBet Sportsbook
Resorts Sportsbook
SugarHouse Sportsbook
SuperBook Sportsbook
theScore Sportsbook
Tipico Sportsbook
TwinSpires Sportsbook
Unibet Sportsbook
VIE Sportsbook
WynnBet Sportsbook
Retail Sportsbooks in New Jersey
New Jersey was fast out of the blocks following the Supreme Court's decision to legalize sports betting in 2018, and many retail sportsbooks and online betting companies quickly set up business in the state.
Now almost every casino and racetrack in New Jersey has its own retail sportsbook, with the majority based in or around "America's Playground" Atlantic City.
BetMGM Sportsbook – Borgata Casino Hotel, Atlantic City
In 2018, MGM Resorts opened a BetMGM sportsbook in its Borgata Casino Hotel in AC, making it one of the first providers to open a sportsbook in New Jersey. It includes a massive LED television wall, betting kiosks, and a VIP lounge. The casino's original racebook is situated right next to the sportsbook.
DraftKings Sportsbook – Resorts Casino, Atlantic City
Resorts Casino, which is owned by online gaming operator Mohegan Sun, first began accepting bets in 2018. DraftKings' only retail location in New Jersey, the 5,000-square-foot sportsbook boasts an ultra-HD television wall, a bar, VIP areas, and 24-hour betting kiosks.
FanDuel Sportsbook – The Meadowlands Racetrack, East Rutherford, New Jersey
FanDuel's first retail location in New Jersey was the sportsbook at Meadowlands Racetrack located in East Rutherford, and is one of the closest sportsbooks to New York State.
The FanDuel sportsbook at Meadowlands is quite spacious, with plenty of comfy seats, kiosks, tellers, and televisions for live sporting events.
FanDuel Sportsbook – Bally's Casino
Bally's Corporation was fairly late to enter the retail sports betting market, with their first sportsbook in New Jersey debuting in 2020 at Bally's Casino in Atlantic City. As part of the casino's partnership with leading daily fantasy sports (DFS) betting site FanDuel, the betting company opened a temporary kiosk on the casino floor, and soon after they opened a permanent sportsbook with video walls and a self-pour beer wall.
Golden Nugget Sportsbook – Golden Nugget, Atlantic City
Landry's Inc. launched its Golden Nugget-branded sportsbook in 2018 was one of the first operators to open a sportsbook in New Jersey. The sportsbook, which is situated immediately off the casino atrium, has a full bar to choose from, five video walls, and 24-hour kiosk betting.
Hard Rock Sportsbook – Hard Rock Hotel & Casino, Atlantic City
Although one of the smaller retail sportsbooks in Atlantic City, The Hard Rock Hotel & Casino's sportsbook, which opened in 2019, is still a perfectly suitable place to bet with both tellers and kiosk betting options.
Parx Sportsbook – Freehold Raceway
Freehold Raceway is the oldest racetrack in the United States, with a half-mile track in the Freehold Borough of New Jersey. Greenwood Racing Inc. has supplied horse racing betting services at Freehold Raceway for many years, but in 2020, the company opened its own sportsbook at the racetrack, giving betting odds on a range of major league and collegiate sports. Parx Sportsbook offers individual kiosks and various displays for watching live sports events whilst on track.
William Hill – Caesars Casino Atlantic City (Wild Wild West Casino)
Caesars Entertainment teamed up with sports betting powerhouse William Hill to launch sportsbooks in all of its New Jersey casinos. The Wild Wild West Casino is without a doubt the largest. This huge sportsbook includes five individual 'fan caves' where gamblers can watch sports on TVs that can display three live sports events simultaneously.
William Hill – Harrah's Casino, Atlantic City
Owned by Caesars Entertainment, Harrah's Casino is one of only three casinos outside of Atlantic City's boardwalk. In 2018, Harrah's teamed up with William Hill to become one of the first retail sportsbooks in New Jersey when they launched a 3,800-square-foot retail sportsbook with video screens and individual betting kiosks.
William Hill – Monmouth Park, Oceanport
Monmouth Park is a horse race track situated in the Oceanport district. The Monmouth Park sportsbook opened in 2018 in conjunction with William Hill and is located in central New Jersey. It was a trailblazer in New Jersey sports betting is the location of the first legal sports bet after the Supreme Court ruling. The Monmouth Park outlet, like most sportsbooks in the state, has tellers, kiosks, cuisine, and televisions to watch live events whilst at the track.
William Hill – Ocean Casino
Open in 2018, Ocean Casino's sportsbook is one of five New Jersey sportsbooks run by sports betting giant William Hill. This 7,500-square-foot room has a panoramic TV wall, live sports ticker, tellers, kiosks, and a very big bar.
William Hill – Tropicana Casino, Atlantic City
The Tropicana Casino, which is now owned by Caesars Entertainment, debuted its William Hill sportsbook in 2019. The sportsbook, which has space for 180 gamblers boasts a gigantic odds board plus a rather outstanding video wall.
The notorious Tropicana is always a very popular tourist spot. Famed for its showgirls and prior ties to organized crime leaders, it was the most extravagant of the hotel-casinos built during the decade following WWII. A feast for the eyes in every sense.
The Path to New Jersey Legalizing Sports Betting
January 2012 – Governor Chis Christie signs legislation allowing sports betting in New Jersey, getting a 2-to-1 approval in a referendum held in November 2011. This law allowed any casino and racetrack in the state to offer bets on professional and college sporting events.
June 2017 – Governor Phillip Murphy looks to have the Professional and Amateur Sports Protection Act of 1992 (PASPA) overturned. Taking the battle to the supreme court.
May 2018 – The supreme court issues its opinion on the case, deeming that the Professional and Amateur Sports Protection Act is in fact unconstitutional. Meaning that New Jersey can now move ahead and legalize sports betting.
June 2018  – Governor Phil Murphy signed assembly Bill 4111, legalizing sports betting at casinos and racetracks and allowing applications for online sports betting.
August 2018 – The first online sports bets are taken.
New Jersey Sports Franchises
New Jersey is rich with sports teams. You'll find soccer, ice hockey, baseball, and basketball all played within the state on professional and amateur levels.
NHL: New Jersey Devils
Probably the most successful of all the professional sports teams within New Jersey are the Devils. Founded in 1974 and formally known as the Colorado Rockies, the team became the New Jersey Devils in 1982 and now calls the Prudential Center their home.
They have made five conference championships and managed to win an impressive three Stanley Cups in 94-95, 99-00, and 2002-03. It hasn't all been glory for this team though, the Devils have suffered longtime financial struggles, once borrowing $30M just to meet payroll obligations.
In recent years the team hasn't found any form to speak of, plagued with some of its best players falling to injuries. The team had a six-game losing streak during the 2019/2020 season and ended up firing their coach at the time, John Hynes.
Basketball: Jersey Express
Once home to the Nets who now play out of Brooklyn, New Jersey lacks a professional basketball team of its own. However, they do have a team in the ABA, the semi-professional league that locals support.
Soccer: New York Red Bulls
Although named the New York Red Bulls, their home ground is the Red Bull Arena, New Jersey. They were formally named the New Jersey MetroStars, but have since been re-branded, possibly due to a wider reach with a New York name.
New Jersey Sports Betting Frequently Asked Questions
What is the legal age to bet with a New Jersey sportsbook?

To open an account with a New Jersey betting app or place bets at a retail sportsbook in New Jersey, gamblers must be 21 years old or older.

Can I use New Jersey sports betting apps from outside the state?

While out of state, some betting apps may allow you to check betting odds and account status. To place an actual bet, you must be physically present in the state of New Jersey.

How do I deposit into a New Jersey online sportsbook app?

Credit/debit card, internet banking, PayPal, Skrill, PayNearMe, Echeck/ACH Transfer, and Casino Cage payments at the app's partner casino/racetrack are all accepted by the majority of New Jersey sportsbook apps.

Who regulates sports betting in New Jersey?

Who regulates sports betting in New Jersey?