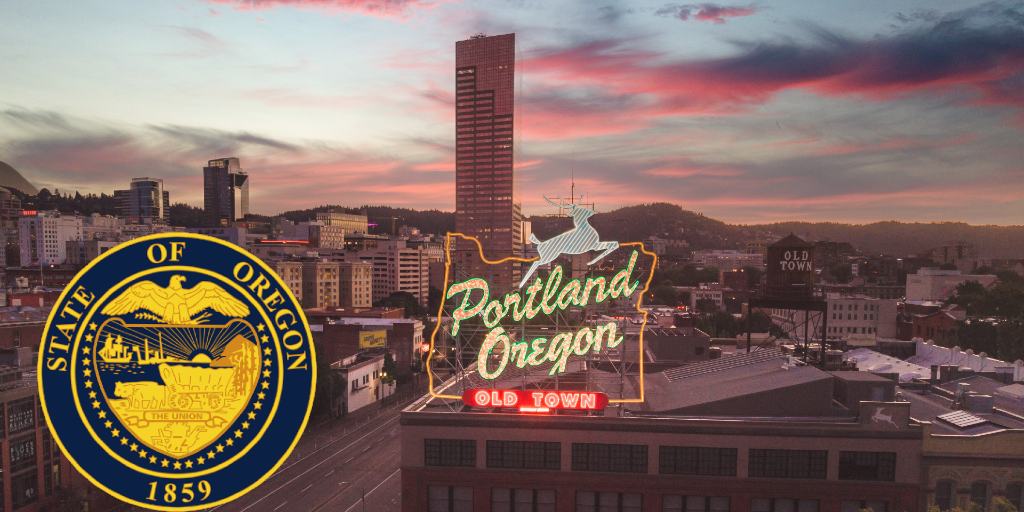 Oregon saw a return of state-approved sports betting in August 2019, a year after the Supreme Court overturned the Professional and Amateur Sports Protection Act of 1992 (PASPA).
One month after the law change, the state-operated Scoreboard sportsbook became the leading operator in The Beaver State. Yet, in January 2022, DraftKings replaced Scoreboard as the sole state-approved online provider available anywhere within state lines.
This guide covers sports betting rules, available sportsbooks, upcoming proposals, and how Oregon legalized sports wagers.
Sports Betting Rules in Oregon
The Oregon Lottery regulates and oversees all sports betting activity as well as licensing agreements.
You must be within the borders of the state of Oregon to place a wager using the Scoreboard app.
The state collects 100% of revenues from the state-run app, minus expenses.
Patrons and online bettors must be of at least 21 years of age to place wagers.
It's not possible to bet on college sports in Oregon through the state-run app. However, international sportsbooks, such as Bovada, offer these wagering options.
The Oregon Lottery takes an 8% cut of all sports bet winnings over $1,500. Federal taxes also apply in the state. Therefore, gambling winnings that exceed $5,000 are subject to a 24% tax.
Legal Sports Betting Options in Oregon
Many tribal casinos in Oregon offer in-person and online betting services. The advantage of using these options and international sportsbooks is they offer varied bets for college games.
Casinos in Oregon that offer sportsbooks.

| Casino | Sportsbetting Options |
| --- | --- |
| Spirit Mountain Casino | Retail Sportsbook and BetMGM Sports App |
| Chinook Winds Casino | Retail Sportsbook |
| The Mill Casino | Retail Sportsbook |
---
Sports Betting Apps in Oregon
Oregonians can wager on sports from anywhere in the state using the DraftKings app. Bettors visiting Spirit Mountain Casino can also use the BetMGM sportsbook app from anywhere on the property.
Also, international sportsbooks like BetUS, BetOnline, and BetNow still operate in Oregon.
DraftKings
The Oregon Lottery launched the Scoreboard online sportsbook in October 2019. However, this was replaced by DraftKings on January 18, 2022.
BetMGM
BetMGM entered a partnership with Spirit Mountain Casino and the Confederated Tribes of Grand Ronde to offer sports fans betting options on the premises of these establishments.
The BetMGM app is available for download anywhere in the state, although bettors must be on the casino's premises to use it.
How to sign up for BetMGM in Oregon
Players must first visit the sportsbook to complete the Mobile Sports Wagering Application in person.
You will need a Coyote Club membership to set up your account on the app. Yet if you don't have a Club membership, you can sign up for free at the casino.
Download the BetMGM Sports Spirit Mountain mobile app from either the Apple app store or the Google play store – the sportsbook is not available on desktop computers.
Finally, visit the BetMGM sportsbook at Spirit Mountain Casino to validate your government ID, complete the paperwork and fund your account to to start betting.
A Recent Timeline of Sports Betting in Oregon
April 2015 – Despite Oregon Lottery allowing bets on certain sports within the state due to the Sports Action program, the laws changed when House Bill 3466 was enrolled. This effectively banned all forms of sports betting in order to attract the NCAA men's basketball tournament to Portland.
May 2018 – PASPA is deemed unconstitutional, allowing states to decide if they want to legalize sports betting on their own terms.
August 2019 – The first retail sports bets are taken at Chinook Winds sportsbook.
October 2019 – The state launched it's own sportsbook app, with partners at SBTech, the app would be called Scoreboard and allow 100% of revenues minus expenses to go to the state.
June 2021 – BetMGM announces partnership with Spirit Mountain Casino as well as a long-term partnership with the Confederated Tribes of Grand Ronde. Becoming the Tribes' exclusive betting partner and offering a retail location as well as an app that can be used on the casino premises.
August 2019 – Chinook Winds Casino Resort opens its sports wagering lounge that offers in-person betting options.
October 2019 – The Oregon Lottery launches the Scoreboard sportsbook, allowing Oregonians to place sports wagers online.
January 18, 2022 – DraftKings officially takes over state-approved mobile sports betting operations in Oregon.
February 14, 2022 – payment platform Paysafe becomes a payment method on DraftKing's Oregon mobile sports betting app.
February 15, 2022 – Senate Bill 1503 is introduced. If passed, bettors would have access to state-approved college sports wagering options on DraftKings.
Oregon Sports Franchises
NBA – Portland Trail Blazers
The Blazers were founded in 1970 and have called the Moda Center in Portland their home since 1995. They have managed to win 6 Division titles, 3 Conference titles, and an NBA championship (1977).
MLS – Portland Timbers
Founded in 2009, The Timbers play home games at Providence Park. The team's biggest rivals are the Seattle Sounders – this is essentially the local derby game. The Timbers have come out on top of this rivalry and have never lost to Seattle in the playoffs.
Frequently Asked Questions
Is sports betting legal in Oregon?

Yes. Oregon launched state-approved sports betting in August 2019, a year after the Supreme Court overturned the Professional and Amateur Sports Protection Act of 1992 (PASPA).

Can I use my mobile to bet on sports in Oregon?

Yes, you can download and use Draftkings across the whole of Oregon. BetMGM app is also available while on the premises of the Spirit Mountain Casino.

International sportsbooks, such as Bovada, also let you place wagers using your mobile device within the Beaver State.

How old do I have to be to sports bet in Oregon?

You must be at least 21 years of age to place bets online within the state of Oregon.

Can I still use websites like MyBookie and Bovada from within Oregon?

Yes, you can still access these international sportsbooks from within Oregon. They are not regulated within the state and thus not limited in the same ways that other in-state apps are.

If you aren't sure which sportsbook is the best for you, check out our sportsbook reviews to get the lowdown of each provider and the latest sign-up offers.