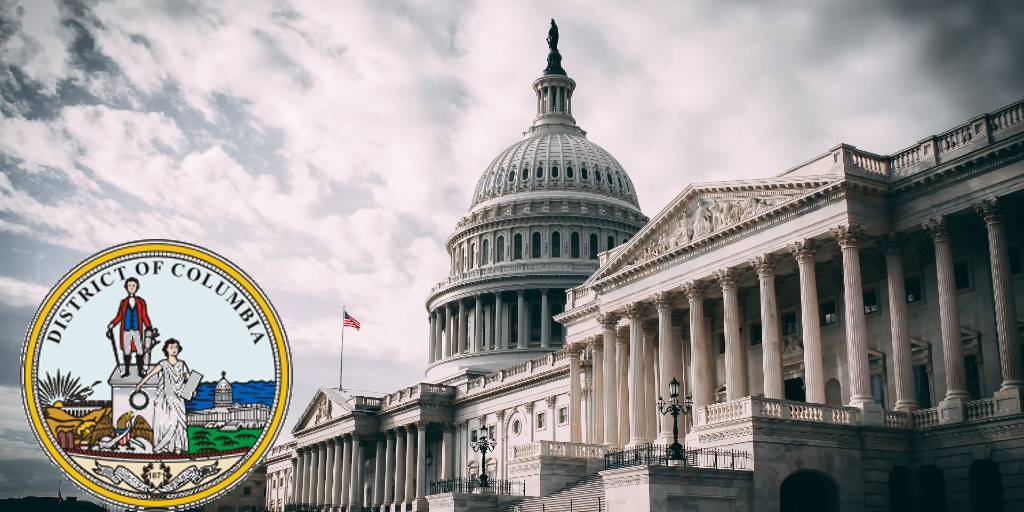 The Sports Wagering Lottery Amendment Act of 2018 made sports betting legal in Washington DC on May 3, 2019. Although this was one of the first places to give the green light to this form of gambling, sports wagering regulations are complex in DC.
Sports Betting Rules in Washington DC
The legal age for placing bets within Washington DC is 18 years or older.
Various online apps are restricted within certain locations. The GambetDC app is geo-fenced within the borders of Washington DC, whereas other apps are limited to a two-block area that surrounds Nationals Park.
Verification of betting accounts require various documents to be shown – social security card, state-issued ID, passport, or driver's license.
Bets on local college teams are not permitted.
The DC Office of Lottery and Gaming href="https://www.dclotterysportsbetting.com/wp-content/uploads/2019/09/Privately-Operated-Sports-Wagering-Rules-ADOPTED-30-DCMR-Ch-21.pdf" target="_blank" rel="noopener">regulates sports betting within the capital city's lines.
Washington DC receives 10% taxes on revenues earned, minus expenses from the online state lottery operations.
Legal Sports Betting Options in Washington DC
As Washington DC doesn't have any casinos, you can only place in-person sports bets at designated retail outlets. These locations hold a Class A license. This five-year permit costs $500,000.
Four sports arenas currently have these licenses:
There are also to be other betting venues with Class B licenses, but once again betting isn't yet available at these other locations. These establishments cannot be within two blocks of a Class A licensed facility and pay $100,000 for a five-year license term. Plans for these kinds of smaller establishments to offer sports betting include:
Handle 19
Duffy's Irish Pub
Wet Dog Tavern
The Brig
Retail Sportsbooks in Washington DC and their venues

| Venue | Sportsbetting Partner |
| --- | --- |
| Audi Field | TBD |
| Capital One Arena | William Hill |
| Nationals Park | Bet MGM |
| St. Elizabeths East Entertainment and Sports Arena | TBD |
| Handle 19 | Handle 19 |
| Duffy's Irish Pub | TBD |
| Wet Dog Tavern | TBD |
| The Brig | TBD |
Washington DC Sports Betting Apps
GamBetDC (Available through the whole district of Washington DC)
William Hill Sportsbook (Limited to use in a two-block area surrounding the Captial One Arena)
BetMGM (Limited to use in a two-block area surrounding the Nationals Park)
FanDuel is also going through the motions to launch operations in DC
Washington DC Lottery
Washington DC has offered lottery games since 1982. Since then, it's helped raise over $1.6 billion for the General Fund that supports educational services, the elderly population of the district, housing schemes, and more. These days you can even play lottery games online within the boundaries of Washington DC.
If you want to learn more about the lottery games offered and much more, take a look at the Washington DC Lottery page.
The Path to Washington DC Legalizing Sports Betting
May 2018 – The Professional and Amateur Sports Protection Act (PASPA) is deemed unconstitutional by the Supreme Court, allowing states and territories such as Washington DC to decide whether to legalize sports betting.
December 2018 – Washington DC council members vote in favor of legalizing sports betting with Bill 22-944.
May 2020 – The District Lottery launches the first mobile betting app "GamBetDC".
August 2020  – The first retail sports bets are taken at the William Hill sportsbook located in the Captial One Arena.
June 2021  – BetMGM becomes the third mobile betting app to launch within Washington DC, generating $80,000 of revenue in its opening month.
Washington DC Sports Franchises
The capital city of the United States has some quality sports teams within its borders. You can choose to go and see a wide range of professional matchups at various stadiums and arenas dotted around the capital.
MLS: D.C. United
D.C. United was founded in 1994 and plays home games at Audi Field. The team has seen some serious talent join their ranks, including English superstar Wayne Rooney, who played for them from 2018 to 2020.
NBA: Washington Wizards
Founded in 1961 under the name of Chicago Packers before becoming the Washington Bullets. They kept this name until 1995 when owner Abe Pollin renamed the team the Washington Wizards because of the violent connotations of the word bullet.
The team has secured 8 division titles, four conference wins, and an NBA championship in 1978. Recent years have seen them be successful in the Southeast Conference, making the Semifinals in the 2016/17 season, only to get closed out by the Celtics in a 3-4 loss. They also made the Playoffs in 2017/18 and 2020/21, only to be knocked out in the first round both times.
Frequently Asked Questions
Is sports betting legal in Washington DC?

Yes, Washington DC legalized sports betting in late 2018. Approved online sportsbooks launched in May 2020.

Can I use my mobile to bet on sports in Washington DC?

Yes, there are currently three mobile apps in operation within Washington DC.

The only one that you can use throughout the whole district of Washington DC is the GamBetDC app. The other two apps are only available within two blocks of retail locations at the Captial One Arena and Nationals Park.

How old do I have to be to sports bet in Washington DC?

You must be at least 18 years of age to place bets online within the border of the capital.

Can I still use websites like MyBookie and Bovada from within Washington DC?

Yes, you can access these international sportsbooks in Washington DC.

If you aren't sure which sportsbook is the best for you, check out our sportsbook review section to learn more about quality providers and the latest sign-up offers.