Super Bowl Coaches with the Midas Touch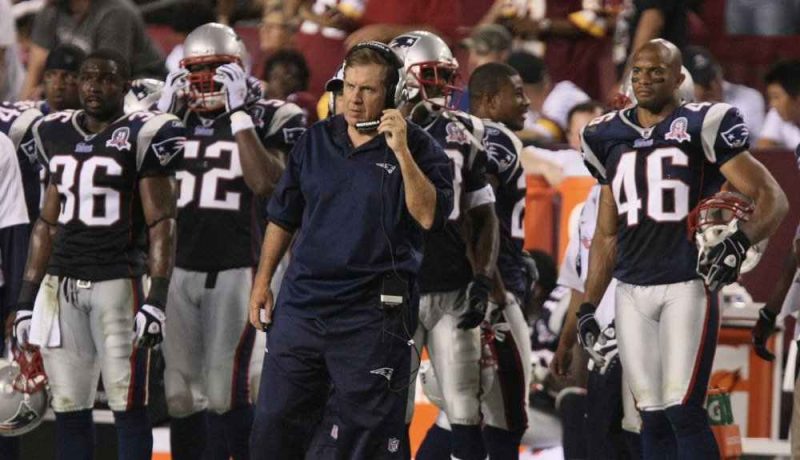 Winning the Super Bowl is the pinnacle of any NFL coach's career, so to win it on more than one occasion is a remarkable feat and not one that many have managed to achieve.
It's a very exclusive club with just a few legendary members…
---
Bill Belichick (6 Super Bowl wins – 3 Super Bowl defeats)
Even among such esteemed company, Belichick warrants particular praise for his Super Bowl record across two decades with the New England Patriots.
Belichick has won an incredible six Super Bowls (2001, 2003, 2004, 2014, 2016 and 2018) and lost on a further three occasions (2007, 2011 and 2017).
Belichick's career with the Patriots is of course almost parallel with that of quarterback Tom Brady, but with Brady leaving for the Tampa Bay Buccaneers in 2020, that connection is now gone.
At the age of 68, Belichick is clearly in the twilight years of his coaching career. There's not a great deal more for him to achieve anyway.
---
Chuck Noll (4 – 0)
Noll coached the Pittsburgh Steelers between 1969 and 1991, but it was the six seasons between 1974 and 1979 in which he took them to four Super Bowls (1974, 1975, 1978 and 1979) that, winning all of them, that puts Noll in this list.
The Pittsburgh team during these years was renowned for its defense under Noll's guidance, which was known as the "Steel Curtain".
His four Super Bowl wins are the most ever by a coach without a Super Bowl loss.
---
Bill Walsh (3 – 0)
Walsh led the San Francisco 49ers to three Super Bowls (1981, 1984 and 1988) during just 10 seasons as an NFL head coach.
Walsh was known as "The Genius" for perfecting what became known as the "West Coast Offense" with his innovative play calling and design. In his 10 years as the 49ers' head coach, San Francisco scored 3,714 points (24.4 per game).
He also produced NFL legends in Joe Montana and Jerry Rice and was instrumental in the development of many future NFL head coaches, including future Super Bowl champions in George Seifert and Mike Holmgren.
---
Joe Gibbs (3 – 1)
Gibbs won three Super Bowl titles (1982, 1987 and 1991) over 12 seasons in his first stint with the Washington Redskins. They also lost the Super Bowl in 1983 to the Los Angeles Raiders.
He returned for a second spell as head coach with the Redskins, but retired in January 2008 after completing four years of his five-year contract, although he remained with the team as an adviser to team owner Daniel Snyder.
He is the only head coach to have won Super Bowls with three different starting quarterbacks.
His post-NFl career saw him create the Joe Gibbs Racing team in NASCAR in 1992, which continues today.
---
Don Shula (2 – 4)
Although Shula lost more Super Bowl Finals than he won, he is still very much an NFL coaching legend.
Shula was head coach of Miami Dolphins for 26 seasons leading them to two Super Bowl victories (1972 and 1973), the first of which featured the only perfect season in NFL history.
His four losing Super Bowl Finals came in 1968 (when coaching the Baltimore Colts), 1971, 1982 and 1984 (all with the Dolphins)
Shula had only two losing seasons in his 33-year career as a head coach in the NFL and he holds the NFL record for most career wins as a head coach with 347 (328 in the regular season). He also won a record four Associated Press (AP) NFl Coach of the Year awards (1964, 1967, 1968, 1972).
---
Tom Landry (2 – 3)
Landry held the position of head coach with the Dallas Cowboys for an NFL record of 29 seasons. He also recorded 20 consecutive winning seasons from 1966 to 1985, which is also unmatched.
Landry is also known for creating various new formations and methods, such as the 4-3 defense (a defensive alignment consisting of four down linemen and three linebackers) and the "flex defense" system made famous by the Doomsday Defense squads he built during his time with the Cowboys.
Landry won two Super Bowl titles (1971 and 1977) and lost three other finals (1970, 1975 and 1978). He also won five NFC titles and 13 divisional titles.
Other two-time Super Bowl winning coaches worthy of recognition are
Vince Lombardi (after whom the Super Bowl trophy is named).
Tom Flores, who was the first Hispanic starting quarterback in the league as well as the first non-white coach to win a Super Bowl.
Jimmy Johnson, who led the Dallas Cowboys to consecutive Super Bowls in 1992 and 1993.
George Seifert, whose seven seasons with the San Francisco 49ers resulted in two Super Bowls and six playoff appearances.
Mike Shanahan, who coached the Denver Broncos for 14 seasons between 1995 and 2008, including back-to-back Super Bowls in 1997 and 1998.
Tom Coughlin, who secured two Super Bowl wins for the New York Giants over Belichick's Patriots in 2007 and 2011.
Bill Parcells, who also led the Giants to two Super Bowl titles in 1986 and 1990. He later went on to become the only coach to lead four different teams to the playoffs.