AFC Wild Card Odds: Patriots vs Bills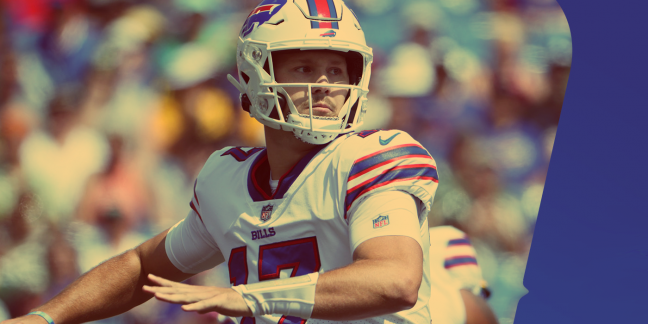 The Buffalo Bills won the AFC East title for the second consecutive year in Week 18, securing a meeting with the Patriots in the NFL Wild Card game on January 15. In front of their home crowd, the Bills defeated the New York Jets 27-10, while New England fell to the Miami Dolphins 33-24. View the latest betting lines and pregame information for this postseason matchup on Saturday.
---
Top online sportsbooks have the Buffalo Bills as the odds-on favorites to overcome the Patriots in this AFC Wild Card game, which kicks off at 8:15 p.m. ET on Saturday at Highmark Stadium in Orchard Park, New York. The Bills defeated New England 33-21 at the end of last year, but Buffalo fell to the Patriots 14-10 at home in Week 13 to make it one apiece in the 2021-22 NFL regular season.
---
---
New England Patriots vs Buffalo Bills Insights
The Bills' Week 18 victory over the Jets was far from convincing. Matt Hack failed to average more than 33.9 yards per kick, and three of his punts traveled under 25 yards. After the Bills' offense scored a touchdown on their first drive, it looked like it could have been a rout for Buffalo. However, the offense didn't find the end zone until the fourth quarter. The wind hampered Josh Allen's accuracy once again, as he finished with a 54 percent completion percentage for the second game in a row. Allen has recently resorted to running the ball to compensate for his ineffective passing. He's now rushed for at least 60 yards in four of his last five starts, including 109 yards against the Tampa Bay Buccaneers.
Despite a lackluster offensive performance against the Jets, the Bills were strong defensively. They were able to sack Zach Wilson eight times and limit him to seven throws out of twenty. This performance, along with the return of wide receiver Emmanuel Sanders, will instill confidence in Buffalo fans ahead of this weekend's Wild Card game against Belichick's Patriots.
New England heads into this game after a limp loss to the Dolphins. Rookie Mac Jones struggled to make an impact, completing only 20 of 30 pass attempts for 261 yards and a touchdown against Miami. Furthermore, he threw a pick-six, was sacked twice, fumbled, and had the second-lowest QBR of his career (12.7). Jones, however, was well aware of his poor performance, calling it "super embarrassing."
After missing the playoffs in 2020-21, New England enters as one of three AFC Wild Card teams. Bill Belichick may be without starting left tackle Isaiah Wynn, who limped off with an ankle injury against Miami, as well as backup running back Rhamondre Stevenson, who suffered a concussion. In other bad news, starting defensive lineman Christian Barmore went down with an undisclosed injury, and reserve defensive back Sean Davis left the game with a shoulder injury. Despite these injuries, the Patriots will prove a tough challenge for the Bills in the NFL playoffs, but Buffalo should get the victory to make the next round, according to the latest odds at NFL sportsbooks online.
View all the results and NFL schedule.
---
Bills vs Patriots – Last Ten Meetings
| Date | Home | Score | Away |
| --- | --- | --- | --- |
| 12-26-2021 | Buffalo Bills | 21-33 | New England Patriots |
| 12-06-2021 | New England Patriots | 10-14 | Buffalo Bills |
| 12-28-2020 | New England Patriots | 9-38 | Buffalo Bills |
| 11-01-2020 | Buffalo Bills | 24-21 | New England Patriots |
| 12-21-2019 | New England Patriots | 24-17 | Buffalo Bills |
| 09-29-2019 | Buffalo Bills | 10-16 | New England Patriots |
| 12-23-2018 | New England Patriots | 24-12 | uffalo Bills |
| 10-29-2018 | Buffalo Bills | 6-25 | New England Patriots |
| 12-24-2017 | New England Patriots | 37-16 | Buffalo Bills |
| 12-03-2017 | Buffalo Bills | 3-23 | New England Patriots |
---
Want to bet on the playoffs? Sign up with an NFL betting site to get a welcome bonus before placing wagers online.
---