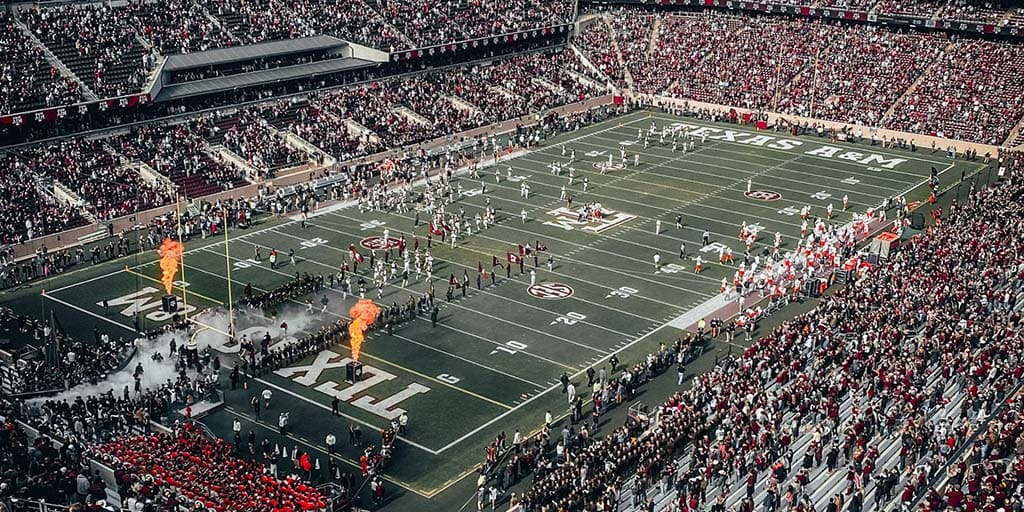 Looking for online NFL betting sites and apps to wager on upcoming games or make futures bets? This NFL betting sites guide gives you a breakdown of the best online bookmakers & betting apps, explains your available wagering options, and provides links to generous sign-up bonuses.
Top Sites for NFL Betting Online
How To Open an Online NFL Betting Site Account
Registering with a top online NFL betting site is straightforward. To ensure you claim a generous welcome bonus when signing up today, follow the steps outlined below.
Click one of the NFL online betting site welcome bonuses above and check the T&Cs of the promotion.
If you're happy with the terms and conditions, complete the online form with your details.
After receiving confirmation, you're ready to make a deposit to activate your bonus and bet on the NFL.
Popular NFL Wagering Options
After you've opened your online betting account, you can check out the odds (which are similar or more generous than the latest Las Vegas betting odds) and place various types of wagers in just a few clicks. Learn about the most popular football betting options to discover which ones are right for you.
NFL Moneyline Bets
NFL moneyline betting is when you wager on which team you think will win a certain game. This is one of the most straightforward sports wagering options around.
| Spread | Win | Total |
| --- | --- | --- |
To place an NFL moneyline bet, click on the moneyline number (see above) located next to the team you want to wager on winning. Using the odds outlined in the table above as an example, click the -180 number if you want to bet on the Minnesota Vikings to win. However, if you feel like placing action on the Detroit Lions to emerge victorious, click the +155 number.
Your selection will then be added to a virtual betting slip which will ask you how much you want to stake. After doing this, your bookmaker will calculate the winning payout automatically before confirming – this allows you to decrease or increase your wager amount before placing the bet.
Game Totals
NFL totals bets let you wager on whether the combined score will be lower (under) or higher (over) than a set number. So if you think the combined score of a matchup won't be more than the number featured in the "total" column, select the under. But if you expect the combined points of the game will be more than the offered figure, wager on the over. If the total is 44 and you bet the over, you need both teams to score more than 44 points to win. For example, a score of 32-13 (total combined score 45) would give you a winning return. If you bet the under, the combined total score must be less than 44 to receive a payout.
Next to the under/over totals on the NFL betting line, the negative odds number tells you how much a $100 winning bet will payout. Usually, these NFL odds range between -105, -110, and -115. So, if the odds are -115, you can bet $115 to get a potential return of $100. Be aware that this is not a minimum bet limit.
NFL Spread Bets
An NFL spread bet is when you place action on a losing or winning margin outlined on the NFL betting line (see below). A negative (-) number shows the oddsmaker's favorite team to win, whereas a positive (+) number indicates the underdog to win. Sometimes you'll find that both teams have negative odds. In this case, the team with the lower number is the underdog.
| Spread | Win | Total |
| --- | --- | --- |
If you want to bet on the underdog, opt to bet against the spread. For example, if you wager on the Buffalo Bills to win at +4 underdogs (see above), they have to keep the losing margin at below four points or get a victory for you to win. However, if they are defeated by five points or more, you lose your bet. If you're confident that the Bears will beat the Bills by more than four points, wager on them to cover the spread. Using the odds from the NFL betting line above, the Chicago Bears would have to beat the Bills by five points or more to cover the spread.
Online sportsbooks provide you with spread betting options to balance the odds between unequal opponents. As NFL football scores increase by either two (safety), three (field goal), or 6 points (touchdown), the spreads will reflect these numbers.
For example, when it's a close matchup, the home team is usually a three-point favorite (-3). Therefore, if a bookie makes the Miami Dolphins six-point favorites at home, this means that they would be only a three-point favorite if playing the same matchup at a neutral stadium. Spreads are often less than 15 points either way – in fact, it has only been outside this range 80 times in the entire history of the NFL.
NFL Football Halves/Quarters Betting
These NFL bets must occur within a specific period of play: halves or quarters. Online bookmakers give you odds for spreads and totals for quarters and halves before the game. But once the game has begun, more odds and totals are made available by online bookmakers to give you live betting options. Keep in mind, however, that bets placed on the second half and the fourth quarter must happen within the regular time of play, not in overtime.
NFL Prop Bets
Prop bets let you bet on different aspects of the NFL. These include which team will win the faceoff, how many touchdowns will be scored, etc. Top online NFL sportsbooks give you over 90 prop betting options for primetime matchups.
NFL Parlays
An NFL parlay gives you the option of combining numerous bets to get more favorable odds. Remember, to win a parlay, every prediction selected has to be correct. Although these bets are difficult to predict, many bettors enjoy NFL parlays because they can give you substantial potential returns.
Most sportsbooks allow you to combine a maximum of 12 stakes. The more bets you include in the parlay, the higher the potential winning return.
---
NFL Teasers
A teaser is like a parlay because all your predictions must be right for you to win the bet. Yet, a teaser allows you to add or subtract points from the total or spread. A six-point teaser is the most common.
Let's use an NFL two-team 6-point teaser as an example. Imagine you've 'teased' the LA Rams from -9.5 point favorites against the Las Vegas Raiders down to -3.5 and changed the NY Giants from +3.5 point underdogs to +9.5 against the NY Jets. In this case, you would need the Rams to beat the Raiders by four or more points and need the Giants to defeat the Jets – or lose by nine points or less – to win.
---
NFL Futures
NFL futures bets let you place action on outcomes that occur near the end of the season. For example, you have the option of betting on who will be the winner of the Most Offensive Player of the Year Award, which team will win the Super Bowl, who will win MVP, etc.
Check out some of the main NFL Futures betting markets available at online bookmakers.
Super Bowl – Winner
Super Bowl – To Make The Playoffs
Super Bowl – Winning Conference
Super Bowl – Winning Division
Super Bowl – Price Boosts
AFC – Winner
AFC – No 1 Seed
NFC – Winner
NFC – No 1 Seed
AFC East – Winner
AFC North – Winner
AFC South – Winner
AFC West – Winner
NFC East – Winner
NFC North – Winner
NFC South – Winner
NFC West – Winner
---
Live Betting
Some bookmakers give you the option of betting on the outcome of every play to keep you entertained during the numerous stoppages in NFL games. Popular options include wagering on whether the next drive will result in a field goal, touchdown, turnover, or punt. Additionally, you can view live betting odds for spreads, moneyline, and totals while a matchup is still in play.
Support for Problem Gamblers
If you need support call the NCPG (National Council on Problem Gambling) helpline on 1-800-522-4700. Its telephone lines are open 24/7, and all calls are confidential.
Frequently Asked Questions
Can I bet on the NFL online?

Yes. Top online sportsbooks give you various NFL wagering options betting. There are state-regulated betting sites and independent online bookmakers available in the US and Canada. Although some offshore betting sites may not hold licenses issued by state governing bodies, it is not illegal to sign up with them and bet on the NFL. Find out more about sports betting laws in your state.
What is an NFL sharp?

An NFL sharp is a bettor that uses statistical data and sporting knowledge to win bets more than the average bettor. Some of the most famous sharps are Billy Waters, Tony Bloom, and Steve Fezzik. Although sharps have a better win rate than regular bettors, they still lose often.
Can I bet on the NFL using my smartphone or tablet?

Yes. Many, if not all, online sports betting sites let you make NFL wagers using your iOS or Android device. Sometimes you may have to download an app. However, most sites allow you to place bets on the NFL without using an application.
Are NFL spread bets the same as moneyline bets?

No, they are different. A moneyline bet lets you pick a winner between two competitors. To bet on a point spreads, the team you select must win by a certain number of points (known as the over) or not lose by a certain number of points (the under).