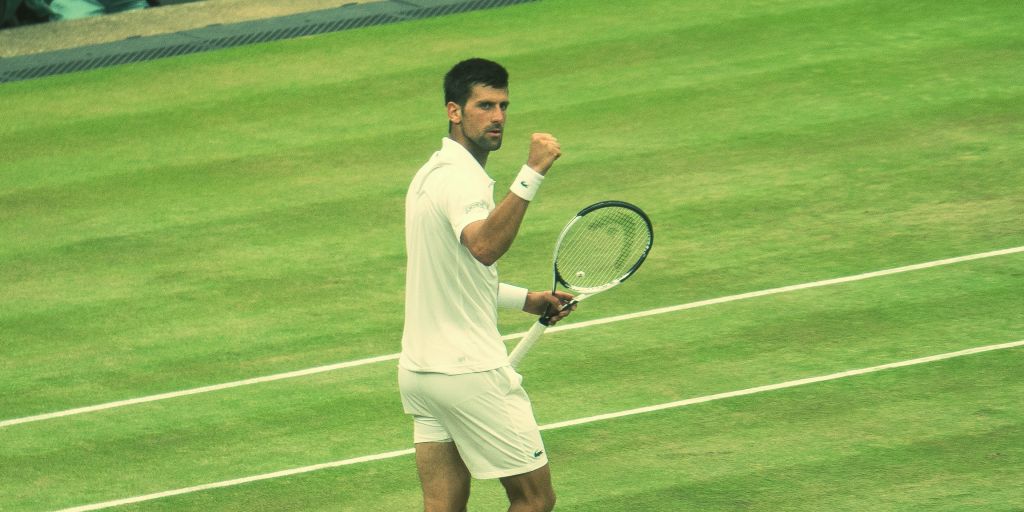 Novak Djokovic celebrating at Wimbledon.
After rallying late to overcome Jannik Sinner, Djokovic has set up a Wimbledon semi-final showdown with Cameron Norrie on July 8.
Despite putting on a mixed performance in the quarter-final, Vegas oddsmakers have made him a -1400 favorite to beat the Brit and make it to the Wimbledon final – but are his odds justified?
Get a betting preview and the odds for Djokovic vs. Norrie
Novak Djokovic Vs. Cameron Norrie Betting Lines
Spread
Win
Total
7/8/22
@14:30
Novak Djokovic

-7.5 (-120)

-1400
O31.5 (-110)
Cameron Norrie

+7.5 (-110)

+775
U 31.5 (-120)
Novak Djokovic Vs. Cameron Norrie – The Stats
When: Friday, July 8, 10:30 am ET
Court surface: grass
Djokovic is 5-0 on grass in 2022
Djokovic has an 89.4% winning percentage in service games and a 35.0% winning percentage in return games in games on grass
In his last tournament (French Open), Djokovic lost to Rafael Nadal in the quarterfinals 2-6, 6-4, 2-6, 6-7 on May 31
Norrie is 6-2 so far this year on grass
Norrie has converted 34 of 82 break points (41.5%) on grass
Norrie has won 85.4% of his games on serve and 28.3% on return when playing on grass
Djokovic Survives Scare
When Djokovic moved 4-1 ahead in the first set against Sinner and brought up a break point for 5-1, it looked like business as usual for the world No. 1. However, Sinner grew into the match, putting the out-of-sorts Serb two sets behind.
Although the Serb's fightback was impressive, he's not looked at his best this year.
But after a quick toilet break at the end of the second set, Djokovic returned to court a different player. He began stepping into the ball instead of scrambling and a break to love for 3-1 gave him control of the match.
At 30-30, the Italian started to crumble, netting a makeable volley. Sinner saved two set points at 5-2 down, but Djokovic wrapped it up in the next game, dropping only five points on his serve in the third.
Djokovic capitalized on two double faults committed by his opponent and broke again as he moved 4-0 up. Sinner showed resolve at the end of the set but tweaked his ankle chasing a volley. He soon recovered, but after firing a shot into the net to give Djokovic a break for 2-1, it was plain sailing for the Wimbledon favorite, who produced a spectacular backhand cross-court winner.
Although the Serb's fightback was impressive, he's not looked at his best this year.
Admittedly, it's been hard to analyze his game closely, as he didn't compete in the Australian Open and the American hard-court swing because of his Covid-19 vaccine status.
After losing to Rafael Nadal in the French Open quarter-finals, he didn't have a grass-court warm-up tournament before Wimbledon. Therefore, his lack of court time could make his match against Norrie far closer than what the Vegas oddsmakers think.
Still, because of his never-say-die attitude and tournament pedigree, betting against Djokovic is high risk. Nevertheless, Norrie's +775 moneyline odds will attract some action.
Can Norrie Cause an Upset?
After fighting back to beat unseeded David Goffin 3-6, 7-5, 2-6, 6-3, 7-5, the British No. 1 will be full of confidence when facing Djokovic in the semi-final.
Norrie has vowed to "take it" to the reigning Wimbledon champion but does he really stand a chance?
…it doesn't look good for the 26-year-old, yet he will have a home crowd backing him all the way.
The two players have only ever played once previously when on Tour at the 2021 Nitto ATP finals – a match Djokovic won in straight sets 6-2 6-1.
Consequently, it doesn't look good for the 26-year-old, yet he will have a home crowd backing him all the way.
After losing against Norrie, Goffin admitted the home crowd gave the Brit a "huge advantage". When asked if he thought Norrie could beat Djokovic, Goffin said, "If he's playing the tennis of his life, and Novak is not feeling well, we never know."
"But Novak is Novak. He's playing even better when the crowd is against him. Novak is just an alien, and I don't know how to beat an alien."
Many agree with Goffin and only see one winner of this matchup. Yet it's likely to be closer than what the odds suggest at top tennis betting sites. Therefore, specials bets at Bovada, such as Norrie to break serve in sets 1 and 2 at +650, are worth a look.
Image credit: Charles Ng, CC BY 2.0