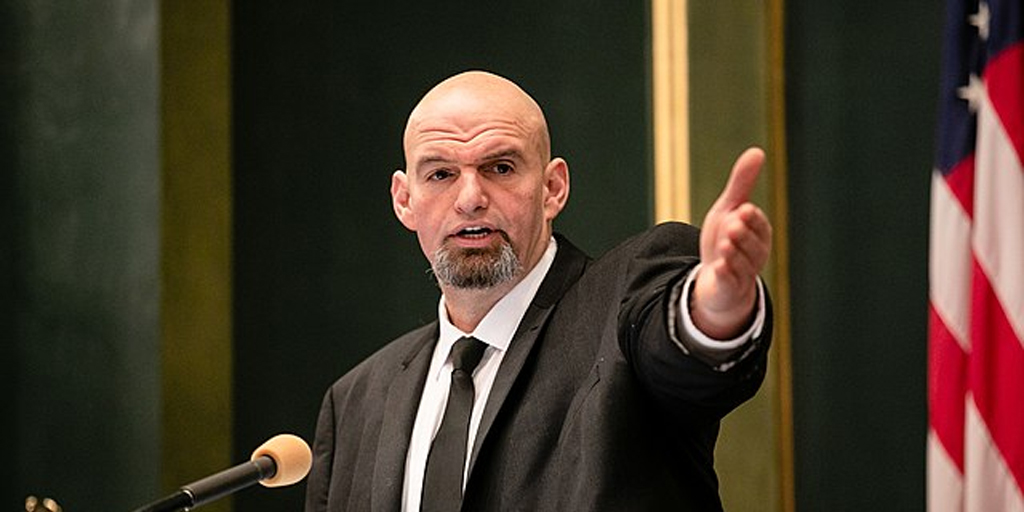 US Senate candidate Lieutenant Governor John Fetterman
The scientific evidence that human activity is causing climate change is overwhelming. Yet the Supreme Court has restricted the US Environmental Protection Agency's shift towards renewable energy.
Pennsylvania's economy is driven by coal and gas – but at what cost to the natural environment and sustainability of future generations to live a full and healthy life?
In November, Pennsylvania voters will elect a new US senator. Democrat John Fetterman and his Republican challenger, the celebrity doctor Mehmet Oz offer the electorate opposing solutions to climate challenges.
We analyze the issues for political bettors wagering on the Pennsylvania midterm elections.
The Climate Change Battle
In a direct challenge to President Biden's battle against climate change, the US Supreme Court ruled that the Environmental Protection Agency had no right to move away from fossil fuel-generated power to renewable energy sources to reduce greenhouse gas emissions.
Democrats see the ruling as a significant step backward in the struggle to prevent the worst effects of climate change. One of the minority liberal SCOTUS justices argued the ruling removed the EPA of "the power to respond to the most pressing environmental challenge of our time."
justices who were not elected acting against the interests…of the people
"A state's climate action efforts are now only as good as their nearest neighbors' policies," said Pennsylvania state Rep. Danielle Friel Otten. "We have relied on and should be able to rely on…the US EPA to set baseline policy and regulation and to set national standards for addressing climate change."
Kate Wright of Climate Mayors said, "The support is there…to see a court of justices who were not elected acting against the interests and the will of the people is deeply disturbing."
A sentiment that Pennsylvanian voters agree on – 64% support the federal government moving the country to 100% clean electricity.
The EPA will still regulate emissions from power plants burning fossil fuels, but elected representatives will make future decisions to shift toward zero-carbon power. However, given the partisan divide over climate politics, a change could be challenging to implement.
Republicans doubt the scientific evidence of human-caused climate change. The Democrats push for positive climate action and hope the court's ruling will mobilize voters in the November midterm elections.
Democrat John Fetterman
The lieutenant governor of Pennsylvania, John Fetterman, the Democratic Party's US Senate nominee, said, "Climate change is an existential threat," – but the question is can he convince the voters in the November midterm elections?
Fetterman draws on climate change science to convince the electorate of his balanced campaign message. If elected as US Senator, he will vote on federal climate issues, but until the election, he must focus on what is best for Pennsylvania.
As mayor of Braddock, he witnessed the pollution and toxic waste produced by heavy industries. The effect it had on disadvantaged communities and the reality that environmental and economic issues are entwined into people's daily lives.
we must be a market leader in these new products and technologies
Fetterman fought for the Democrat "Carbon Caps = Hard Hats" campaign. A greenhouse gas emissions cap-and-trade system that would invest in wind turbines, solar panels, transmission lines, and green operations. He argued it would create jobs and economic activity and reinvigorate communities like Braddock.
"To win the most jobs and the most economic opportunity, we must be a market leader in these new products and technologies, and a cap on carbon in the United States will spur our companies to be the early movers in these new markets supplying solutions at home and selling these solutions across the globe."
"Towns like Braddock need Congress to cap carbon so we can get to work," he said on his campaign launch. "It takes 250 tons of steel to make a wind turbine, and we're ready to make as many as we can. We've lost 250,000 jobs in Monongahela Valley, and I want to bring them back for the next big business built on steel," continuing, "I can sum up a carbon cap in one four-letter word: jobs."
The former steel town mayor understands the economic arguments of the transition away from fossil fuels and the source of critical jobs and wealth creation in Pennsylvania. Gisele, Fetterman's wife, said, "… He's going to fight to raise the minimum wage and protect the union way of life. He's going to fight to protect our planet."
Fetterman demands stricter environmental regulations and believes there will be a "de facto" moratorium on fracking as Pennsylvania and the US move toward renewable energy sources. However, following the Supreme Court's opinion, this is now in doubt.
"Climate change is an existential threat, and we need to transition to clean energy as quickly as possible," Fetterman campaign spokesperson Joe Calvello said. "We also have to preserve the union way of life for the thousands of workers currently employed by the natural gas industry in Pennsylvania and the communities where they live. We can't just abandon these people and tell them to go learn how to code."
Fetterman has pledged not to take contributions from "oil, gas, and coal industry executives, lobbyists, and PACs."
Republican Mehmet Oz
Mehmet Oz, the Republican Party's US Senate nominee, downplays the gravity of environmental challenges, saying, "(the) ideology that carbon is bad… (is) a lie," continuing, "carbon dioxide, my friends, is 0.04% of our air. That's not the problem," – the problem is will he convince the electorate in the Pennsylvania midterm election?
The heart surgeon and celebrity doctor is endorsed by Trump – who called climate change "mythical…nonexistent…an expensive hoax."
Dr. Mehmet Oz called the Democratic Party's Green New Deal "a hoax, a fraud" and bemoaned Biden's energy policies with "Back off Biden! Give us freedom to frack!"
We must cast aside Biden's woke energy agenda which steals our jobs
"What we can do is rely on natural gas right here from under our feet in Pennsylvania," despite previously saying it was "a fact" that fracking pumps "toxic chemicals" deep into the ground.
The GOP nominee now denies climate science, "As a doctor and scientist, I can tell you that our country can't afford to ignore the science of energy any longer. We must cast aside Biden's woke energy agenda which steals our jobs, increases inflation, and makes us dependent on hostile nations."
Oz has called for Pennsylvania, the second-largest natural gas producer and third-largest coal-producing state in the US, to increase production as a solution to soaring energy prices – with no regard to climate consequences.
The Election Campaign
For the Democrats, John Fetterman's universal appeal offers an opportunity to win a valued US Senate seat. His pragmatic view of climate action balanced with economic issues will attract a pool of voters beyond the traditional Democrat.
Bettors should consider if Mehmet Oz can recover from damaging attacks sustained during the close-run Republican primary – although the GOP is confident Republican voters will turn out in numbers come November.
Ultimately, in the deeply divided state of Pennsylvania, will the supporters of sound energy policy and strong environmental protections be given a voice in Washington in times of rising inflation and fears of a looming recession?
The polls show Fetterman with 46% support amongst voters, Oz with 37%, and 13% remain undecided – the election race is tight – however, right now, the Democrat looks like a better political betting choice.
Wager on upcoming US elections at top online cryptocurrency betting sites
Image credit: Tom Wolf. CC BY 2.0