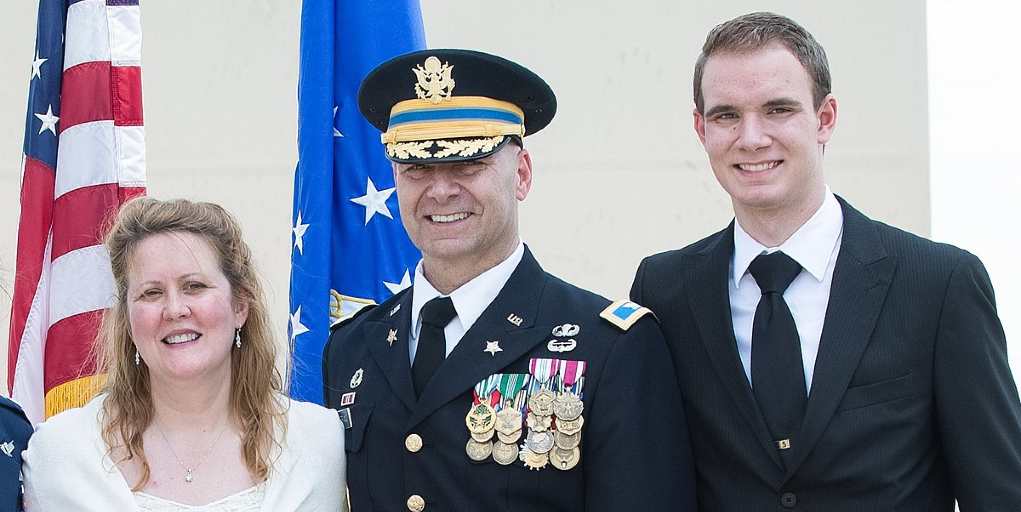 New Republican Doug Mastriano (center) with his wife and son. Majorbuxton, CC BY-SA 4.0 , via Wikimedia Commons
State Senator Doug Mastriano has won the Republican nomination for Pennsylvania governor with almost 44% of the vote. He led the polls going into voting day following a late endorsement by Donald Trump. However, state GOP officials fear Mastriano is too extreme to win a November general election following his hard-line campaign messages.
Mastriano is a religious-right Christian nationalist with beliefs that would have once placed him on the fringes of the Republican party.
As the mainstream Republican gubernatorial candidate, we analyze whether his religious-right stance will help or hinder his Pennsylvania Governor election campaign in 2022.
---
The Nominee
Mastriano's primary campaign openly criticized the Republican party and gained the election with a +20% lead over better-funded rivals with stronger establishment connections. His popularity amongst Republican voters increased following opposition to state-ordered shutdowns during the pandemic.
Mastriano, who attended the infamous "Stop the Steal" rally in Washington on January 6, 2021, won Trump's endorsement as a reward for promoting the false claims of widespread fraud in the 2020 presidential election.
If elected governor in November, Mastriano has vowed to require every Pennsylvania voter to re-register and has proposed a ban on abortions after six weeks. Moderate Republican voters could interpret these proposals as too invasive and vote for the Democrats.
Bettors should especially monitor how the opposition uses his abortion proposal against him before wagering on the midterm elections.
---
---
The Power Of GOD
What's worrying the GOP is how Mastriano has interpreted pandemic lockdowns and Trump's lost election as losses in a religious battle against the forces of evil.
We have the power of God with us. We have Jesus Christ that we're serving here.
Although Mastriano campaigned under the Republican banner, he also flew the flag of the Christian Nationalists.
On the campaign trail at a Christian patriots' event, Mastriano told his supporters: "We have the power of God with us. We have Jesus Christ that we're serving here. He's guiding and directing our steps." He added: "God has turned the tables on the Democrats and those who stand against what is good in America,"
Religion + Nationalism
Christian Nationalists believe that to be a good American you must be a good Christian. They aim to merge both identities and introduce a prescriptive program to keep it that way with the government's help – as witnessed in Republican state laws on abortion, education, gender identity, and voting rights.
They claim to respect the First Amendment, which guarantees religious freedom and forbids Congress from promoting one religion over others. However, when taken to the extreme, the ultimate target is to restore the original racial and religious foundation of white Christian America.
---
---
The Rise Of Christian Nationalism
Since 2008, the percentage of white Christians in America has declined from 54% to 44%. As a result, racial and ethnic resentment has grown.
60% of Republican voters believe that immigrants are invading their country – a topic Trump took full advantage of with the wall between the US and Mexico.
They blame their decline on the Democratic woke agenda that promotes the equal treatment of homosexuals, Americans of color, non-white immigrant groups crossing the southern borders, and religious minorities.
The Democrats, however, will hope minority voters turn out in force for the November elections.
On the campaign trail, Trump promised "to protect Christianity" and warned that a Biden presidency would mean "no religion, no anything" and would: "Hurt the Bible, hurt God. He's against God, he's against guns"
---
---
Trump, The Bible, and St John's Church
On June 2, 2020, a crowd of peaceful protesters was violently dispersed to allow Donald Trump to pose for photographs in front of St John's Church holding a Bible.
The demonstrators were protesting the death of George Floyd, an African American man killed by a Minneapolis police officer who pinned him to the ground with a knee on his neck for more than 8 minutes.
When Trump grasped the Bible, it was not a show of support for those with racial grievances nor a statement of faith. Instead, he was sending a message to a particular Christian audience as "the president of law and order".
We have the best country in the world…we will make it even greater…
Standing in front of the church, he said:" We have a great country. That's my thought. We have the best country in the world…we will make it even greater. And it won't take long. It's not going to take long. You see what's going on, it's coming back, it's coming back strong. It'll be greater than ever before."
Trump's support of and from extreme groups is an issue that has divided the Republican Party, moderate voters, and political bettors, who may now doubt Trump as a safe bet in the 2024 presidential elections.
The ex-president's endorsement of Mastriano follows a rise in extremist views that fueled the Capitol Hill insurrection.
So if the nominee is going to stand a chance of defeating the Democrats in the November midterm primary elections, the Republican establishment needs to prevent him from stoking the fire of these incendiary views.
---
Wager on upcoming US elections at top online betting sites.
---