10 Top NFL Draft Prospects – Who are the Future Stars of the NFL?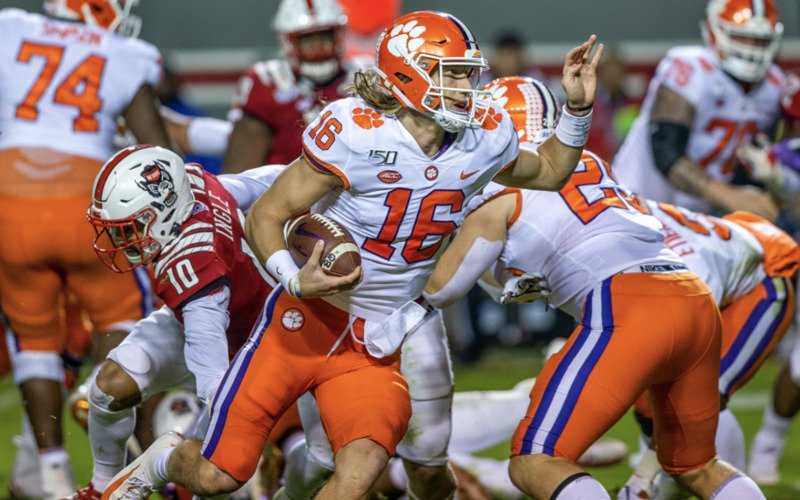 Trevor Lawrence
The start of the 2021 NFL Draft is on the horizon, with it scheduled to be held in Cleveland from April 29 to May 1, 2021.
Real-time wagers are expected to be at an all-time high this draft. The draft's first overall selection is held by the Jacksonville Jaguars, who finished with the worst record in 2020.
Who are the future stars of the NFL?  Here's a look at some of the top prospects in the 2021 draft…
---
Trevor Lawrence
Trevor Lawrence is a 21-year-old quarterback prospect who played for the Clemson Tigers.
Lawrence has a great arm, with excellent touch and placement. He also possesses outstanding leadership skills and is a dangerous runner.
In 2019 he claimed a starting place on the roster midway through his freshman season and went on to lead Clemson to victory in the 2019 National Championship Game in what was an undefeated season.
Lawrence then went on to lead the Tigers to the 2020 National Championship and 2021 Sugar Bowl as a sophomore and junior respectively, although both games were lost. They were the only two losses in Lawrence's Clemson career, which featured 34 victories.
His final season also saw him named ACC Player of the Year, and finish second in voting for the Heisman Trophy.
---
Kyle Pitts
Kyle Pitts is a 20-year-old tight end who played for the Florida Gators. He has excellent speed and ball skills, and is an athletic route-running pass catcher.
Despite the 2020 season being restricted by the COVID-19 pandemic, Pitts scored 12 touchdowns, while gaining 770 yards on 43 receptions in eight games.
Pitts announced that he would forgo his senior year to enter the 2021 NFL Draft in December 2020. He won the John Mackey Award as the most outstanding tight end in college football in 2020.
---
Ja'Marr Chase
Ja'Marr Chase is a 21-year-old wide receiver who played for the LSU Tigers. Chase has a combination of pace and upper body strength and is a clean route runner.
In 2019, his sophomore year, he led the Football Bowl Subdivision (FBS) in receiving yards and receiving touchdowns. He was also the winner of the Fred Biletnikoff Award as the country's best receiver and was unanimously named in the 2019 College Football All-America Team.
He opted out of the 2020 season to concentrate on his professional career.
---
Zach Wilson
Zach Wilson is a 21-year-old quarterback who played for BYU Cougars.
Wilson had a breakout season to establish his name behind Lawrence in 2020. He's a formidable athlete, possesses a great arm and is known for his intelligent passing and accuracy.
He was named the offensive MVP of the 2020 Boca Raton Bowl after completing 26 of 34 passes for 425 yards and three touchdowns.
In the 2020 season, Wilson started 12 games and completed 247 of 336 passes for 3,692 yards, 33 touchdowns and three interceptions while rushing for 255 yards and 10 touchdowns.
---
Jaylen Waddle
Jaylen Waddle is a 22-year-old wide receiver who played for the Alabama Crimson Tide.
Waddle possesses fantastic pace and playmaking skills, and has the ability to line up inside or outside.
In 2018, Waddle was named SEC Freshman of the Year after recording 45 receptions for 848 yards and seven touchdowns. He also returned 16 punts for 233 yards and a touchdown as a punt returner.
He went on to be named first team All-SEC as a return specialist and was named SEC Special Teams Player of the Year for his sophomore season in 2019.
After breaking his right ankle in October 2020, Waddle opted to forgo his senior season and enter the 2021 NFL Draft.
---
DeVonta Smith
DeVonta Smith is a 22-year-old wide receiver who played for the Alabama Crimson Tide.
Smith is a tremendous route runner with great acceleration into and out of the break point, and he also has outstanding hands. He was highly thought of within the Alabama program for his character and work ethic.
In his senior season at Alabama in 2020, Smith recorded over 1,800 yards with 23 touchdowns, which helped him win the Heisman Trophy, in addition to several other awards and honors.
---
Trey Lance
Trey Lance is a 20-year-old quarterback who played for the North Dakota State Bison.
Lance is an athletic and highly efficient QB who rarely puts the ball in jeopardy.
As a college freshman in 2019, Lance threw 287 passes in a season without an interception (until his final collegiate game) – an NCAA record.
He also won the Walter Payton Award and Jerry Rice Award and was named the most valuable player of the 2020 NCAA Division I Football Championship Game.
---
Justin Fields
Justin Fields is a 22-year-old quarter-back who started his college career with the Georgia Bulldogs in 2018 before transferring to the Ohio State Buckeyes in 2019.
Fields has great athleticism and running ability, combined with superb downfield passing.
Fields was a finalist for the Heisman Trophy as a sophomore in 2019 and won several Big Ten Conference awards at Ohio State.
Fields finished the shortened 2020 season with 2,100 passing yards, 22 passing touchdowns, six interceptions, and added 383 rushing yards and five rushing touchdowns on the ground.
In January 2021, Fields announced that he would be forgoing his final year of eligibility to enter the 2021 NFL Draft.
---
Rashawn Slater
Rashawn Slater is a 22-year-old offensive lineman who played for the Northwestern Wildcats.
Slater, the son of former professional basketball player Reggie Slater, has outstanding foot quickness and balance, and tremendous ability to recover when he finds himself in a bad position.
Entering his senior year, Slater was named a preseason All-American, preseason All-Big Ten and to the Outland Trophy watchlist.
Slater opted out for his final college season to prepare for the 2021 NFL Draft, after the early announcement that Big Ten would postpone their 2020 season due to the COVID-19 pandemic.
---
Patrick Surtain II
Patrick Surtain II is a 22-year-old cornerback who played for the Alabama Crimson Tide.
Surtain is the son of former Miami Dolphins' top cornerback, Patrick Surtain, and has some of the same attributes with regards to size, speed and ball skills. He's also a reliable tackler in the open field.
In the 2020 season he won a number of pre-season All-American honors. He was named as the defensive MVP of the 2021 Rose Bowl.
---
NFL Futures Betting
You can find the NFL Futures odds here which shows all the latest Super Bowl 56 odds. Last year's Top-2 the Tampa Bay Buccaneers and the Kansas City Chiefs currently head the Vegas sportsbooks betting lists at +600 and +500 respectively.