Kevin Durant Signs 4-year, $198m Contract Extension with Brooklyn Nets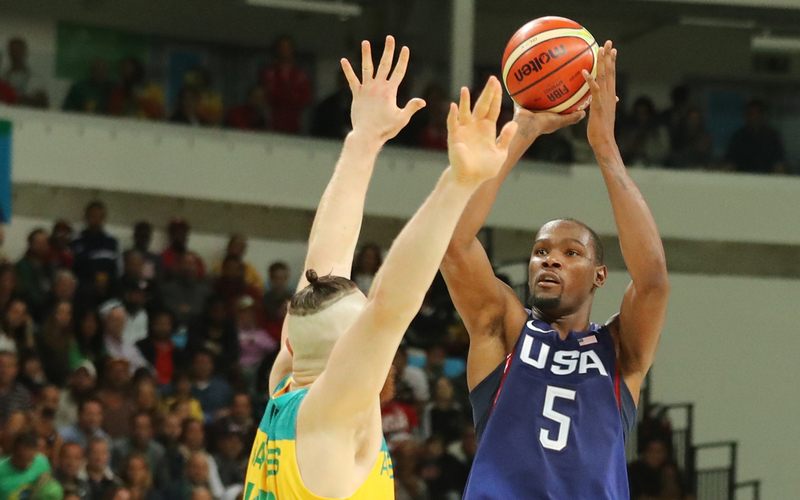 Kevin Durant at the Olympic Games
It's been reported that Kevin Durant of the Brooklyn Nets has agreed to sign a four-year, $198 million maximum contract with the franchise.
The new contract extension maximizes Durant's guaranteed salary, with him expected to decline his 2022-23 player option and extend off of his $42 million salary for the 2021-22 season.
Had Durant waited until next summer, he would have been affected by the NBA's over-38 rule, which affects contract length for players who would reach age 38 during the course of it and would have prevented him from re-signing for the maximum five years.
Bet on NBA: NBA Odds // NBA Futures
---
Big Spending Brooklyn
In their determination to win the NBA championship for the first time in the franchise's history, the Nets are currently projected to spend $296 million in payroll and luxury taxes next season, with both Kyrie Irving and James Harden also eligible to sign contract extensions with Brooklyn this offseason.
The current projection would see the Nets' payroll as the second biggest in NBA history, only behind that of the Golden State Warriors next season.
Durant, who has just led Team USA to a fourth consecutive Olympic gold with a 87-82 win against France in the final in Tokyo on Saturday, has yet to play a full season for the Nets. He sat out his first season in Brooklyn as he recovered from the torn Achilles tendon he suffered in Game 5 of the 2019 NBA Finals playing for the Golden State Warriors against the Toronto Raptors.
---
NBA Betting Odds 2022
The Brooklyn Nets are the favorites to win the NBA Championship in 2022 at odds of +225 with the BetUS Sportsbook followed by the LA Lakers on +300.
As was shown in coming so agonizingly close to beating Milwaukee last season, if Brooklyn's "Big Three" of Durant, Harden and Irving are able to stay healthy, they are more than capable of beating any other team in the NBA.
They had already made moves in the draft prior to extending Durant's deal to strengthen the team's bench and they will surely never have a better opportunity to claim that first championship than they will next season.
---
Full NBA Championship 2022 Odds from BetUS
Brooklyn Nets +225
Los Angeles Lakers +300
Los Angeles Clippers +1400
Milwaukee Bucks +900
Golden State Warriors +1100
Utah Jazz +1400
Phoenix Suns +1600
Philadelphia 76ers +1600
Denver Nuggets +1800
Miami Heat +1800
Dallas Mavericks +2800
Atlanta Hawks +3300
Boston Celtics +3300
Indiana Pacers +8000
New York Knicks +5000
New Orleans Pelicans +6600
Toronto Raptors +6600
Portland Trail Blazers +6600
Memphis Grizzlies +10000
Washington Wizards +12500
Chicago Bulls +4000
Charlotte Hornets +10000
San Antonio Spurs +15000
Minnesota Timberwolves +15000
Sacramento Kings +15000
Cleveland Cavaliers +25000
Houston Rockets +30000
Orlando Magic +30000
Oklahoma City Thunder +40000
Detroit Pistons +40000
---
Kevin Durant Stats at Brooklyn
A combination of COVID-19 and a hamstring injury meant that Durant only played 35 regular-season games for Brooklyn last season, with him averaging 26.9 points, 7.1 rebounds and 5.6 assists. It was enough for him to make his 11th All-Star appearance.
He raised his game to another level during 12 playoff games for the Nets, where Durant averaged 34.3 points, 9.3 rebounds and 4.4 assists. It included a 49-point, 17-rebound, 10-assist triple-double performance in the 114-108 win against the Milwaukee Bucks in Game 5 of the Eastern Conference semifinals.
Although it was ultimately to end in failure, Durant also scored another 48 points in Brooklyn's overtime loss in Game 7 to the Bucks.
---
* NBA odds correct at the time of article publication. All betting odds are subject to change.