Is Russell Westbrook the Right Fit for the Los Angeles Lakers?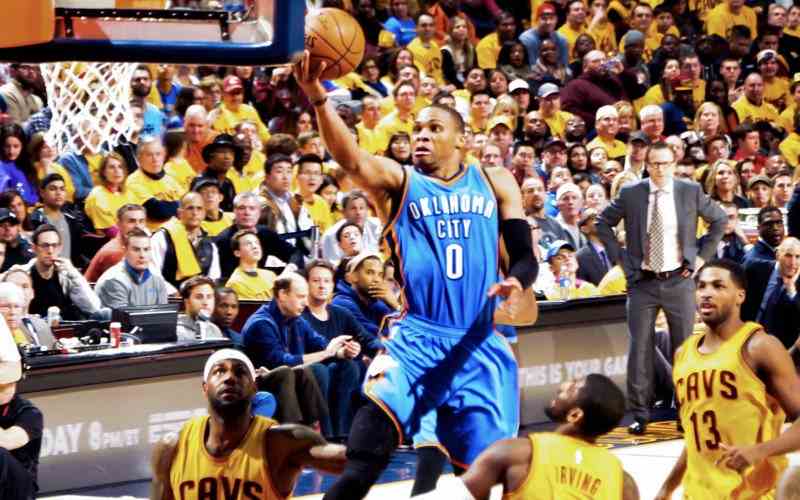 Russell Westbrook
The trade that saw former MVP Russell Westbrook join the Los Angeles Lakers in a draft day deal with the Washington Wizards, saw the Lakers finally form their own "Big Three" trio alongside LeBron James and Anthony Davis.
The Lakers traded Kyle Kuzma, Montrezl Harrell, Kentavious Caldwell-Pope, and the No. 22 pick in last Thursday's draft to acquire Westbrook, in addition to two second-rounders from the Washington Wizards.
---
NBA 2022 Championship Odds
As the dust settled following the NBA Draft the Los Angeles Lakers are now +300 with leading offshore sportsbook BetUS to win the 2022 NBA Championship. That puts the Lakers as the second favorites behind the Brooklyn Nets (who can be backed at odds of +200), with their own "Big Three" in Kevin Durant, James Harden and Kyrie Irving.
Although the Lakers have signed a playmaker capable of helping to ease the pressure off of James (who turns 37 in December), particularly with Dennis Schroder having rejected the team's four-year, $84 million contract extension offer, there are questions as to whether Westbrook is the player that the Lakers need right now.
Yes, the Lakers wanted Westbrook's shot creation and someone to cover any postseason injuries to James or Davis, but this is not a trade that is seen as being a surefire success for Los Angeles.
---
---
Money Matters
The biggest issue surrounding the acquisition of the 32-year-old point guard is his salary. Westbrook is due to earn over $44 million this season and holds a player option worth over $47 million for next season.
The NBA has set salary cap for 2021-22 season, effective for August free agency: $112,414,000 cap, $136,606,000 tax line.
The Lakers have an obvious problem here, with James, Davis and Westbrook alone set to earn $120 million combined this season.
As a consequence, the Lakers could only use the taxpayer mid-level exception ($5.9 million) and offer minimum salary deals to free agents, which is why during the first day of free agency, they agreed to terms with four of their former players — Dwight Howard, Trevor Ariza, Kent Bazemore and Wayne Ellington — because they will all sign on veteran's minimum deals.
---
Caruso Walks
The Lakers also had to allow a key player in 27-year-old Alex Caruso to walk in free agency. Caruso has now agreed terms on a four-year, $37 million deal with the Chicago Bulls, while the Lakers have to fill out half of their roster with minimum salary deals.
The other big question is whether the Lakers needed another ball-handler of Westbrook's standing, rather than a guard who is more pass dominant? Will James and Westbrook be a duo that can coexist?
The biggest weakness for Los Angeles last season was their long-range shooting, in which they ranked a lowly 25th in 3-pointers made and 21st in 3-point percentage. As a result, the Lakers were ranked 22nd in points per game and 24th in offensive rating.
Quite simply, Russell Westbrook isn't the player to fix that, having shot just 31.5 percent from beyond the arc last season and with a career 3-point percentage of just 30.5.
The fear going into the season will be that the Lakers have an aging, injury-prone roster. That might not be a recipe for success when it comes to the postseason.
---
2022 Regular Season NBA MVP Odds via Bovada Sportsbook
Luka Doncic +400
Joel Embiid +700
Kevin Durant +700
Giannis Antetokounmpo +800
Stephen Curry +800
LeBron James +1600
Damian Lillard +1200
Nikola Jokic +1500
Devin Booker  +1600
Trae Young +1800
James Harden +2000
Donovan Mitchell +3000
Anthony Davis +2500
Jayson Tatum +2500
Paul George +4000
Kyrie Irving +4000
Zion Williamson +4000
Ja Morant +5000
Russell Westbrook +2500
Jimmy Butler +6600
Julius Randle +6600
Bradley Beal +6600
Domantas Sabonis +8000
Zach Lavine +8000
Karl-Anthony Towns +10000
Bam Adebayo +10000
Chris Paul +10000
Jaylen Brown+15000
Pascal Siakam +15000
Anthony Edwards +15000
LaMelo Ball +15000
Khris Middleton +15000
Jamal Murray +15000
Klay Thompson +15000
Shai Gilgeuous-Alexander +20000
CJ McCollum +20000
DeMar DeRozan +20000
Lonzo Ball +25000
Nikola Vucevic +25000
Brandon Ingram +25000
Malcolm Brogdon +25000
Deandre Ayton +25000
De'Aaron Fox +20000
Ben Simmons +20000
Michael Porter Jr. +30000
Christian Wood +30000
Jrue Holiday +30000
Kyle Lowry +30000
John Wall +30000
Collin Sexton +40000
Rudy Gobert +40000
John Collins +40000
Kemba Walker +40000
Fred VanVleet +30000
Kristaps Porzingis +50000
Cade Cunningham +50000
Clint Capela +50000
D'Angelo Russell +50000
Victor Oladipo +50000
Jerami Grant +50000
Dejounte Murray +50000
Draymond Green +80000
Tyrese Haliburton +80000
Aaron Gordon +100000
Norman Powell +100000
---
* NBA Championship 2022 odds correct at the time of writing. All betting odds subject to change.