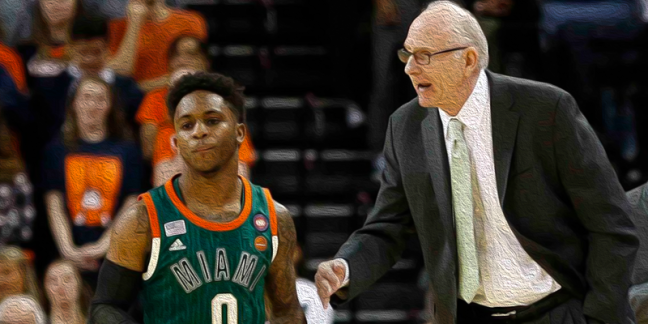 Miami will meet Iowa State in the Sweet 16 round of the 2022 men's NCAA Tournament. The game tip-off is at 9:59 pm ET at the United Center, Chicago, Illinois. The no. 10 seed Miami Hurricanes are the favorites at -150. Whereas the Iowa State Cyclones (no. 11 seed), are +125 to win. Get betting insights and view the latest odds for this NCAA Tournament showdown.
---
---
Miami Hurricanes vs. Iowa State Cyclones Info
Date/Time: March 25, 9:59 p.m. ET
Arena: United Center, Chicago
Where to watch: TBS
---
Second Time Lucky For Miami?
Miami (25 – 10) is making its second appearance in the Sweet 16 under coach Jim Larranaga. This new coach for Miami is no stranger to making deep runs in March Madness. In 2006 he took the George Mason Patriots to the final four.
The Hurricanes are rich with experience and have three seniors starting for them, making them a reasonably big favorite in this matchup. Kameron McGusty, Charlie Moore, and Jordan Miller are in the starting five. McGusty leads out of the three with 17.5 points per game (ppg). Isaiah Wong is up next with 15.5ppg, Charlie Moore has 12.8ppg, and Jordan Miller has 10.1ppg so far, giving the four guards a double-figure average score. The New Zealander Sam Waardenburg has also proved invaluable. The 6′ 10 center has averaged 8.4 points and 4.2 rebounds.
---
Can Iowa Continue To Upset As The Underdogs?
Iowa State (22-12) has turned things around after an atrocious two-win season in 2020/2021. Under new coach T.J Otzelberger, the team has come on leaps and bounds – upsetting no. 3 Wisconsin Badgers and the no. 6 ranked LSU Tigers in the first round.
The Cyclones' incredible guard duo of Izaih Brockington (17.1 ppg.) and Tyrese Hunter (10.9 ppg) is carrying the team. Hunter was on fire in the first round against LSU – hitting seven three-pointers and scoring 23 points.
They also have plenty of other talent in Gabe Kalscheur (9.5 ppg) and Caleb Grill (6.5 ppg) and 6′ 8 senior Aljaz Kunc – who gets on the board with a 6.1 ppg and 3.9 rebounds.
---
---
How They Matchup
The best player matchup will be between Wong and Brockington, as both have excellent scoring records from the wing. Brockington has shot 27.7% from the floor for Iowa in his last three games but scored 30 points or more multiple times in the season. Wong is another volume player, with just 31.4% from the floor in Miami's last three games. So if either of these players goes hot, it could stir things up.
The teams have contrasting styles. Iowa plays defensively, with 62.3 ppg in the season, while Miami pushes the tempo, gets aggressive, and has averaged 74.7 ppg.
Iowa has can handle different play speeds, and they will likely have to weather an aggressive start from the Hurricanes. The end game will all come together for the team that sinks the field goals late, and it could go either way.
---
---
Check out all the latest betting lines for the remaining March Madness games.
---