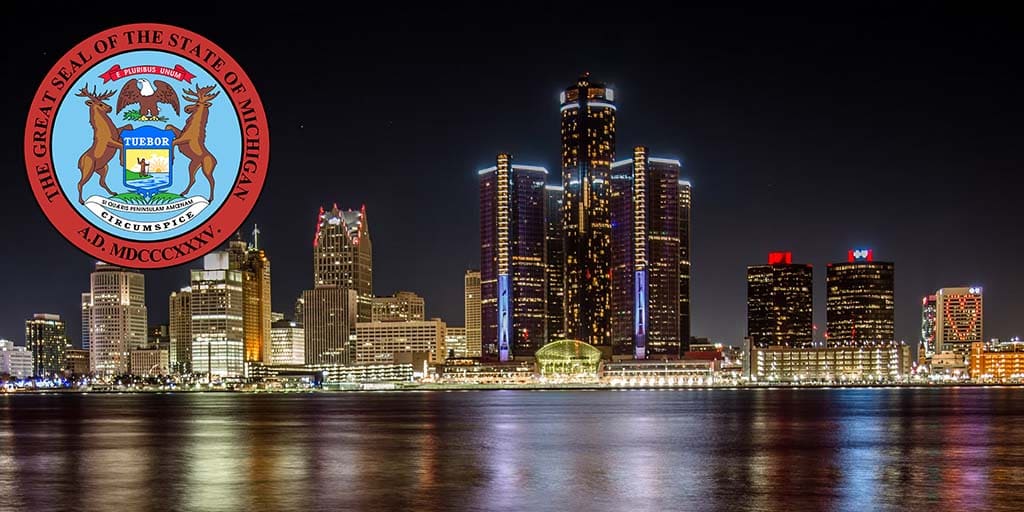 Michigan Governor Gretchen Whitmer signed the "Lawful Sports Betting Act" and two other legislation, into law in December 2019, making daily fantasy sports (DFS) and online casino and poker legal in the state of Michigan.
It was made possible by the Supreme Court decision in 2018 that declared the federal ban on sports betting imposed by the Professional and Amateur Sports Protection Act of 1992 (PASPA) to be unconstitutional.
Michigan Sports Betting
Michigan was one of the first states to legalize sports betting, with the first wagers taking place at the MGM Grand in March 2020. Mobile betting in Michigan also became legal and operational in January 2021.
As of December 2019, Governor Whitmer signed a series of acts that allow sports betting to be legalized and fantasy sports and casino bets. This was all possible due to the Professional and Amateur Sports Protection Act of 1992 (PASPA) being deemed unconstitutional in 2018 by the Supreme court.
One of the fastest-acting states to jump on the legalizing of sports betting, Michigan saw its first bets in March 2020 at the MGM Grand. Sports fans would have to wait a bit longer for some online fun, though, with the state's premier mobile app launching in January 2021.
The state of Michigan, working closely with the Michigan Gaming Contol Board, has allowed all commercial casinos and tribal casinos to launch their sportsbooks. This is much different from many states' models, where the amount of online apps/sites is limited.
The good news for the state and families of Michigan is even if they don't want to bet on sports, the tax money raised is all going to good causes, with the School Aid Fund being just one beneficiary of the new tax dollars. With sports bets in Michigan on the up, June 2021 saw over $1 Million collected for the state and these causes.
Michigan is also one of the most sportsbook-friendly states ever to exist. They charge just $100,000 for a five-year license on top of $50,000 for an application fee and $50,000 for annual operations costs. This low start-up cost for casinos is only outdone by the low taxation of just 8.4% on retail bets. If you want a more in-depth look at casino costs, check out the full control board information here.
The Summary of the Conditions for Betting in Michigan Are:
Players must be at least 21 years old to place bets in Michigan.
The Michigan Gaming Control Board regulates the sports betting industry.
The state will collect an 8.4% tax from sports wagers placed online. 4.62% goes to the city of Detroit and 3.78% to the state of Michigan.
Michigan has gone all out when it comes to the legalization of gaming, and you can now bet on sports, fantasy leagues, and even casino games due to a series of acts passed by Governor Whitmer. The money raised funds the School Aid Fund and the First Responder Presumed Coverage Fund FRPCF.
Legal Sports Betting Options in Michigan
In Michigan, the first online sportsbooks took their first bets on January 22, 2021. There are currently well over ten sports betting apps available for download on smartphones and tablets. So whether you are using an iOS iPhone or iPad, or an Android phone or tablet, you can join in with the fun.
Sportsbooks in Michigan and their respective casino partners

| Sportsbetting App | Casino Partner |
| --- | --- |
| FanDuel | MotorCity Casino Hotel |
| BetMGM | MGM Grand Detroit |
| BetRivers | Little River Casino and Resort |
| DraftKings | Bay Mills Resort & Casino |
| Golden Nugget | Ojibwa Casinos |
| PointsBet | Northern Waters Casino Resort |
| Caesar's | Turtle Creek Casino and Hotel |
| WynnBet | Kewadin Casinos |
| Barstool | Greektown Casino and Hotel |
| FoxBet | Odawa Casinos |
| Pala Interactive | Four Winds Casinos |
| TwinSpires | Island Resort and Casino |
| NYX Digital Gaming | FireKeepers Casino Hotel |
| Parx | Gun Lake Casino |
Playing Fantasy Sports in Michigan
The Fantasy Contests Consumer Protection Act is an expansion of the gambling bills that was passed in December 2019. This allows sports fans to compete in Michigan's highly skill-based daily fantasy sports leagues.
This has already landed the state with revenues of nearly $1.5 Million during 2020, with the same 8.4% taxation applying to this kind of gambling.
You can play Daily Fantasy Sports using these websites/apps within Michigan:
FanDuel
Fantasy Sports Shark
DraftKings
FanDuel
Fantasy Football Players Championship
Yahoo Fantasy Sports
SportsHub Games Network
FullTime Fantasy Sports Network
Boom Shakalaka Inc.
Michigan Lottery
The Michigan Lottery launched back in 1972, and since then, they have managed to raise $24.6 billion to help the state's youth with the School Aid Fund. You can buy tickets at the over 10,000 retailers in the state, but you can also purchase subscriptions to draws online.
If you want more information on the state lottery, check out the Lottery In Michigan page here.
The Path to Michigan Legalizing Sports Betting
May 2018 – The Professional and Amateur Sports Protection Act of 1992 (PASPA) was deemed unconstitutional by the supreme court, setting the stage for gambling to come to Michigan.
December 2018  – Governor Rick Snyder vetoes gambling bills just a week before leaving office, which slowed down the legalization process considerably.
December 2019 – Governor Gretchen Whitmer signs the Lawful Sports Betting Act, passing both H4311 and S4916.
March 2020 – MotorCity, Greektown, and MGM Grand open brick and mortar casinos in Michigan and take the first in-person sports bets.
October 2020 – State regulation gets a little closer to completion, with a final draft of online betting rules decided upon.
December 2020 – Regulators approve the first group of online sportsbook operators that will be allowed to set up shop in Michigan in 2021.
January 2021 – Online betting goes live in Michigan, and the first bets are placed on various apps such as DraftKings, FanDueal, and BetMGM.
Michigan Sports Franchises
Michigan State is no stranger to fiercely competitive professional sports teams; here, you'll find Baseball, Football, Ice Hockey, and Basketball all played at the highest levels. We take a look at some of their best teams –
Basketball: Detroit Pistons
Founded in 1941, the Pistons have managed to win three NBA championships, the most recent of which was in 2004. They've also gone on to win five conference titles and eleven division titles. The Pistons went on a heater and won four titles back to back from 2005-2008. They play from the Little Caesars Arena and are currently coached by Dwane Casey, who formally helped the Toronto Raptors to find some serious form.
After such a good showing in the conference, the team looked to rebuild when their roster was shed after the 2008 season. The team had a new coach Michael Curry, but things didn't go too well, and the team had some controversies as well as injuries. In the following season, the franchise would look for a new coach.
A few years later, the Pistons would find some form under new owners and with Stan Van Gundy as head coach. They returned to the playoffs in 2016 and would clinch their playoff spot with a win against the Washington Wizards. They then faced off against the top-seeded Cleveland Cavaliers, who swept them in the first round of the playoffs. However, things have gone downhill recently, with the team having their worst season on record with just 20 wins during the 2020/2021 season. We hope to see them rebuild, get some transfer magic happening, and return to some of that 2000-era form.
NHL: Detroit Red Wings
Founded in 1926 and formally known as the Detroit Cougars and Falcons, the Red Wings are the most successful professional team in Michigan, winning 11 Stanley Cups and capturing 19 division championships. They are now owned by Ilitch Holdings, a local business that owns the Detroit Tigers, baseball team. The team is managed by Steve Yzerman and coached by Detroit local Jeff Blashill.
The team has a fan tradition known as the Legend of the Octopus, whereby an octopus is thrown onto the ice during the playoffs for good luck. This dates back to 1952 when a local fish market owner Peter Cusimano threw one from the stands onto the ice. The symbolic relevance came from the eight wins it took to win the Stanley Cup in those days, represented by the eight-legged squid.
NFL: Detroit Lions
Founded over 90 years ago in 1930, the Lions now play in the Ford Field and compete in the NFC North division. While the team has never managed to win a Super Bowl, they have had their fair share of success throughout the years, bagging four conference championships and four divisional wins, the latest being in 1993. They are no strangers to making the playoffs either, with 21 total appearances with the most recent in 2016.
The team has some stiff local competition that has made for several heated rivalries. The Lions play preseason games with the Cleveland Browns named the Great Lakes Classic, with the pair competing for the Barge Trophy since 2002. They also go hard against the Chicago Bears and the Green Bay Packers, who they've had matchups against since the 1930s.
Online Poker in Michigan
Card-slingers can play online poker in Michigan at BetMGM Poker MI since they went live in March 2021 and also at PokerStars Michigan – both are state-regulated legal online poker sites.
Michigan Sports Betting Frequently Asked Questions
What is the legal age to bet In Michigan?

All gamblers must be 21 years old or older to place bets online or at retail sportsbooks.

Is sports betting legal in Michigan?

Yes, you can bet on sports in brick-and-mortar casinos in Michigan since March 2020, with the MGM Grand taking the first retail bets. Online bets are also permitted, and as of January 2021, you can place bets on a wide selection of apps and websites.

If you haven't yet signed up for an online sportsbook, take a look at some of the best sportsbooks in Michigan.

What sports can I bet on in Michigan?

Betting on professional and college sports is legal in Michigan, with the exception of tournaments featuring in-state college teams.

Is sports betting legal in Michigan?

Yes, in Michigan you've been able to bet on sports in brick-and-mortar casinos since March 2020, with the first retail bets taken at the MGM Grand. When it comes to online bets, these are also legal, you can place bets on a wide range of apps and websites as of January 2021.

If you are yet to sign up for a sportsbook, check out some of the best ones available in Michigan here.

Can I use my mobile to bet on sports in Michigan?

How old do I have to be to sports bet in Michigan?

You must be at least 21 years of age to place bets in both retail locations and online apps within the state of Michigan.

Can I still use websites like MyBookie and Bovada in Michigan?