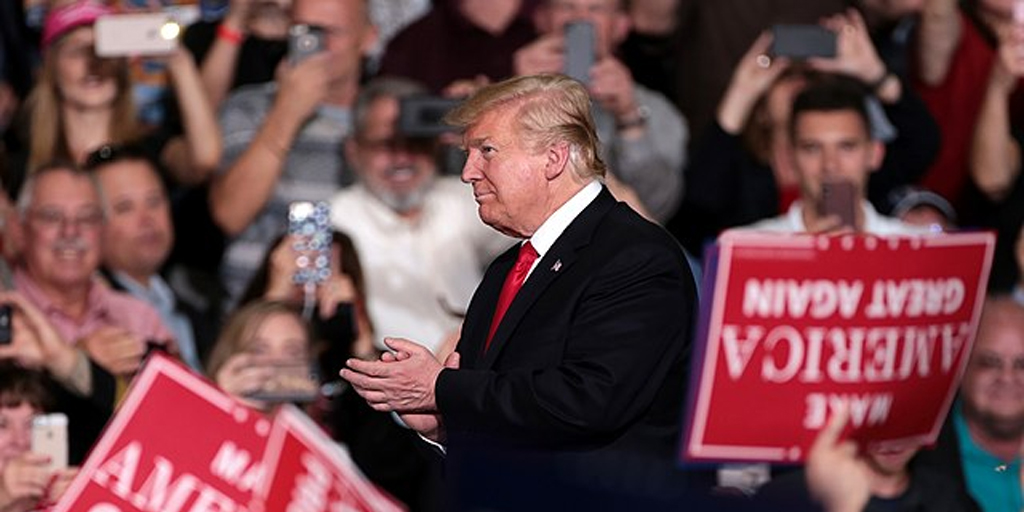 President of the United States Donald Trump speaking with supporters at a Make America Great Again campaign rally in Phoenix, Arizona.
With the Supreme Court ruling on Roe v. Wade, there is no doubting the influence Donald Trump has on the institutions of the US. In the Arizona midterm primaries, the former president has become a fixation for the Republican and Democratic gubernatorial candidates.
Both sides are driven by their opposing beliefs – Republicans have made the reinforcement of Trumpian conspiracy theories the centerpiece of their campaigns – while the Democrats warn voters of Trump's ever-present threat to undermine American democracy.
For the August 3 midterm primary elections, both parties have frontrunners. We give political bettors an insight into the driving forces behind the candidates and whether they can carry Arizona's voters with them.
The Biden Election Win
President Joe Biden won Arizona in 2020 with just 10,457 votes. It was the first Democrat victory in 24 years.
Arizona has a population of 7,276,316. Maricopa County, which includes Phoenix, accounts for 62% of the state's population. In the 2020 presidential election, 50.1% of voters in Maricopa County voted for Biden, and 48.0% voted for Trump.
In this swing state, the Maricopa County population of 4,420,568 makes up an absolute majority – the winner of the state almost always wins the county. In 2020, it was the first time the county had voted for a Democratic presidential candidate since 1948.
An influx of younger voters and voters of color swung the county's electorate to Democrats. Before the election, Democratic registered voters in the county increased by 26,000, while Republican registered voters decreased by 5,000. A shift that helped Biden win the traditionally conservative state – although not all Trump supporters accept it.
The Trump Denial
Biden's narrow win in Arizona triggered an automatic hand recount of randomly selected precincts. No evidence of election fraud was uncovered, and the majority-Republican board of election supervisors in Maricopa County certified the result.
However, Republicans in the Arizona state Senate who were still in denial, requested ballots from Maricopa County for a full recount. In April 2021, the recount or "Arizona Audit" began. Organizations linked to Trump and groups promoting the "stolen election" raised $5.7 million to fund the audit, but the final cost was $9 million.
At a Rally to Protect Our Elections, Trump stood before his supporters and said, "I am not the one trying to undermine American democracy… I'm the one trying to save American democracy," and continued calling the election "a scam…the greatest crime in history."
I am not the one trying to undermine American democracy…
In September, the audit found no proof of fraud but increased Biden's margin of victory by 360 votes. However, the report still doubted the election process, detailing a series of alleged discrepancies. Still, following another investigation, a final report published in January 2022 found most of the auditors' allegations of irregularities were false or misleading.
Democrat Senate Minority Leader, Rebecca Rio, said of the report, "This sham election review may never end because the Arizona GOP and its backers have no interest in the results." continuing," They only care about pushing misinformation and creating distrust of our fundamental democratic institutions, like our elections and the press."
Kari Lake – Republican Candidate
Kari Lake, the frontrunner in the upcoming GOP Gubernatorial Primary race, said she would not have certified Joe Biden's 2020 victory in Arizona if she had been governor.
Her 38% approval rating among Republican voters has been reinforced by Donald Trump's endorsement, whose popularity in Arizona is strong at 76.5%.
Trump's "stolen election" conspiracy theory inspired Lake to enter the Arizona Governor race and make it the centerpiece of her campaign. "We need some people with a backbone to stand up for this country – we had our election stolen," Lake said, adding, "I don't know if it's a winning issue, but it's a winning issue when it comes to saving this country."
We need some people with a backbone to stand up for this country…
And it was Trump's "fake news" that drove her to quit her job as an anchor for the local Fox station describing the media as "brainwashed," "immoral," and "the enemy of the people." But, despite criticism, the media gave her an advantage of widespread name recognition and a lead in the polls.
Ties between Lake and Trump are strong. She has appeared alongside him at rallies and fundraising events at Mar-a-Largo and carries Trump's name on campaign material.
In November, if Lake is elected, she will have influence over the election process in the battleground state of Arizona. New controls could restrict Democrat voters and ultimately enable Trump to return to Washington as president in 2024.
The Republican Moderates
Many in the Republican establishment warn the hardline supporters of Trump that it is time to move on from the "stolen election" in fear of handing the closely divided swing state to Democrats in November.
"Anybody who is still re-litigating 2020 will lose the general election," said Kathy Petsas, a Republican precinct captain, adding, "I think people at home have caught on, and I don't think a lot of our candidates have caught on."
Others fear further divisions within the party and the direction candidates like Kari Lake will go. Bob Worsley, a former moderate Republican state senator, said, "I am concerned that if these people get elected, it will make another decade of craziness,…I don't know who has the stature to say, 'Let's bring this party back, bring the establishment base back into power.' Now we're a purple state, and we don't have a John McCain to try to crack the whip."
But those Republicans in Arizona who criticize the hardliners face censure from local Republican organizations and harassment. Bill Gates, the Republican chairman of the Maricopa County Board of Supervisors, who has repeatedly defended the state's 2020 election, has received death threats.
Katie Hobbs – The Democrat
The stakes are high for Katie Hobbs and her race to become Arizona Governor. Democrats label her as a courageous defender of democracy because, during the 2020 presidential election count, Secretary of State Katie Hobbs reprimanded armed "stolen election" protesters who gathered outside of election offices in Maricopa County.
As the president broadcast, "We're on track to win Arizona," the crowd chanted, "Count the votes!… Four more years!" and complained about the voting process.
Despite the military-style rifles and handguns, Hobbs told the crowd of Trump supporters they were "causing delay and disruption and preventing those employees from doing their job."
Their lies…are a threat to democracy…
Katie Hobbs campaigns to protect election security and integrity in Arizona from the Republican conspiracy theorists. She tweeted, "Their lies…are a threat to democracy. If one of them wins, they'll continue to undermine our elections and the will of Arizonans. That's why this election is so important."
In November, if Hobbs is elected, she will have influence over the election process in the battleground state of Arizona. New controls could protect democracy and ultimately stop an autocratic Trump from returning to Washington as president in 2024.
Bettor Considerations
As Arizona elections have been decided by razor-thin margins in recent years, political bettors must be aware that it is impossible to win the state with Republicans or Democratic registered voters alone – the votes of the 34% of the electorate who are independent are critical.
The Democrats fear for their future if Republicans control the election process going into 2024. But in a state where President Biden's approval rating is at its lowest since he took office, will the electorate choose to vote on issues that affect their daily lives, such as the economy, jobs and inflation?
Many moderate Republicans are concerned that to continue focusing on the 2020 "Stop the Steal" is both irresponsible and politically unwise. However, given Trump's popularity in Arizona and with the January 6 inquiry being broadcast around the US, the former president remains an ever-present force.
In a General election race with Kari Lake, Hobbs leads Lake by five points (50% to 45%) – everything is still to play for – so political bettors need to wager wisely.
Wager on upcoming US elections at top online betting sites.
Image credit: Gage Skidmore. CC BY 2.0