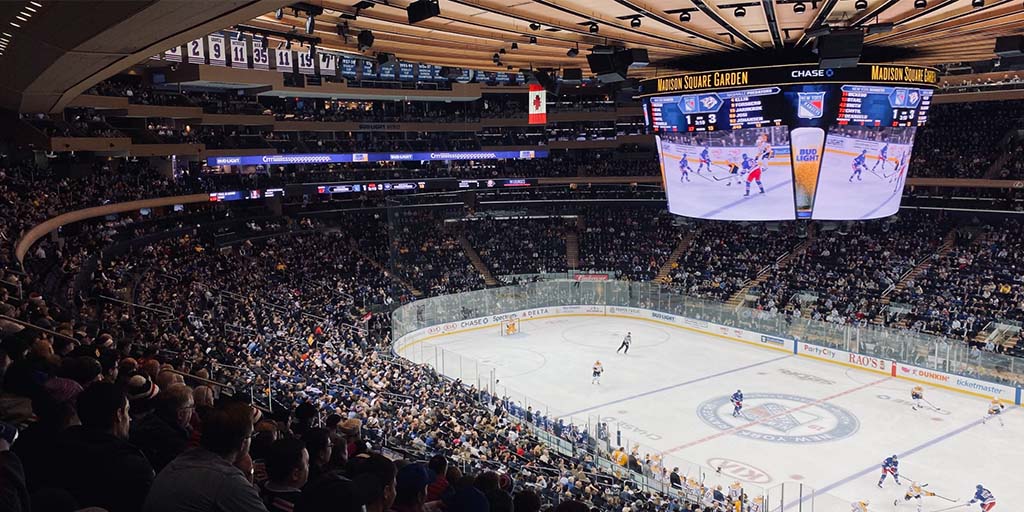 Want to place wagers on the NHL using a top online sportsbook? This NHL betting sites guide gives you the lowdown on your available wagering options, a selection of quality providers, and exclusive welcome bonus links that reward you with free NHL bets upon making your first deposit. Get a quick breakdown of the top NHL betting sites to sign up with one that's perfect for you today.
Top Sites for NHL Betting Online
Why More NHL Bettors are Wagering Online
Due to recent changes to US betting laws, more NHL bettors are signing up with online NHL betting sites because they offer more generous bonuses than land-based establishments. However, with so many online sportsbooks available, finding a provider that's perfect for your needs can be time-consuming. For this reason, we've outlined a selection of top providers that provide you with, at the very least, the following:
Fair odds for upcoming games and futures betting markets
Various NHL prop bet options
Rapid withdrawals
Fully-trained customer support services
Trusted payment methods (including cryptocurrency)
Ongoing free-bet promotions
Early odds releases
How To Open An Online NHL Betting Site Account
In just a few minutes, you can open a new online NHL betting account to start wagering on hockey. To make sure you enjoy a generous welcome bonus when signing up, follow these steps:
Click on one of the online NHL betting site bonus links featured above.
Check the terms and conditions of the deal and fill in the registration form with your details.
Once your details have been verified, log in and make a deposit to activate your exclusive bonus before betting on the NHL.
Popular NHL Wagering Options
Learn about the most popular NHL wagering options before placing bets at your new online sportsbook today.
NHL Moneyline Bets
An NHL moneyline bet is when you want to wager on the winning team. To place action on a team, check the odds, decide if you want to wager on the underdog or the favorite, choose your stake amount, and place the bet. Simple.
Because the outcome of many games are decided in overtime and shootouts, some online NHL betting sites offer you a two-way and three-way moneyline. A three-way moneyline gives you a winning return if you correctly predict the winner within the sixty minutes of normal game time. However, a two-way moneyline applies to the result after extra time or a shootout.
Betting on the Puck Line/Candian Line/Spread
A puck line (also known as spread or Canadian line) bet is when you wager on a losing or winning margin offered on the betting line (see below).
| Spread | Win | Total |
| --- | --- | --- |
The negative (-) figure in the 'SPREAD' column shows the favorite team to win, while a positive (+) number indicates which team is the underdog. In some cases, both teams will have negative odds – when this is true the team with the lowest minus figure is the underdog.
Using the NHL betting line odds above, if you wager on the Ranger's puck line to win as +1.5 underdogs, they have to win or lose by two points or less for you to get a winning return. But if you think the Islanders will beat the Rangers by 2 points or more, you can wager on them. Again, if you predict correctly, you get a payout from your online NHL betting site.
Because the NHL betting market is much smaller than the NBA or NFL, puck lines don't move too much. But if bettors were to place 75-percent of the betting money on the New York Islanders leading up to the game, the +140 payout odds would likely shorten to +130. Also, in this instance, the odds Rangers' odds would improve (maybe from -150 to -140) to encourage bettors to wager on them. Bookmakers do this to protect themselves from substantial losses.
NHL Totals Bets
NHL totals wagers let you bet on how many points both teams will score in the game combined. If you feel like the combined points of a game won't surpass the 'TOTAL' number on the NHL betting line, bet on the under. However, wager on the over if you feel the combined points of the game will be higher than the total. For instance, if the total is 5.5 and you bet the over, the combined score needs to be six or higher. But if you bet on the under, the combined total score needs to be five or lower to secure a winning return.
NHL Futures
These betting options lets you place action on outcomes that happen towards end or after the regular season has finished. Popular NHL futures bets include:
Stanley Cup Winners
Division Winners
Playoff Series Winners
NHL Prop Bets
All online NHL betting sites offer you a range of proposition bets – these let you wager on other aspects of the league. Popular prop bets include:
Highest scoring period
Team to win each period
Team scoring first also wins the game
3-way betting
Double chance result
Team to win the most periods
Team to score first
Support for Problem Gamblers
If you feel like you have a gambling issue, visit the NCPG (National Council on Problem Gambling) website or call the US hotline (1-800-522-4700). All calls are confidential and agents are available to offer your support 24/7.
Check out the latest odds for upcoming NHL games.
Frequently Asked Questions
Can I place NHL bets online?

Yes. Online NHL betting sites give you a wealth of NHL wagering options. There are state-regulated betting sites available in certain US states. However, independent online sportsbooks provide sports betting services to a worldwide audience. Be aware that even if a betting site does not hold a license issued by a state governing body, it is not illegal to register with them and bet on the NHL.
Can I use my smartphone or tablet to access online NHL betting sites?

All online sportsbooks featured in this guide allow you to make wagers using your iOS or Android device. Some providers even have a sports-betting app you can download free of charge.
What is puck line betting?

A puck line bet (also known as a spread or Canadian line bet) lets you place action on a winning or losing margin. If you bet the over, the team you've chosen must win by a certain number of points (known as the over). Betting on the under requires your team to keep the losing margin to less than the figure offered on the betting line.