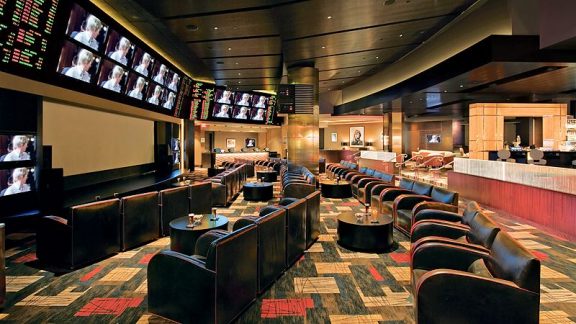 It's always party time at the Planet Hollywood sportsbook and casino on South Las Vegas Boulevard – with its upbeat vibes and dim lights. But nestled within this world of glitz and glamour the Planet Hollywood sportsbook offers an escape from the hubbub of the casino floor. Whether you're interested in 'Vegas betting, poker, slots or casino, Planet Hollywood has you covered.
Relax in the Playing Field Lounge (open 24/7) in your choice of stadium seating or comfortable lounge chairs while you assess all the latest Vegas odds lines displayed across the 33 flat-screen TV's.
If you fancy a bite to eat the Planet Hollywood sports lounge has bar food available along with their yard long draft beers. You can also bag a complimentary drink from a ticket window with a sports wager of $50+ or a horse racing bet of $20+
There are Planet Hollywood Vegas sportsbook odds offered on all the main sports including the NBA, NHL, NFL and MLB plus dog and horse racing is available via pari-mutuel betting odds.
Poker at Planet Hollywood
Update: Planet Hollywood's poker area will close permanently on July 11, 2021
Located in the middle of the casino, the 12-table poker room is one of smaller rooms on the Las Vegas Strip, but is cozy and fun, and has a club-like atmosphere. The Poker room uses the "Bravo Room Management" System to inform players which games are on, and how many players are waiting etc. Players can call ahead and have their names added to the waiting list if required.
Planet Hollywood's card-room runs daily tournaments and cash-games. Cash game action is generally limited to stakes of $1/$2 and $2/$5 No-Limit Hold'Em (NLHE) with a minimum and maximum buy-in of $100/$300. On request it's possible to get a Pot Limit Omaha game started.
When the World Series of Poker is running in Vegas, Planet Hollywood puts on a slate of bigger tournaments to satisfy demand (the PHamous Poker Series). For bigger tournaments Planet Hollywood makes use of its spacious mezzanine area which holds ~75 tables to accommodates larger tournaments and additional cash games.
Daily Poker Tournament Schedule at Planet Hollywood
Time ↑
Days
Game
Buy in
Starting Chips
Guarantee
10:00 AM
Daily, M, Tu, W, Th, F, Sa, Su
No-limit Hold'em
$80
15,000
$1,500
10:00 AM
Su
No-limit Hold'em
$135
15,000
$5,000
1:00 PM
Daily, M, Tu, W, Th, F, Sa, Su
No-limit Hold'em
$100
20,000
$2,000
4:00 PM
Daily, M, Tu, W, Th, F, Sa, Su
No-limit Hold'em
$80
15,000
$1,500
7:00 PM
Daily, M, Tu, W, Th, F, Sa, Su
No-limit Hold'em
$80
15,000
$1,500
10:00 PM
Daily, M, Tu, W, Th, F, Sa, Su
No-limit Hold'em
$100
15,000
$1,000