Famous for their amazing water fountains and atrium the Bellagio Las Vegas (owned by MGM) comes equipped with the luxurious Bellagio Sportsbook & Bar making it one of the best sportsbooks to enjoy some Las Vegas betting.
There is truly no better place to watch a game than at Bellagio – especially if it's on a big night for sports such as when Monday Night Football is on. Enjoy multiple high-definition TV screens with huge screens and superb picture quality, and below there is a bank of smaller screens to ensure you never miss any action. Should there be numerous focus games occurring at once, the giant screens will each be split into four.
Gamblers can gain entry to the sportsbook via the hotel lobby, finding the sportsbook past the poker room and the high-limit section, far away from the din of the slots and video-poker terminals. Horse racing fans will love Bellagio's racebook which also has giant screens.
Smoking is permitted at Bellagio on the casino floor, but the Bellagio sportsbook is now 100% smoke free (even E-Cigarettes are not permitted).
Poker at Bellagio
Bellagio's Las Vegas poker room is one of the stops on the World Poker Tour – a high-stakes tournament series which guarantees millions of dollars in prizes to those who make the money. A very stylish 7,000 square feet space is home to 40 tables as well as two high-limit areas where high-stakes poker cash games take place.
The Bellagio became the second Las Vegas Strip property to reopen its poker room following closure related to COVID-19. Players can enjoy six-handed (6-max) poker – protected with plexiglass partitions between players, in addition to masks.
For your ultimate poker enjoyment, this smoke-free Vegas casino (one of the few left in Nevada!) includes 24-hour tableside dining – os you can eat while you play, as well as a complimentary beverage service, safe deposit boxes, a full-service cashier cage, overhead state-of-the-art music system, eight huge 32″ television monitors, and 11 collosal 42″ plasma screens.
To further inspire your poker game game, the walls are adorned with artwork depicting previous winners of big-buy in tournaments at Bellagio , such as highly popular live poker events like World Poker Tour (WPT) stops.
If you're not in Vegas but you still want to bet on sports – you can check our online sportsbooks page and online casinos page for recommended online betting options
Poker games available at Bellagio
$1-$3, $2-$5, $5-$10, $10-$20 blinds and Higher
Limit Hold'Em: $4-$8, $9-$18, $20-$40, $40-$80, $80-$160 and Higher
Pot Limit Omaha (PLO): $1-$3, $2-$5, $5-$10, $10-$20 and Higher
7 Card Stud: $20-$40, $40-$80 and Higher
Mixed Games: $4-8, $30-$60, $40-$80 and Higher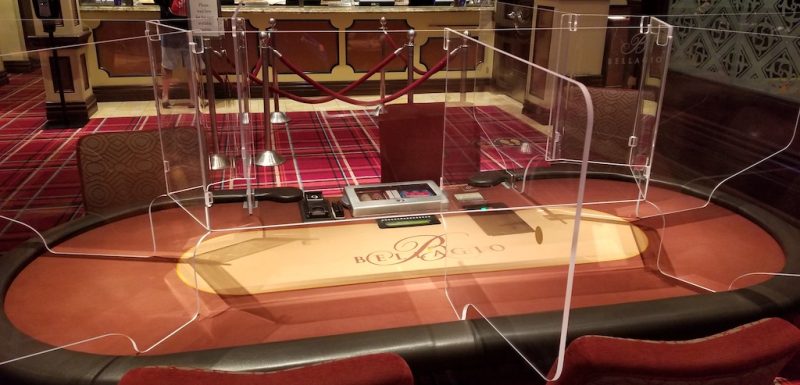 Casino Games at Bellagio
If you enjoy the thrill of jackpot slots, or the spin of the roulette wheel – you will be happy to find a multitude of various types of slots and video poker games and table games spread around the casino. In more secluded areas and close to the cashier you can find higher limit tables. Given that Bellagio is one of Vegas' glitziest attractions for tourists, the minimum bets are seldom below $10.