Aria Sportsbook, Las Vegas
A relatively new sportsbook on Las Vegas Boulevard, this trendy establishment offers some great value Vegas odds and often ranks quite high up in Vegas sportsbook reviews.
The Aria sportsbook offers luxurious leather seating complete with tables and separate monitors which surround a wall of 75+ TV screens displaying all the current Aria sportsbook odds. They also have comfy couches if you want to get settled in for the big game.
If you're hungry, just steps away you'll find delicious oven-baked pizza and handmade pasta at the adjacent FIVE50 Pizza Bar by chef Shawn McClain.
It's not the biggest Las Vegas sportsbook though  it can get quite busy on NFL Sundays or during March Madness The staff usually don't mind if you want to sit in the VIP section.
Aria For Poker – Poker Heaven
Aria has built a reputation as a serious destination for high stakes poker tournament players. Every year the Aria cardroom runs a series of high-roller and super-high roller tournaments – with eye-watering buy-ins of $10,000 to $25,000 and millions of dollars for the winners.
Aria announced a high-roller series to run in December 2020, with three $10,000 buy-in events running on December 3rd to 6th.
As safety precaution during COVID-19, all players, staff, and organizers will be required to wear a mask for the complete duration of the tournament, and poker players local to Las Vegas will be targeted for participation.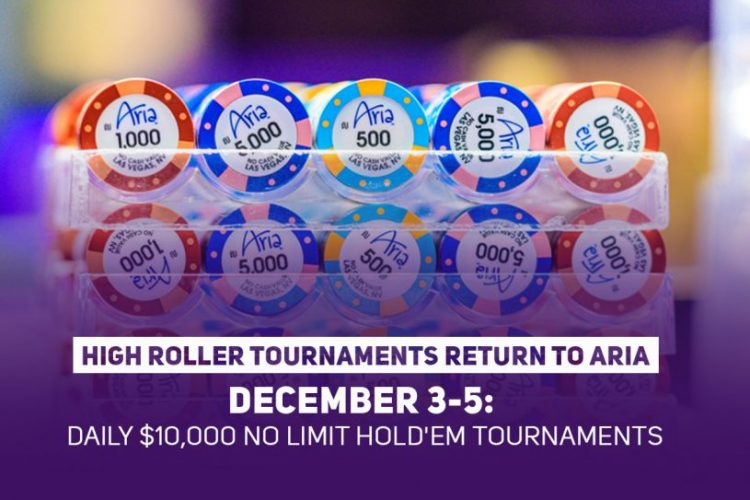 Aria December High Roller Tournaments
Start time: 2:00 pm local time.
Rake: Late registrations will pay $500 in rake, but on-time time registrations pay $200
Levels: Levels are 40 minutes in duration
Breaks: There will be a 10-minute break after each two levels.
Late Registration: Available until end of level 6.
Shot clock: Players have 30 seconds to act (shot-clock), and six 30-second time extensions. The last six players standing will receive six additional time extensions for the final table.