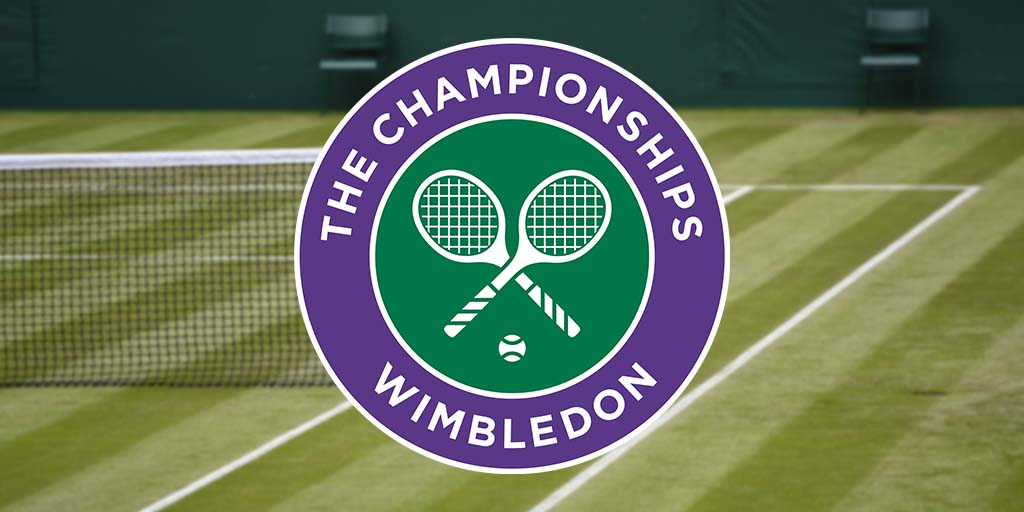 Wimbledon 2021 Betting Guide
The 2021 Wimbledon Championships will commence on Monday, 28 June and culminate on Sunday, 11 July at the All England Lawn Tennis and Croquet Club in Wimbledon, London.
View: Live ATP & WTA Tennis Betting Lines
View: Tennis Futures
---
Defending champions
The 2020 Wimbledon Championships was cancelled due to the COVID-19 pandemic, so the current defending champions date back to the 2019 tournament.
In the Men's Singles, Novak Djokovic won a fifth Wimbledon title, defeating Roger Federer 7–6 (7–5), 1–6, 7–6 (7–4), 4–6, 13–12 (7–3) in an epic encounter.
In the Women's Singles there was a first Wimbledon title for Simona Halep, who had a surprisingly comfortable 6-2, 6-2 win over Serena Williams.
---
Leading contenders
Novak Djokovic is the two-time defending champion and the best player in the world at present. He's a strong favorite for a reason.
Roger Federer is always a threat at Wimbledon, but at almost 40-year-old and increasingly injury prone, it's asking an awful lot for him to play seven matches in two weeks to win the title.
Matteo Berrettini – The big-serving Italian has been in good form this year and could go a long way in the tournament.
There will also be support for Daniil Medvedev, Stefanos Tsitsipas and Alexander Zverev.
In the Women's tournament, Ashleigh Barty is a very marginal favorite with the tennis sportsbooks. The Australian is the world ranked no. 1 player and, although she's only ever won one Grand Slam title, she's been in good form in 2021.
Elina Svitolina is a player with a decent pedigree at Grand Slam tournaments in recent years, reaching the quarter-final stage or beyond in all four of them.
---
Things to look out for when betting on the 2021 Wimbledon Championships
Grass courts can be unpredictable due to their natural surface, leading to a lower bounce and greater speed off the surface.
Both aces and service holds are more frequent on grass than on either hard or clay courts while, obviously, breaking an opponent's serve is less frequent.
Typically, clay court specialists tend to do less well on grass.
It can pay to look for big servers in the men's game to cause a few upsets, with the likes of Marin Cilic, Kevin Anderson, John Isner and Matteo Berrettini all capable of going a long way in the tournament.
Top returners capable of regularly breaking serve include Novak Djokovic, Roger Federer, Alexander Zverev and David Goffin.
---
Latest 2021 Wimbledon Odds
---
What's the history of the Wimbledon Championships?
The Wimbledon Championships is the oldest tennis tournament in the world and is widely regarded as the most prestigious. The All England Club in Wimbledon has been its home since the inaugural tournament in 1877.
That first championship saw Spencer Gore defeat William Marshall 6-1, 6-2, 6-4 in the final. The 22 contestants paid a guinea each to enter the tournament and Gore was presented with the silver challenge cup and prize money of 12 guineas. Approximately 200 spectators paid one shilling each to watch the final.
Maud Watson won the first Women's Singles in 1884, when she beat her older sister Lilian Watson 6–8, 6–3, 6–3.
The tournament traditionally took place over two weeks in late June and early July, but changes to the tennis calendar in 2015 have seen the event moved back by a week to begin in early July.
Wimbledon traditions include a strict all-white dress code for competitors and royal patronage.
---
* Wimbledon betting odds quoted correct at the time of last update. Please be aware that all Wimbledon odds are subject to changes.
Frequently Asked Questions
When & where does the 2021 Wimbledon Championships take place?

The 2021 Wimbledon Championships are scheduled to commence on Monday, 28 June and culminate on Sunday, 11 July. They will be held at the All England Lawn Tennis and Croquet Club in Wimbledon, London.

What surface is the Wimbledon Championships played on?

The Wimbledon Championships are the only Grand Slam tournament still to be played on grass.

The courts are sown with 100 per cent Perennial Ryegrass (since 2001) to improve durability and to help withstand the increasing wear of the modern game.

The grass has been cut to a height of 8mm (since 1995), as this has been found to be the optimum for present day play and longevity.

The main factor regarding the bounce of the ball is the soil, not the grass. The ball will seem heavier and slower on a cold damp day and conversely lighter and faster on a warm dry day.

What's the prize money at the 2021 Wimbledon Championships?

The total prize money pool at the 2021 Wimbledon has decreased by 7.85% to £35,016,000. The winner of the Men's and Women's Singles will each receive £1,700,000, with the runners-up each earning £900,000.

Who are the favorites to win the 2021 Men's & Women's Singles?

These are the pre-tournament tennis odds via Bovada for the Men's and Women's tournaments at the 2021 Wimbledon Championships:

Men's

Novak Djokovic -105
Roger Federer +550
Daniil Medvedev +600
Stefanos Tsitsipas +700
Alexander Zverev +1200
Dominic Thiem +2500
Andrey Rublev +3300
Andy Murray +3300
Jannik Sinner +3300
Matteo Berrettini +3300
Milos Raonic +3300
Nick Kyrgios +3300

Women's

Ashleigh Barty +600
Serena Williams +650
Petra Kvitova +900
Bianca Andreescu +1000
Garbine Muguruza +1000
Iga Swiatek +1200
Simona Halep +1200
Aryna Sabalenka +1200
Victoria Azarenka +1600
Cori Gauff +1600
Karolina Pliskova +2000
Madison Keys +2000

Who are the most successful players in the history of the Wimbledon Championships?

The most successful players in the Open era (since 1968) in the Wimbledon Championships are as follows:

Men's


Roger Federer – 8
Pete Sampras – 7
Bjorn Borg – 5
Novak Djokovic – 5
Boris Becker – 3
John McEnroe – 3

Women's

Martina Navratilova - 9
Steffi Graf – 7
Serena Williams – 7
Venus Williams – 5
Billie Jean King – 4 (+2 in Amateur era)
Chris Evert – 3