Can Edson Barboza Make Experience Count Against Up & Coming Giga Chikadze at UFC Vegas 35?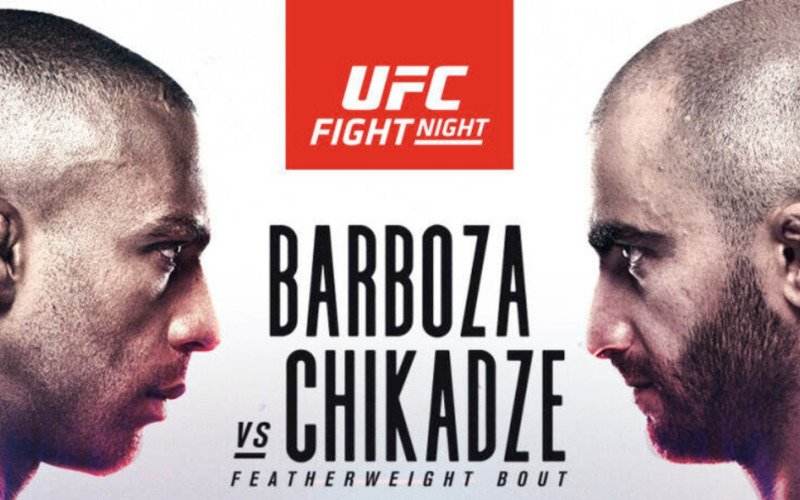 Edson Barboza vs Giga Chikkadze
Giga "Ninja" Chikadze (13-2-0) fights Edson "Junior" Barboza (22-9-0) in a featherweight bout that's the Main Event at UFC Vegas 35 at the UFC APEX in Las Vegas, Nevada on Saturday night.
View: All UFC Odds
---
UFC Fight Night: Barboza VS. Chikadze
Date: Saturday, August 28
Main card: 7pm PT / 10pm ET
Main event (approx): 10pm PT/ 1am ET
---
Edson Barboza vs Giga Chikadze Odds
This has the potential to be a fantastic match-up between two excellent strikers and it's a fight that could easily go either way.
Leading offshore sportsbook Bovada certainly can't decide who will come out on top in this bout, with their betting odds on the Fight Result putting Chikadze at -110 and Barboza also at odds of –110.
---
Barboza vs Chikadze – Preview & Fighter Stats
The winner of this bout between two powerful strikers will climb the rankings and put themselves in the frame for a future shot at the featherweight title.
Featherweight – Main Event
Edson Barboza Vs Giga Chikadze

| | | |
| --- | --- | --- |
| Edson Barboza | Name | Giga Chikadze |
| 22-9-0 | Record | 13-2-0 |
| 5′ 11″ | Height | 6′ 0″ |
| 146 lbs | Weight | 146 lbs |
| 75″ | Reach | 74″ |
| Orthodox | Stance | Orthodox |
| 4.16 | Sig Strk LPM | 3.55 |
| 45.47 | Sig Strk Acc | 45.52 |
| 0.42 | TD AVG | 0.38 |
| 44.44 | TD ACC | 33.33 |
| 0.10 | Sub Avg | 0.00 |
---
Edson Barboza
The 35-year-old Brazilian is an orthodox fighter, who is currently on a two-fight winning streak. His last fight came in May this year, when he beat the American Shane "Hurricane" Burgos with a 3rd round KO.
Of Barboza's 22 wins, 13 have come via knockout, with one by submission and eight by decision. His nine losses have featured three by KO, two by submission and four by decision.
Barboza is renowned as a Muay Thay specialist and is currently the No. 9 in the featherweight rankings, one place higher than technical kickboxer Chikadze (he has a 38-6 record in his kickboxing fights).
---
Giga Chikadze
The 33-year-old Georgian southpaw is currently on an eight-fight winning streak. Chikadze, who is undefeated since entering UFC, was last in action in May this year, when he beat Cub "Killer" Swanson of the USA via a 1st round TKO with body kick and punches.
Chikadze's 13 wins to date have included eight by KO, one by submission and four that have gone to a decision. One of his two losses came via submission, with the other being by decision.
---
Final Thoughts
The momentum is with Chikadze coming into this fight, but he hasn't really fought at this level before and this is the first time he will headline a card.
Barboza is a legend in the sport and brings vast experience into the octagon. This is a fight that looks highly likely to focus on the two contenders kickboxing skills, with Barboza's greater experience at the top level possibly giving him a slight advantage.
---
* UFC Vegas 35 odds correct at the time of writing. All betting odds are subject to changes.