UFC Fight Night: Kattar vs. Chikadze Headlines Event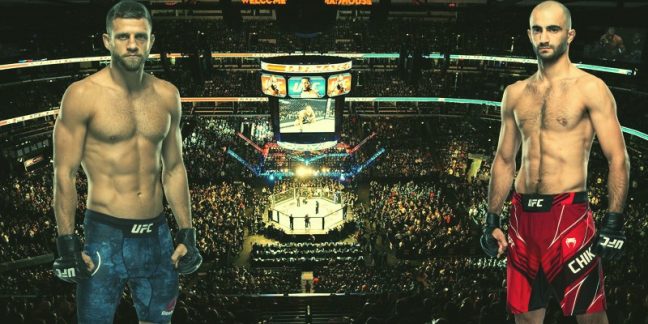 A featherweight battle between Calvin Kattar and Giga Chikadze headlines the first UFC Fight Night of 2022. Expect this anticipated matchup to be an all-out striking war. Get insights and the latest betting odds for all UFC fights on January 22.
UFC Fight Night: Kattar vs. Chikadze
Date: Saturday, January 22, 2022
Main card: 4:00 p.m. PT/7:00 p.m. ET/12:00 p.m. BST
Main event (approx): 7:00 p.m. PT/10:00 p.m. ET/3:00 a.m. BST
---
UFC Fight Night Main Event: Kattar vs. Chikadze
Featherweight Calvin Kattar takes on another skilled striker in the form of Giga Chikadze in the UFC Fight Night main event. Because it's a fight between a no.5 (Kattar) and a no.8 (Chikadzee), picking a winner is no mean feat.
Calvin Kattar Winning Odds
Despite being ranked higher than his opponent, Calvin Kattar is the slight underdog in this bout. The American hasn't fought since losing against Max Holloway in a punishing battle 12 months ago. Although he couldn't defeat Holloway, Kattar has proved he's a skilled boxer with solid fundamentals in other matchups. He is currently 22-5, with eleven of his victories coming by way of TKO/KO. Before his last loss, he was on a two-fight winning streak and close to securing a shot at the featherweight title. Therefore, a convincing win over Chikadze could put him back in contention. Kattar is likely to have a striking fight plan against Chikadzee, but he could also decide to outwrestle his opponent.
Giga Chikadze
Chikadze is looking to make a statement on Saturday. Online sportsbooks have him as – 250 favorite to win the UFC Fight Night main event. The talented striker has won 14 of his 16 MMA matchups – nine of his victories came by TKO or KO. He also had an impressive 44-6 record in Glory Kickboxing before switching to Dana White's organization. As Chikadze won his last three fights by TKO, many UFC bettors will be placing action on the Georgian to make it four in a row against Kattar.
---
Katlyn Chookagian vs. Jennifer Maia
There's a lot on the line in this flyweight bout between two former championship challengers, as both fighters hope a resounding win will secure a shot at the title.
Katlyn Chookagian Fight Odds
Chookigan beat Maia by decision in 2019, and Oddsmakers have her as a -175 favorite to do it again. The tall flyweight (5ft 9) will likely try and keep her opponent at bay with punches to get another decision victory. As she has won most of her fights by going the distance, wagering on her to win by KO or TKO doesn't look like a sensible bet. However, as this is the fight game, you can never rule out a knockout finish.
Jennifer Maia
Maia is on a two-fight winning streak going into this fight. Her 19-7-1 record isn't too bad when you consider the pedigree of the opponents she's faced. Also, Maia is the more experienced of the two in this matchup. However, she's struggled to put consecutive wins together in the UFC. The Brazilian's best chance of securing the victory would be to take the fight to the ground early to get a submission.
---
Brandon Royval vs. Rogerio Bontorin
Brandon Royval enters the octagon to take on Rogerio Bontorin in a flyweight contest. The two competitors are both hoping for a win to climb the rankings.
Brandon Royval
Despite losing his last two fights, UFC betting sites have made Brandon Royval the favorite to win this matchup on Saturday. Standing at 5ft 7, Royval is tall compared to others in his division and has long limbs. His figure works well with the Brazilian Ju-Jitsu fighting style, as it allows him to use more attacks on his opponent. So far, eight of his twelve victories have come via submission. Therefore, expect the American to look to submit his opponent.
Rogerio Bontorin Odds
Bontorin wants to build up a head of steam after beating Schnell in May last year. The 29-year-old is also a well-known Brazilian Ju-Jitsu practitioner who has won eleven fights via submission. Therefore expect this one to de decided on the ground. Although the result is not certain, one thing is: the matchup will be an intriguing watch for lovers of Ju-Jitsu fans.
---
Jake Collier vs. Chase Sherman Betting Odds
Knockout artists Jake Collier and Chase Sherman enter the ring for this heavyweight battle. As these two fighters are absolute powerhouses, don't expect the fight to go the distance.
Jake Collier Fight Odd
Due to Collier's impressive fight resume, he's tipped to win this matchup on Saturday night. After initially starting his UFC career as a middleweight, the American has fought Tom Aspinall and Gian Villante. With twelve wins and six defeats, his record is ok but far from impressive. For this reason, many think he will try and put some gloss to his resume by going for a KO or TKO when facing Sherman.
Chase Sherman Winning Odds
Sherman needs a win in his second stint with the UFC to keep his career afloat. He had an unsuccessful run the first time around. He has fought a few ranked opponents in the past but lost most of them after punishing firefights. However, Sherman is a naturally gifted boxer, so if he uses his hands to pick apart Collier and doesn't rush in, he could get a decision win.
---
Bill Algeo vs. Joanderson Sa de Brito
Bill Algeo takes on UFC newcomer Joanderson Sa de Brito in this featherweight bout. Algeo hopes to bounce back after losing against Ricardo Ramos. However, Sa de Brito is expected to start his UFC career with a bang.
Bill Algeo Fight Odds
Bill Algeo's UFC career has been up and down. Despite progressing through Dana White's Contender Series, he has failed to live up to the hype with a 14-6 record. As six of his victories came via submission, he will likely stick to what he knows against Sa de Brito.
Joanderson Sa de Brito
Like Algeo, Sa de Brito is making his UFC debut after securing a contract via the Contender Series. The Brazilian has notched up twelve wins and two losses, but to get Dana White's attention, the 26-year-old will want to end this one quickly with a KO or TKO. However, a rushed approach sometimes backfires, so this one is tricky to call.
---