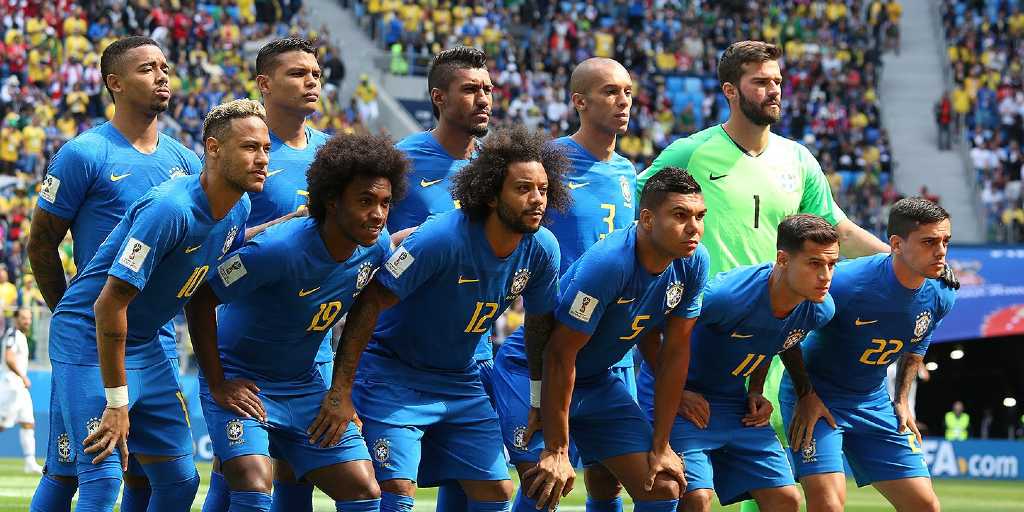 Vegas oddsmakers have made Brazil +450 opening favorites to win the 2022 FIFA World Cup. Defending champions France are close behind in second and, despite recent struggles, sportsbooks have chosen England as the third most likely team to lift the trophy in Qatar.
But although bookmakers favoring the Seleção Canarinho is unsurprising, have they underestimated other teams' chances?
View the latest 2022 FIFA World Cup odds and info on top contenders and value picks.
2022 FIFA World Cup Info
When: November 21 – December 18
Where: Qatar
Vegas oddsmakers have made Brazil's star-studded squad a +450 favorite to win the tourament
Senegal faces the Netherlands at Al Thumama Stadium, Doha for the first match of the tournament
Costa Rica, Tunisia, and Saudi Arabia are the biggest longshots (+75000) to win the World Cup.
Brazil
Brazil go into this tournament with the strongest squad they've had in the last 20 years and haven't lost in 25 games.
In past World Cups, Brazilian superstar Neymar Jr has had to drag a fairly weak team (for Brazil's impeccably high standards) through games. Yet although all eyes will be on the skilled winger in Qatar, his team is teeming with talent.
They have at least two quality players for every position on the field. This strength in depth could make a decisive difference given that the tournament takes place almost midway through the seasons of Europe's top soccer leagues.
Brazil go into this tournament with the strongest squad they've had in the last 20 years and haven't lost in 25 games.
The only chink in the Seleção Canarinho's armor is at right-back. But despite Dani Alves' age (38), he still has sufficient pace, stamina, and skill to be a nightmare for opponents.
Also, Brazil have proven over the years that they can compensate for weaknesses with flair and moments of individual brilliance.
Therefore, Brazil being opening tournament favorites at top online sportsbooks is unsurprising. However, at +450 to win the World Cup, they don't represent the best betting value.
France
Despite Les Bleus being a Jekyll-and-Hyde team, it hasn't stopped them from being successful in recent years. With stars such as Karim Benzema, Kylian Mbappe, N'Golo Kanté, and Paul Pogba, they have enough individual quality to grind out wins.
The defending champions have looked particularly poor in their recent Nations League outings. But Vegas oddsmakers expect them to pull it together for the biggest tournament in international soccer. Still, as it's challenging to determine what mood they will be in, placing action on France to win the World Cup seems riskier than what the odds suggest.
England
Is this still England's best chance to win a major international competition, or have they run out of steam? Although they're a solid unit with some exciting young players, questions remain around their winning mentality.
…questions remain around their winning mentality
They reached the UEFA Euro 2020 Final and took an early lead but buckled under pressure to let Italy back into the game and win. As any team can lose a final, Vegas oddsmakers paid little attention to this result and made England World Cup favorites shortly after the tournament.
However, the Three Lions have failed to win their first four Nations League games – this poor run of form included their worst home defeat since 1928 with a 4-0 loss to Hungary.
Although it's difficult to pinpoint what went wrong in those games, optimistic fans think it might be a case of fatigue after a long domestic season. Still, bookmakers may have overestimated their chances.
Value Picks for World Cup
Argentina
La Albiceleste seems to have finally figured out how to get the best of Lionel Messi. Despite struggling with Paris Saint Germain, he's put on some incredible performances to lead Argentina to a Copa America and a UEFA Cup of Champions.
With arguably the best soccer player in the world playing alongside dangerous attacking players and +800 odds, backing Argentina to go all the way is a tempting bet.
Spain
Although La Roja's attractive approach to the game hasn't born fruit in recent tournaments, the side's new generation of players – Pedri, Gavi, Pau Torres, Rodri, Gerrard Moreno – could flourish in this system.
If the young stars hit the ground running, expect Vegas oddsmakers to slash their odds. Therefore, maybe now is the best time to back Spain.
Netherlands
Louis Van Gaal's firey management style may have failed at club level with Manchester United but it's working with the Netherlands. This team is teeming with under-the-radar quality and has Virgil van Dijk protecting the back line.
At +1200, they are a great value pick to lift the World Cup on December 18.
Want to learn how to remove the vig (juice), and calculate implied win probability of your 2022 World Cup bets? Check out our odds calculator page to get the lowdown.
Image credit: Agência Brasil Fotografias, CC BY 2.0