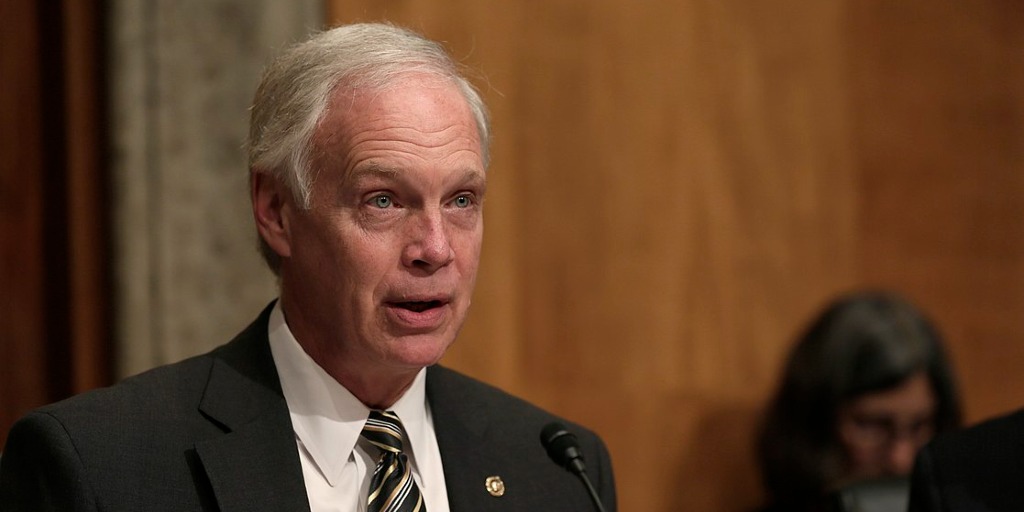 Senator Ron Johnson asks questions of U.S. Border Patrol Chief Mark Morgan and U.S. Border Patrol Deputy Chief Carla Provost as they testify before the Senate Committee on Homeland Security & Governmental Affairs.
Wisconsin Republican Senator Ron Johnson is seeking reelection to a third term in one of the toughest races of the 2022 midterms. In true Trump style, he has spread election and COVID conspiracies and used Washington to his advantage.
The Democrats describe Johnson as a menace to American democracy, a threat to public health, and an economic saboteur.
With Biden's woes mounting, Republicans across the country face an extremely favorable political environment. But in Wisconsin, Johnson's controversial hardline agenda has put him in a vulnerable position. Many are now saying even if Democrats have poor election results nationally, they could still win the Wisconsin US Senate seat.
We analyze if Johnson's agenda is too controversial for voters to overlook and the Democratic response to the controversial incumbent.
Republican Senator Ron Johnson
Two-term US Senator Ron Johnson is facing a tough race for reelection. Despite making headline news – albeit negative – and the advantage of incumbent name recognition, 21% of voters were unsure who he was. Of those who did, 45% had an unfavorable opinion, and only 33% were positive about his term in office.
Republican Wisconsinites on the fringes of the Republican Party approve of Johnson because he speaks his mind, even if he is not politically correct, and is seen to be outside of the GOP establishment in Washington.
Ron Johnson is what you get when QAnon and the Tea Party have a baby…
As for centrists, Johnson has done little to soften his delivery to attract their votes. In true Trumpian style, he said that gargling mouthwash could kill the coronavirus. He continues the conspiracy theory of the "stolen election" and that the January 6 Capitol Hill attack mainly was a "peaceful protest."
A Wisconsin Democrat, Ben Nuckels, said: "Ron Johnson is what you get when QAnon and the Tea Party have a baby…His candidacy makes the race far more competitive for Democrats…"
Political bettors should watch this race closely, as it could determine party control of the US Senate.
The Democratic Response
The Democrats' campaign strategy is to portray Johnson as a self-serving Senator who uses Washington to protect and promote his interests. And with headline-grabbing controversies, Johnson has supplied them with lots of ammunition.
Johnson tweeted and then deleted that he has billed taxpayers up to $18,781 for his trips from Washington to Fort Myer in Florida, where he owns a waterfront vacation home.
…nobody likes being ripped off by someone who's out to serve themselves.
Since joining the US Senate in 2011, Johnson's net worth rose from $23.76 million to $48.03 million in 2020. Over that period, Johnson actively promoted Trump's tax bill, giving billionaire backers and his company hundreds of millions in tax breaks. And to add to the Democrats' campaign case, the wealthy Johnson paid almost nothing in 2017 state income tax – and won't explain why.
Ben Wikler, chair of the Wisconsin Democratic Party, said, "…nobody likes being ripped off by someone who's out to serve themselves. And that's the core of our message."
The Uvalde Massacre
During an interview with Fox News, Johnson said that school shootings like the one in Uvalde that left 21 dead are rising because of "wokeness" and "liberal indoctrination."
Asked if stricter background checks would help, he said, "…the solution lies in stronger families, more supportive communities, I would argue renewed faith…We stopped teaching values in so many of our schools. Now we're teaching 'wokeness.' We're indoctrinating our children with things like critical race theory. Telling some children that they're not equal to others and they're the cause of people's problems. There's a sickness."
the solution lies in stronger families, more supportive communities, I would argue renewed faith…
According to the Brady Center to Prevent Gun Violence, the Senator has received $1,269,486 from the National Rifle Association.
Johnson's comments give the Democrats plenty of ammunition for the midterm election campaign.
The Democrat Candidates
The four top Democrat midterm primary candidates have been on the offensive against incumbent Senator Ron Johnson.
Following the comments about the cause of recent mass shootings, Lt. Gov. Mandela Barnes said, " Johnson and his gun lobby-funded colleagues are the reason we haven't been able to pass common-sense gun reform." Barnes, a progressive candidate, backed by Senator Elizabeth Warren and the Working Families Party, has a 34% rating.
Milwaukee Bucks executive Alex Lasry said, "doing nothing has resulted in one thing: more dead children, and the people of Wisconsin are tired of having a do-nothing Senator in Washington." Lasry, a center-left candidate who has won the endorsement of local labor unions, has a 31% rating.
The candidate, State Treasurer Sarah Godlewski, blasted Ron Johnson for voting against the Women's Health Protection Act, which would have protected the federal right to access abortion care. Wisconsin has had a dormant abortion ban with no exception for rape or incest since 1849.
If the US Supreme Court overturned Roe v. Wade, Wisconsin could reinstate the law. Godlewski is a businesswoman, a financial expert, and a champion for Wisconsin working families. Emily's List, the nation's largest resource for women in politics, has endorsed Sarah. Godlewski has an 18% rating.
Johnson made comments supporting the conspiracy that doctors immunizing patients from Covid-19 were instead infecting them with AIDS. Outagamie County Executive and candidate Tom Nelson was outraged and said, "Ron Johnson has said many despicable things to advance his far-right agenda, but using people with HIV/AIDS and their loved ones to advance conspiracy lies is a new low for Wisconsin's bottom-feeding embarrassment.
Johnson owes Wisconsin and communities everywhere affected by HIV/AIDS an apology for heartless remarks…" continuing, "Ron Johnson is a walking, public health disaster whose presence in the Senate is costing us lives." Nelson, a progressive, is endorsed by Our Wisconsin Revolution, an independent social justice organization. Nelson has a 5% rating.
Key Political Issues
Key political issues could alter electoral voting patterns in the August 9 Democratic US Senate midterm primary. The US Senate debate on gun controls could boost Barnes's chances, as he has advocated for tighter laws.
A decision by the January 6 committee could help Lasry and his campaign to protect democracy, and a Supreme Court ruling on Roe v. Wade could up Godlewski's odds of election success as she fights for women's rights.
Whoever wins the primary, Democrats view the race as an opportunity to swing a Republican-held seat. After nearly a dozen years in the Senate, they could destroy Johnson's image as a political outsider. While Johnson appeals to his conservative and Republican base, he could struggle to gain support among moderates and independents.
…Democrats have a bad night nationally, and Ron Johnson still loses,
"I think it is entirely possible that Democrats have a bad night nationally, and Ron Johnson still loses," said Joe Zepecki, a Wisconsin-based Democratic strategist. He added, "That's how much trouble I really genuinely believe that he's in here."
The Wisconsin general election will be one of November's most closely watched races that political bettors will not want to miss.
Wager on upcoming US elections at top online betting sites.
Image credit: Glenn Fawcett, U.S. Customs and Border Protection, CC BY 2.0