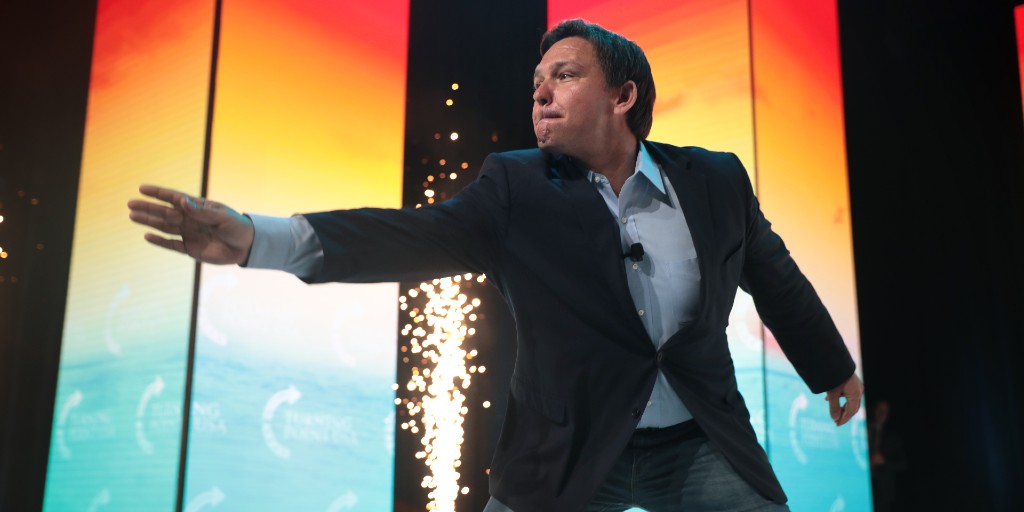 Governor Ron DeSantis speaking with attendees at the 2021 Student Action Summit hosted by Turning Point USA at the Tampa Convention Center in Tampa, Florida.
In Florida, the Incumbent Governor Ron DeSantis, a rising star of the Republican party, is running for reelection on an anti-woke "culture war" program that has earned the admiration of hard-line conservative voters. The Democrats accuse DeSantis of ignoring citizens' needs by treating the midterm elections as a dress rehearsal for his 2024 presidential bid.
DeSantis' strategy is risky given the number of non-affiliated voters. But with Trump's current vulnerability, could success lead him toward Washington?
We offer political bettors insights into DeSantis and his "culture war."
The Florida Governor
Florida's Incumbent Republican Governor Ron DeSantis is running for reelection for a second term. Although Florida has been a swing state in recent elections, recent polling shows a 7.6% lead for the Republican party. The Republican vote makes up less than 40% of the electorate, so candidates must capture non-affiliated, independent voters to win a statewide race.
In the November election, DeSantis will face one of the Democratic rivals, US Rep. Charlie Crist or Agriculture Commissioner Nikki Fried. Crist has a significant lead over Fried: 52% to 21% amongst white voters, and in the black communities, Crist leads 54% to 14%.
In a potential contest between DeSantis and Crist, the incumbent Governor currently leads by 50.4% to 41.6%.
Political bettors will see if the polls are correct after the Florida Democratic primary on August 23.
The "Culture War"
Throughout his Governorship and the election campaign, DeSantis has focused on the GOP "culture war" against Democratic values, beliefs, practices, and the woke agenda.
DeSantis was one of the nation's most powerful opponents of lockdowns and vaccine mandates, and Florida will ban abortions for people past 15 weeks of pregnancy. He challenged the alleged "woke indoctrination" of public schools by limiting what could be taught about gender, sexuality, racism, and American history. He banned several math textbooks for purported political content. DeSantis also pursued policies restricting the rights of the LBGTQ+ community and Black voters and threatened Disney for its opposition.
Ron DeSantis' targeted program has earned the admiration of hard-line Republican conservative voters. However, will centrist swing voters be concerned by the imposing restrictions?
The Democrats
The Democratic candidate will face challenges in unseating DeSantis. Florida's new restrictive voting rights laws have targeted their voter base, limiting drop boxes and mail-in ballots. The Democrats have to counter DeSantis' advantage of a strong state economy, a difficult task with US inflation at 8.6%, the highest level since December 1981.
Demographics could help as Florida is the most popular retirement state in the US, meaning a constant electorate change by younger newcomers with potentially more liberal views. Registered Republican voters have recently surpassed the Democrats – 5,007,590 to 5,142,002 – but the critical number for political bettors is the 3,872,352 unaffiliated voters that could swing the result left or right.
His eyes are on Washington, D.C., and he is stepping on us every single day to get there.
Whoever becomes DeSantis' opponent must distract from the Republican hard-line plan and focus on the problems voters face, such as education, housing, and healthcare.
Candidate Nikki Fried has questioned the Governor's motives, saying: "A Governor is supposed to bring people together, not divide us, talk about the issues that impact the people of our state, not create these culture wars," and continued, "His eyes are on Washington, D.C., and he is stepping on us every single day to get there."
DeSantis v. Trump
So is now the time to wager on Desantis, the rising Republican star running for president? At the 2022 Western Conservative Summit in Colorado, an annual event featuring forums with candidates running for state and federal office, activists held a straw poll for their party's 2024 presidential nomination. Ron DeSantis won 71% of the vote, pushing Donald Trump into second place with 67%.
Presidential Race
Trump has been the safe betting option for the Republican presidential nominee ever since he lost the 2020 election to Joe Biden. However, are the mixed results with endorsements in midterm primaries a signal Trump is losing his previously impenetrable grip on the Republican Party?
Rumors are circulating that Donald Trump is considering announcing a presidential bid on July 4. If true, it might deter Ron DeSantis and a growing field of likely Republican candidates from pre-empting the former president. And as the January 6 committee draws closer to a decision, a presidential bid could deflect attention from the legal peril Trump is currently facing.
"Why wouldn't he run?" Mary Trump, his niece, said, continuing: "He's in so much trouble, legally, criminally, and civilly."
…He's in so much trouble, legally, criminally, and civilly.
Political bettors watch with interest as Ron DeSantis refuses to confirm or rule out a presidential run. But, there is no doubt that the Florida Governor's appeal goes beyond the state borders, as demonstrated by his PAC, which fundraised $36.7 million, of which $17 million was from out-of-state donors.
Professor Darryl Paulson, University of South Florida, a specialist in Florida and Southern Politics and political elections, said: "DeSantis is, to many Republicans, Florida's incarnation of Donald Trump, his successor, his alter ego, his clone…"
Election Betting Odds tracker Election-Odds.com which tracks bets on international betting exchanges currently estimates that Trump has a 40% chance of winning the next election if he runs.
DeSantis' strategy is risky given the number of non-affiliated voters, but with Trump's current vulnerability, success could lead him toward Washington.
In this midterm year, political bettors will see if DeSantis' hard-line plan will take him one step closer to a presidential race.
Wager on upcoming US elections at top online betting sites.
Image credit: Gage Skidmore, CC BY 2.0