Wynn Las Vegas to host $10M Guaranteed "Wynn Millions" Tournament During Summer Classic Series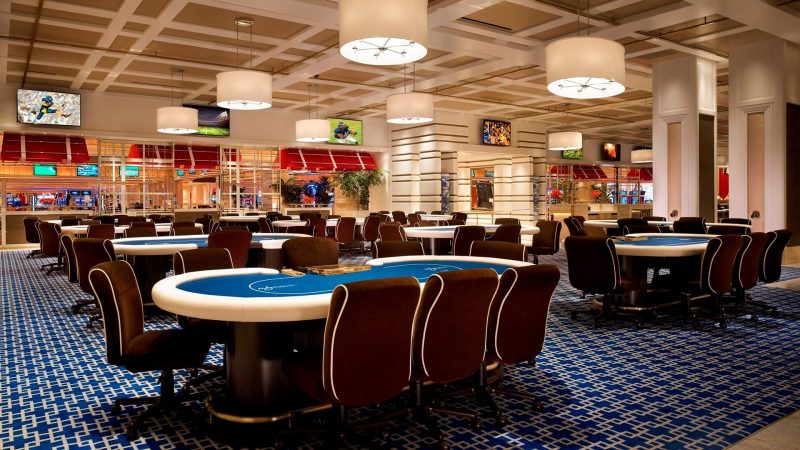 Wynn Las Vegas unveiled its largest ever live poker tournament featuring a $10M guaranteed poker tournament dubbed the "Wynn Millions" to run during 2021 Wynn Summer Classic.
Today Wynn Las Vegas unveiled their latest poker promo – a $10,000,000 guaranteed Texas-Hold'em tournament to cap off the Wynn Summer classic – a thirty event poker series which runs annually in Vegas (this year from May 27th to -July 13th, 2021).
The "Wynn Millions" will require 90 tables and even more dealers in what will be the largest prize-pool event held at the Venue.
Poker formats included in the series include PLO, PLO hi/lo, H.O.R.S.E and a seniors tournament and a ladies tournament.
Wynn Millions  – $10,000,000 Guaranteed – Schedule 2021
| Date | Day | Time (PT) | Tournament |
| --- | --- | --- | --- |
| 6/25 | Friday | Noon | Wynn Millions Day 1A |
| 6/26 | Saturday | Noon | Wynn Millions Day 1B |
| 6/27 | Sunday | Noon | Wynn Millions Day 1C |
| 6/28 | Monday | Noon | Wynn Millions Day 2A + 2B |
| 6/29 | Tuesday | Noon | Wynn Millions Day 2C |
| 6/30 | Wednesday | Noon | Wynn Millions Day 3 |
| 7/1 | Thursday | Noon | Wynn Millions Day 4 |
| 7/2 | Friday | Noon | Wynn Millions Day 5 |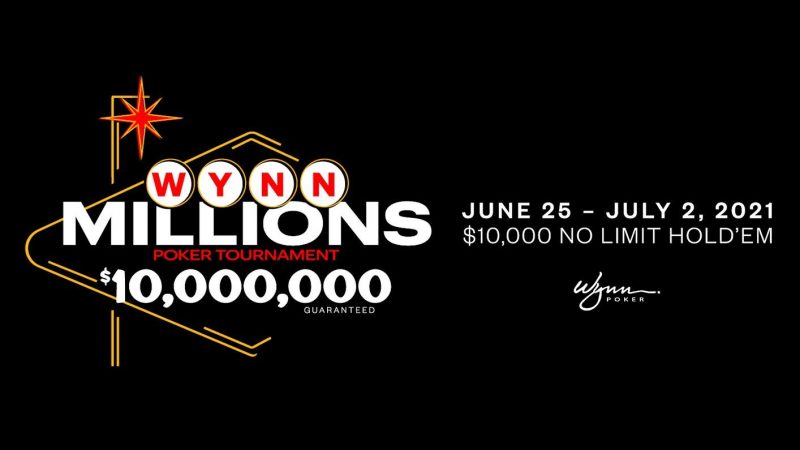 Wynn Summer Classic Schedule, 2021
Wynn Summer Classic Schedule 2021

| Date | Day/Time (PT) | Event | GTD | Buy-In | Chips | Levels |
| --- | --- | --- | --- | --- | --- | --- |
| 5/27 | THU 12 P.M. | NLH $4K Survivor | $40,000 | $400 | 20,000 | 30 |
| 5/27 | THU 6 P.M. | Satellite to $1,100 NLH 5 Seat GTD | | $200 | 15,000 | 20 |
| 5/28 | FRI 12 P.M. | No Limit Hold'em Day 1A | $1,000,000 | $1,100 | 25,000 | 40 |
| 5/28 | FRI 6 P.M. | Satellite to $1,100 NLH 5 Seat GTD | | $200 | 15,000 | 20 |
| 5/29 | SAT 12 P.M. | No Limit Hold'em Day 1B | $1,000,000 | $1,100 | 25,000 | 40 |
| 5/30 | SUN 12 P.M. | No Limit Hold'em Day 1C | $1,000,000 | $1,100 | 25,000 | 40 |
| 5/31 | MON 1 P.M. | NLH $100 Bounty | $50,000 | $550 | 20,000 | 30 |
| 6/1 | TUE 12 P.M. | No Limit Hold'em Day 1A | $150,000 | $600 | 25,000 | 40 |
| 6/2 | WED 12 P.M. | No Limit Hold'em Day 1B | $150,000 | $600 | 25,000 | 40 |
| 6/2 | WED 1 P.M. | Limit Omaha 8/B | $20,000 | $400 | 20,000 | 30 |
| 6/3 | THU 1 P.M. | NLH $4K Survivor | $40,000 | $400 | 20,000 | 30 |
| 6/4 | FRI 12 P.M. | Seniors NLH (50+) | $50,000 | $550 | 25,000 | 30 |
| 6/4 | FRI 1 P.M. | H.O.R.S.E. | $25,000 | $550 | 20,000 | 30 |
| 6/5 | SAT 12 P.M. | No Limit Hold'em | $40,000 | $400 | 20,000 | 30 |
| 6/6 | SUN 12 P.M. | No Limit Hold'em | $40,000 | $400 | 20,000 | 30 |
| 6/6 | SUN 1 P.M. | Pot Limit Omaha | $20,000 | $400 | 20,000 | 30 |
| 6/7 | MON 12 P.M. | No Limit Hold'em Day 1A | $250,000 | $600 | 25,000 | 40 |
| 6/8 | TUE 12 P.M. | No Limit Hold'em Day 1B | $250,000 | $600 | 25,000 | 40 |
| 6/9 | WED 12 P.M. | No Limit Hold'em Day 1C | $250,000 | $600 | 25,000 | 40 |
| 6/10 | THU 1 P.M. | NLH $5K Survivor | $50,000 | $550 | 20,000 | 30 |
| 6/11 | FRI 12 P.M. | No Limit Hold'em | $40,000 | $400 | 20,000 | 30 |
| 6/12 | FRI 1 P.M. | 8 Game Mix | $25,000 | $550 | 20,000 | 30 |
| 6/12 | SAT 12 P.M. | No Limit Hold'em | $40,000 | $400 | 20,000 | 30 |
| 6/12 | SAT 1 P.M. | Ladies NLH | $20,000 | $300 | 20,000 | 30 |
| 6/13 | SUN 12 P.M. | No Limit Hold'em | $40,000 | $400 | 20,000 | 30 |
| 6/13 | SUN 1 P.M. | PLO $500 Bounty | $100,000 | $1,600 | 25,000 | 30 |
| 6/14 | MON 12 P.M. | No Limit Hold'em | $40,000 | $400 | 20,000 | 30 |
| 6/15 | TUE 12 P.M. | No Limit Hold'em | $40,000 | $400 | 20,000 | 30 |
| 6/16 | WED 12 P.M. | NLH $4K Survivor | $40,000 | $400 | 20,000 | 30 |
| 6/16 | WED 6 P.M. | Satellite to $1,600 NLH 5 Seat GTD | | $300 | 15,000 | 30 |
| 6/17 | THU 12 P.M. | No Limit Hold'em Day 1A | $1,000,000 | $1,600 | 30,000 | 40/60 |
| 6/17 | THU 6 P.M. | Satellite to $1,600 NLH 5 Seat GTD | | $300 | 15,000 | 30 |
| 6/18 | FRI 12 P.M. | No Limit Hold'em Day 1B | $1,000,000 | $1,600 | 30,000 | 40/60 |
| 6/18 | FRI 6 P.M. | Satellite to $1,600 NLH 5 Seat GTD | | $300 | 15,000 | 30 |
| 6/19 | SAT 12 P.M. | No Limit Hold'em Day 1C | $1,000,000 | $1,600 | 30,000 | 40/60 |
| 6/20 | SUN 1 P.M. | Satellite to Wynn Millions 10 Seat GTD | | $1,100 | 20,000 | 30 |
| 6/21 | MON 12 P.M. | No Limit Hold'em Day 1A | $100,000 | $400 | 20,000 | 30/40 |
| 6/21 | MON 6 P.M. | Satellite Step to Wynn Millions 5 Seat GTD | | $200 | 15,000 | 20 |
| 6/22 | TUE 12 P.M. | No Limit Hold'em Day 1B | $100,000 | $400 | 20,000 | 30/40 |
| 6/22 | TUE 6 P.M. | Satellite Step to Wynn Millions 5 Seat GTD | | $200 | 15,000 | 20 |
| 6/23 | WED 12 P.M. | Seniors NLH (50+) | $50,000 | $550 | 25,000 | 30 |
| 6/23 | WED 6 P.M. | Satellite Step to Wynn Millions 5 Seat GTD | | $200 | 15,000 | 20 |
| 6/24 | THU 12 P.M. | Satellite to Wynn Millions 10 Seat GTD | | $1,100 | 20,000 | 30 |
| 6/24 | THU 6 P.M. | Satellite to Wynn Millions 3 Seat GTD | | $1,100 | 20,000 | 30 |
| 6/25 | FRI 12 P.M. | Wynn Millions Day 1A | $10,000,000 | $10,000 | 40,000 | 60/90 |
| 6/25 | FRI 6 P.M. | Satellite to Wynn Millions 3 Seat GTD | | $1,100 | 20,000 | 30 |
| 6/26 | SAT 12 P.M. | Wynn Millions Day 1B | $10,000,000 | $10,000 | 40,000 | 60/90 |
| 6/26 | SAT 6 P.M. | Satellite to Wynn Millions 3 Seat GTD | | $1,100 | 20,000 | 30 |
| 6/27 | SUN 12 P.M. | Wynn Millions Day 1C | $10,000,000 | $10,000 | 40,000 | 60/90 |
| 6/28 | MON 12 P.M. | Wynn Millions Day 2A + B | $10,000,000 | | | |
| 6/28 | MON 1 P.M. | No Limit Hold'em | $40,000 | $400 | 20,000 | 30 |
| 6/29 | TUE 12 P.M. | Wynn Millions Day 2C | $10,000,000 | | | |
| 6/29 | TUE 1 P.M. | No Limit Hold'em | $40,000 | $400 | 20,000 | 30 |
| 6/30 | WED 12 P.M. | Wynn Millions Day 3 | $10,000,000 | | | |
| 6/30 | WED 1 P.M. | No Limit Hold'em | $40,000 | $400 | 20,000 | 30 |
| 7/1 | THU 12 P.M. | Wynn Millions Day 4 | $10,000,000 | | | |
| 7/1 | THU 1 P.M. | Pot Limit Omaha | $100,000 | $3,000 | 25,000 | 30 |
| 7/2 | FRI 12 P.M. | Wynn Millions Day 5 | $10,000,000 | | | |
| 7/2 | FRI 12 P.M. | Mystery Bounty Day 1A | $1,500,000 | $1,600 | 30,000 | 40 |
| 7/3 | SAT 12 P.M. | Mystery Bounty Day 1B | $1,500,000 | $1,600 | 30,000 | 40 |
| 7/4 | SUN 12 P.M. | Mystery Bounty Day 1C | $1,500,000 | $1,600 | 30,000 | 40 |
| 7/5 | MON 12 P.M. | Mystery Bounty Day 1D | $1,500,000 | $1,600 | 30,000 | 40 |
| 7/6 | TUE | No Event | | | | |
| 7/7 | WED 12 P.M. | No Limit Hold'em Day 1A | $1,000,000 | $3,500 | 30,000 | 40 |
| 7/8 | THU 12 P.M. | No Limit Hold'em Day 1B | $1,000,000 | $3,500 | 30,000 | 40 |
| 7/9 | FRI 1 P.M. | PLO $500 Bounty | $100,000 | $1,600 | 25,000 | 30 |
| 7/10 | SAT 11 A.M. | No Limit Hold'em Day 1A | $500,000 | $500 | 25,000 | 30/40 |
| 7/10 | SAT 5 P.M. | No Limit Hold'em Day 1B | $500,000 | $500 | 25,000 | 30/40 |
| 7/11 | SUN 11 A.M. | No Limit Hold'em Day 1C | $500,000 | $500 | 25,000 | 30/40 |
| 7/11 | SUN 5 P.M. | No Limit Hold'em Day 1D | $500,000 | $500 | 25,000 | 30/40 |
| 7/12 | MON 11 A.M. | No Limit Hold'em Day 1E | $500,000 | $500 | 25,000 | 30/40 |
| 7/12 | MON 5 P.M. | No Limit Hold'em Day 1F | $500,000 | $500 | 25,000 | 30/40 |