Will there be a World Series of Poker in Las Vegas this year?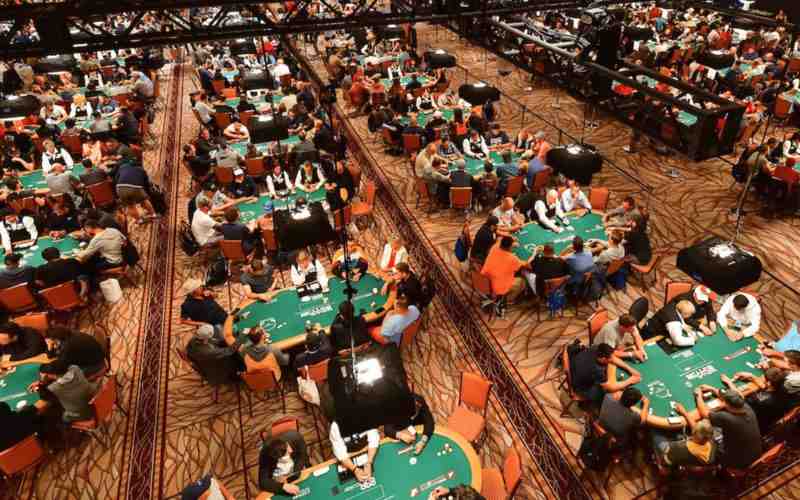 Poker tables at the World Series Of Poker in Vegas
This week Las Vegas' Golden Nugget announced it was now facilitating eight-handed poker games having installed plexiglass dividers to allow more players at the tables. Until now, in accordance with guidelines from the state Gaming Control Board, the 'Nugget' had allowed just five players at their tables.
But now, with the plexglass dividers, they have joined the majority of other Las Vegas poker rooms in hosting eight-handed games with dividers. Pre-pandemic, poker games of all types were typically played nine or ten handed without dividers.
Had poker turned a corner in Vegas?
In truth, with just 13 tables the Golden Nugget is a small player amongst the Vegas poker scene and it was a scene that had turned a corner prior to the Covid nightmare. Precisely a year ago the Las Vegas Sahara Casino reopened its poker room – it had been closed for nine years.
It was only the second new poker room to open in Vegas during the past decade. Ellis Island, Fitzgeralds (now The D), Jokers Wild, O'Sheas, Silverton, Tropicana, Aliante Casino, The Linq, Luxor, Monte Carlo, The Plaza, Suncoast, Treasure Island and Stratosphere had all closed their card rooms during this time.
Rio today but out tomorrow
But what about the crown jewels of poker, the World Series of Poker (WSOP)? It's been staged at the Rio All-Suite Hotel & Casino since 2005. But, in a deal worth $516.3 million that venue was sold to a New York-based real estate company who agreed to lease the property back to Caesars Entertainment until at least the end of 2021.
Suffice to say turnover at that venue, like all others in Vegas, Rio profits were decimated in 2020 and the land-based version of the World Series of Poker was cancelled.
In 2019 WSOP officials boasted that year's event attracted 187,298 'entrants'. There was no official line on the number of individuals who played at the series (the above figure includes re-entrants and in a tournament) but the number of individual players could doubtlessly be fitted into a good sized basketball arena.
This may see the WSOP as an attraction pale into insignificance when compared to the sum total of the 3.5 million visitors Las Vegas attracted every month during a conventional pre-Covid summer. 500,000+ people came to the city each month for business conferences alone.
WSOP 2020
The 2020 WSOP took place online, in a series of tournaments which were played out on GGPoker (Europe and rest of the World) and WSOP.com in the few U.S states in which poker is regulated. The winner of the $5000 buy-in main event Stoyan Madanzhiev finished first for $3,904,686 and was crowned WSOP 2020 champion – or so he thought. Subsequently the WSOP decided to run another Main event, a $10,000 buy-in event split over GGPoker and WSOP.com, eventually won by Damian Salas, who banked $1,550,969 for first place.
No official line on WSOP 2021
But if you are a poker player you will want to know if the 2021 World Series will go ahead and, if it is not, you will probably have to accept you will never play poker in the Rio again.
There's been no official line from the WSOP despite the series normally starting in late May and details of scheduled events are normally being released at this stage. The 2019 WSOP attracted players from 118 different countries and while authorities may be somewhat comfortable with domestic players, such an influx of foreigners will surely be of concern.
At this point in time a scaled down 2021 series, restricted to North American's only, looks the most probable outcome. In addition to that there could be some hybrid tournaments, open to players from around the globe, which are played down to a final table online before being staged at a land-based casino possibly later in the year – the preference obviously being Las Vegas.