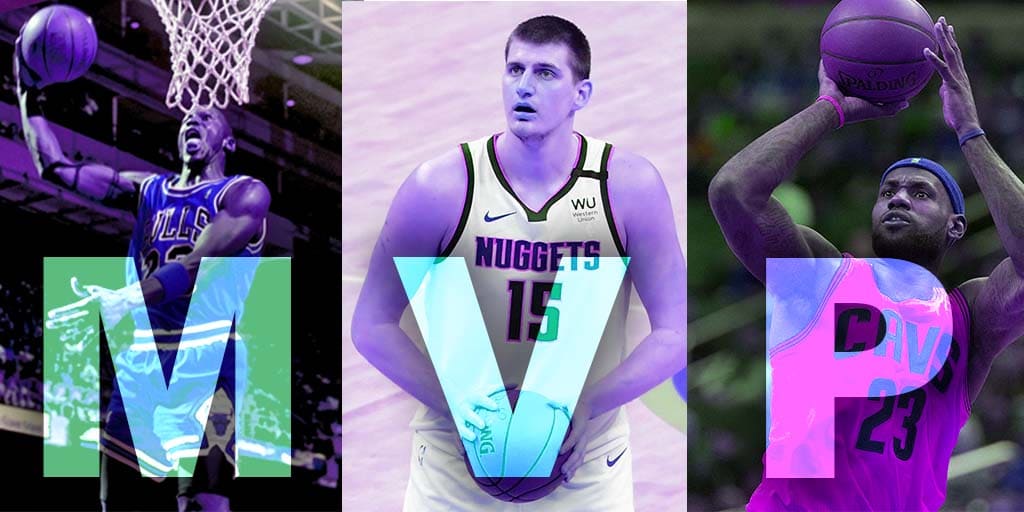 The regular season NBA Most Valuable Player Award (MVP) is awarded to the best performing player throughout the season before the playoffs.
Players from outside of the United States have bagged the honors in the last four seasons. Greek Giannis Antetokounmpo won it back-to-back in 2019 and 2020, and Serbian Center Nikola Jokić has been NBA ROY for the past two seasons.
Will Jokić drag the Nuggets into the playoffs once again to win the honors for the third year in a row, or is it time for a new contender to land the prestigious individual-player award?
View the latest betting odds for the regular season NBA MVP.
2023 Regular Season MVP Award Winner Odds
Last Ten MVP Winners
Recent MVP NBA award winners
Year
Player
Team
2022
Nikola Jokić
Denver Nuggets
2021
Nikola Jokić
Denver Nuggets
2020
Giannis Antetokounmpo
Milwaukee Bucks
2019
Giannis Antetokounmpo
Milwaukee Bucks
2018
James Harden
Houston Rockets
2017
Russell Westbrook
Oklahoma City Thunder
2016
Stephen Curry
Golden State Warriors
2015
Stephen Curry
Golden State Warriors
2014
Kevin Durant
Oklahoma City Thunder
2013
LeBron James
Miami Heat
2012
LeBron James
Miami Heat
NBA MVP – The Best of All Time
Many will remember Michael Jordan winning the MVP award multiple times during his reign with the Bulls. Yet it might surprise you to know that he is tied for second place for the most MVP awards ever alongside Bill Russell. The record holder for the most MVP awards is the great Kareem Abdul-Jabbar, who even Jordan himself considers to be one of the best players ever.
Kareem Abdul-Jabbar – 6 (1971, 1972, 1974, 1976, 1977, 1980)
Bill Russell – 5 (1958, 1961, 1962, 1963, 1965) …
Michael Jordan – 5 (1988, 1991, 1992, 1996, 1998) …
Wilt Chamberlain – 4 (1960, 1966, 1967, 1968) …
Lebron James – 4 (2009, 2010, 2012, 2013)
Frequently Asked Questions
What is the NBA MVP?

The National Basketball Association (NBA) hands out an award at the end season of play for who was the best single player of the regular season.

This prestigious award has been won multiple times by the greats like Kareem, Bill Russell, Jordan, Larry Bird, and LeBron.

When did the NBA MVP start?

The NBA introduced this award in the 1955-1956 season and the first winner was Bob Pettit a power forward for the St. Louis Hawks.

Who won the NBA MVP in 2022?

Denver Nuggets center Nikola Jokić won the MVP award for the second time in a row in 2022.

Where can I bet on the winner of the NBA MVP?

You can place a bet on the MVP using NBA betting sites that we have reviewed. Sign up with our exclusive links to claim your welcome bonus.