NBA Champions Los Angeles Lakers Crash Out to Phoenix Suns as LeBron James Suffers FIRST Opening Round Playoff Defeat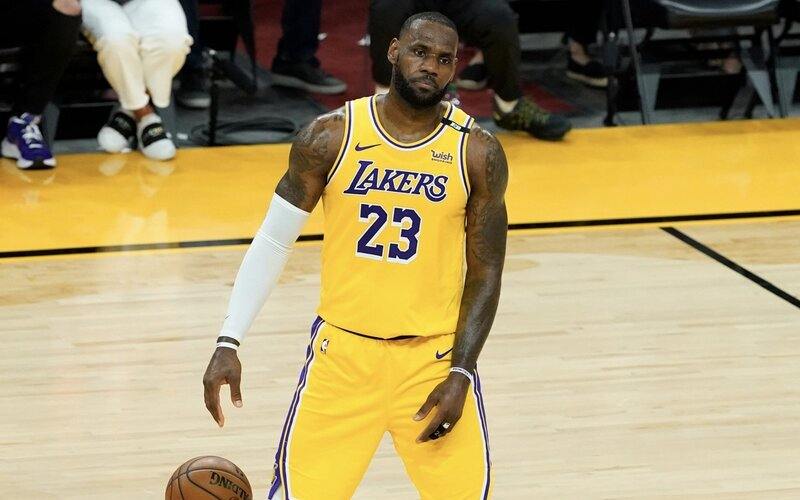 LeBron James
Defending NBA champions Los Angeles Lakers saw their reign brought to an abrupt end as they suffered a shock 4-2 series loss to the Phoenix Suns in the their Western Conference first-round playoff.
Devin Booker scored 47 points for the Suns as they comfortably beat the Lakers 113-100 in Game 6 to book a Western Conference semifinal with the Denver Nuggets, who themselves clinched a 4-2 series win over the Portland Trail Blazers.
---
Lakers Injury Woes
LeBron James scored 29 points for the Lakers at Staples Center on Thursday night, but their chances to stay in the series diminished the second that Anthony Davis hobbled off the court with a reoccurrence of a groin injury little more than five minutes into the game.
Injuries were a key factor for the Lakers, with Davis missing 36 games this season as a result of heel injuries and calf soreness. James also went down with a high ankle sprain in late March, resulting in 26 missed games.
Those injuries clearly took their toll, with neither player being able to perform to their best, even when they did return to the court.
In his post-game press conference LeBron James said "The season started so fast after leaving the bubble obviously. I think I was talking to Wes(ley Matthews) in the locker room. The one thing that bothers me more than anything is we never got an opportunity to see our team at full strength because of injury, because of COVID, or because of something going on with our ball club this year."
---
The other big factor was the exertions in winning the NBA Championship last year during the peak of the COVID-19 pandemic. With a four-month break during the season and the restart amidst huge uncertainty, it was a totally unique set of circumstances.
For the Lakers and last season's beaten finalists, Miami Heat, the current season was scheduled to start just 72 days after the previous one ended. It's probably no coincidence that both the Lakers and the Heat were eliminated at the first-round playoff stage this season.
---
What next for LeBron?
There are now question marks over the future of the 36-year-old James after what was not only his first career first-round exit, but also a season that saw him record a career low points-per-game average of 22.3.
It was noticeable that James had to resort to long-range shooting at times this season, with the energy to make regular bursts to the basket no longer being quite so easy to find. He's still clearly an elite player, but he now needs more support than was the case previously.
---
NBA Championship Odds
The favorites to win this season's NBA Championship with Bovada are now the Brooklyn Nets at +160, with Utah Jazz at +350, Milwaukee Bucks +550 and the Suns at +850.