Gaming Sector Altcoins Tracker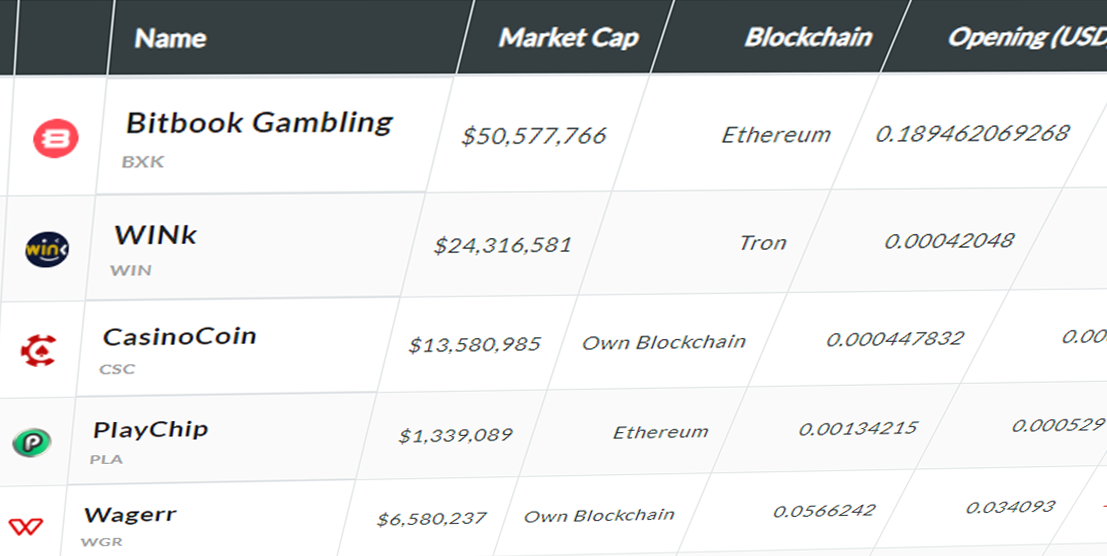 Last Updated: May 12, 2021
The iGaming industry (sports-betting, casinos, poker & more) has wholeheartedly embraced popular cryptocurrencies like Bitcoin (BTC), Litecoin, and others in efforts to reduce transaction and supplier costs, and also to provide a secure and anonymous payments mechanism for customers worldwide.
The "Blockchain revolution" has also given rise to a plethora of gaming related altcoins, on various different blockchains, with an array of different purposes.
Our Gaming Sector Altcoins Tracker is updated daily - providing a snapshot gaming altcoins performance
Which kinds of coins/tokens are available in the iGaming category?
Tokens for decentralized Apps (DApps) such as decentralized sportsbooks and online poker sites.
Ethereum Utility Tokens
Peer-to-Peer cryptocurrencies which allow buyers and sellers to execute trades without the need for intermediaries
Smart contracts to place wagers
Regulated iGaming industry p2p currency
Blockchain data storage
& more
Gaming Altcoins - Segment Snapshot
Total altcoins in category: 44
Blockchains Used:

Ethereum (23)
Tron (3)
Own Blockchain (12)
Neo (1)
EOS (3)
Binance Chain (1)
ICON (1)

The market capitalization of the gambling altcoins sector is $155,271,194
Gambling altcoins represent 0.016% of the total market cap of all cryptocurrencies ($946,210,133,386) listed on the cryptocurrency tracker site CoinMarketCap.com
The Altcoin in the gaming category with the largest Market Cap is Bitbook Gambling (BXK) with $81,389,364
Ethereum is the most popular blockchain ecosystem in the gambling sector. In fact, 18% of all open-source crypto developers work in the Ethereum ecosystem. Even more, Ethereum has 4x more developers than the next ecosystem, which is Bitcoin.
How Have Gaming Altcoins Performed Since They Went On Sale?
Total Altcoins In Sector: 44
Total Altcoins Where Today's Price is

GREATER

than the opening day price:

8 / 44

Total Altcoins Where Today's price is

SMALLER

than the opening day price:

36 / 44

Best Performer / ROI:

NativeCoin(N8V) - ROI: 11,106.56%

Worst Performer / ROI:

Gold Poker(GPKR) - ROI: -99.95%
The following table displays how much profit each altcoin would have returned a buyer at today's market prices if held since day 1:
Performance of gaming industry altcoins (updated daily)
Rank
Name
Market Cap
Blockchain
Opening (USD)
Price Yesterday
Difference
% Change

1

Bitbook Gambling

BXK

$81,389,364
Ethereum
0.18946
0.191808

0.002346

1.24%

2

WINk

WIN

$20,909,239
Tron
0.00042
0.000071

-0.000349

-83.00%

3

CasinoCoin

CSC

$7,488,162
Own Blockchain
0.00045
0.000225

-0.000223

-49.80%

4

PlayChip

PLA

?
Ethereum
0.00134
0.000665

-0.000677

-50.44%

5

Wagerr

WGR

$7,966,158
Own Blockchain
0.05662
0.039275

-0.017349

-30.64%

6

Dragon Coins

DRG

$17,418,908
Ethereum
2.22299
0.018539

-2.204451

-99.17%

7

Aryacoin

AYA

$9,988,984
Own Blockchain
0.01194
0.049224

0.037287

312.36%

8

Etheroll

DICE

?
Ethereum
0.00000
0.000000

0.000000

0%

9

BlockStamp

BST

?
Own Blockchain
0.93443
0.105478

-0.828949

-88.71%

10

Casino Betting Coin

CBC

?
Ethereum
0.50000
0.026258

-0.473742

-94.75%

11

Unikoin Gold

UKG

?
Ethereum
0.00000
0.000000

0.000000

0%

12

TrueFlip

TFL

$1,435,223
Ethereum
1.31412
0.173679

-1.140441

-86.78%

13

Peerplays

PPY

$497,117
Own Blockchain
11.22520
0.106781

-11.118419

-99.05%

14

CoinPoker

CHP

$2,255,756
Ethereum
0.10218
0.008852

-0.093323

-91.34%

15

Edgeless

EDG

?
Ethereum
0.04252
0.003668

-0.038853

-91.37%

16

NativeCoin

N8V

$1,777,612
Own Blockchain
0.00076
0.085355

0.084593

11,106.55%

17

WinStars.live

WNL

$1,537,352
Ethereum
0.05967
0.076723

0.017053

28.58%

18

HEROcoin

PLAY

?
Ethereum
0.09275
0.003417

-0.089336

-96.32%

19

GoldenPyrex

GPYX

$696,821
Ethereum
0.05733
0.064268

0.006938

12.10%

20

ESBC

ESBC

$409,479
Own Blockchain
0.05043
0.015755

-0.034676

-68.76%

21

DecentBet

DBET

$448,031
Ethereum
0.17454
0.001268

-0.173270

-99.27%

22

TrueDeck

TDP

$138,410
Ethereum
1.92352
0.006195

-1.917325

-99.68%

23

BetterBetting

BETR

$165,531
Ethereum
0.07139
0.000548

-0.070844

-99.23%

24

Truegame

TGAME

$59,743
Ethereum
0.02310
0.000686

-0.022416

-97.03%

25

Billionaire Token

XBL

$40,842
Ethereum
0.18815
0.013176

-0.174978

-93.00%

26

Fire Lotto

FLOT

$268,421
Ethereum
0.07422
0.011028

-0.063188

-85.14%

27

Bethereum

BETHER

$92,641
Ethereum
0.00575
0.000156

-0.005590

-97.29%

28

1X2 COIN

1X2

$10,362
Own Blockchain
0.60856
0.001918

-0.606642

-99.68%

29

MultiCoinCasino

MCC

?
Own Blockchain
0.01000
0.009866

-0.000138

-1.38%

30

DraftCoin

DFT

?
Own Blockchain
0.08775
0.003196

-0.084549

-96.36%

31

Asura Coin

ASA

$46,016
Neo
0.00110
0.000198

-0.000905

-82.02%

32

Ethouse

HORSE

?
Ethereum
0.00000
0.000000

0.000000

0%

33

Gold Poker

GPKR

$7,118
Own Blockchain
2.82604
0.001282

-2.824758

-99.95%

34

Gexan

GEX

?
Own Blockchain
0.07752
0.000320

-0.077201

-99.59%

35

Dragon Option

DRAGON

?
EOS
0.00024
0.000022

-0.000220

-90.87%

36

FairGame

FAIR

?
Ethereum
0.15548
0.004055

-0.151428

-97.39%

37

Dice

DICE

?
EOS
0.00000
0.000000

0.000000

0%

38

BigGame

BG

?
EOS
0.01566
0.000702

-0.014962

-95.52%

39

EarnBet

BET

?
Binance Chain
0.03035
0.030321

-0.000032

-0.11%

40

Global Game Coin

GGC

?
Ethereum
1.00000
1.644758

0.644758

64.48%

41

1Million Token

1MT

$223,903
Ethereum
0.12514
0.349877

0.224738

179.59%

42

TRONbetDice

DICE

?
Tron
0.03926
0.022709

-0.016547

-42.15%

43

888tron

888

?
Tron
0.24273
0.271801

0.029073

11.98%

44

ZenSports

SPORTS

?
ICON
0.00069
0.000103

-0.000586

-85.09%