Tremendous team spirit by Kelly Cooke and Hayley Moore
Representing the ultimate in endurance and perseverance, the Boston Marathon also holds dual purpose, as a strong sense of civic pride and fundraising initiatives bring awareness to important causes. For participants, and hockey luminaries, Kelly Cooke and Hayley Moore, their collective efforts are an empowering display of team spirit.
Running for Denna Laing, whose indomitable spirit and dignified bravery in dealing with a career-ending spinal cord injury exemplify those same values of endurance and perseverance, Cooke and Moore are raising funds for Journey Forward, an admirable non-profit organization that aims to make their rehabilitation available to those who need it, incorporating the use of their exercise program. Their raison d'etre involves dedication towards supplying the most advanced care possible, focused on improving the lives of individuals afflicted by a spinal cord injury or disability.
With a formidable athletic background that includes more than just ice hockey, Cooke was also a highly talented competitor in field hockey, lacrosse and soccer at Noble and Greenough School. Such an athletic repertoire resulted in Cooke bringing a tremendous tenacity in her approach towards preparing for the Marathon. Certainly, the demands of training for a marathon resulted in a seamless transition for Cooke, especially with the strong focus on self-discipline,
"I think the biggest way that my athletic background has contributed to training for the Boston Marathon is the mindset. The discipline that it takes to compete at a high level as well as the passion that makes the hard workouts worth it has translated to the long training runs and grueling preparation of the marathon. Running is a completely different beast than hockey, but the level of commitment and community around you is certainly similar."
During the NWHL's inaugural season (2015-16), Cooke, Laing and Moore were a tremendous trio of remarkable women that all donned the Boston Prides jersey, gracing the ice for an exciting new chapter in American womens ice hockey. Primarily serving as the first General Manager in franchise history, Moore suited up as an emergency player for a pair of game, rekindling the competitive drive that made her a distinguished competitor when she played collegiately for Digit Murphy as a member of the prestigious Brown Bears varsity program of the Ivy League.
Assembling a roster that would capture the inaugural Isobel Cup, Moores Ivy League experiences resulted in some unique hockey linkages. Having also served as a member of the Harvard Crimson coaching staff earlier in the decade, Moore had been familiar with a pair of young skaters for the rival Princeton Tigers; Kelly Cooke and Denna Laing. Also teammates prior to Princeton, skating for Noble and Greenough, they would gain the opportunity to become teammates for a third teammate, as Moore signed them to contracts with the Pride.
Brittany Ott (left) and Kelly Cooke hold a Denna Laing T-Shirt in the postgame Isobel Cup celebration (Photo from the Casey Pickett collection)
Undoubtedly, both Cooke and Laing brought strong credentials to Moores first season at the helm of the Pride. Exemplifying strong leadership during their tenure at Princeton, Cooke was honored as an assistant captain in her senior season. A four-time ECAC All-Academic, earning the Tigers Most Improved Player Award in the aftermath of the 2011-12 campaign, she never missed one game with the program, skating in 122 consecutive games, respectively.
Amassing awards in each one of her four seasons at Princeton, including the team's Patty Kazmaier Award, Laing's haul of hockey hardware also included the 2015 Clarkson Cup as a member of the Boston Blades. Coincidentally, Murphy was Laing's head coach with the Blades, a team that Moore played with during their inaugural season.
Such a fascinating hockey tapestry continued to be woven in the NWHL, as one of the biggest milestones in the game's modern history took place. As the Boston Pride competed against the CWHL's Canadiennes de Montreal in the Womens Winter Classic, history was being made twice. Not only the first inter-league game, it would be the first professional womens ice hockey game contested outdoors.
With the December 31, 2015 match hosted at Gillette Stadium, home of the NFL's New England Patriots, part of an exciting series of events which culminated with the NHL Winter Classic, it was also an opportunity for Moore, Cooke, Laing and the rest of the Pride to ascend into hockey immortality.
Laing (right) and Cooke prior to the opening faceoff of the Women's Winter Classic (Image obtained from: https://www.crowdrise.com/o/en/campaign/journeyforwardboston2018/kellycooke4)
Elements of pathos and paradox would define this day, as Laing unfortunately crashed into the boards and suffered a spinal injury, a promising professional career coming to an abrupt, and certainly, unfair ending. For Cooke, it was understandably a devastating moment. Having grown up on the ice with Laing, playing together in numerous capacities for 14 years, the two would never skate again as Pride teammates.
As the friendship between Cooke and Laing remains a pillar of strength, the chance to participate in the Marathon has certainly revitalized the feeling of collaboration and solidarity, one which defined their time throughout many seasons battling on the frozen perimeter, eager to give their respective teams a chance to succeed. Reflecting on the qualities that Cooke enjoyed about having Laing on the same team as her, there is definitely a multitude of aspects that rise to the surface,
"It is hard to pinpoint any one reason why I love calling Denna a teammate–there are so many. I think her contagious and positive attitude, her selflessness, and her ability to see the good in everyone and every situation are some of my favorite things about Denna.
She is an extremely dependable and genuine person and somehow manages to put others before her at all times– attributes which make her a great leader. And I cant forget her signature smile. Every time Denna stepped on the ice, she smiled from ear to ear and it was easy to see that at that moment, nothing else mattered to her but her love for the sport."
In spite of the horrible strain and suffering, Laings positive attitude and refusal to quit was the catalyst that stimulated her teammates, simultaneously capturing the imagination of a hockey community, stirring a strong sense of unity. In addition to a tribute video at the NHL All-Star Game, the NWHL displayed tremendous compassion, paying tribute by naming an award recognizing sportsmanship in her honor.
With the Pride orchestrating a fundraising game for Denna near the end of the regular season, there was still one more monumental occasion to come. Defeating the Buffalo Beauts in the inaugural Isobel Cup, the Pride displayed true class, bringing the coveted prize to the hospital where Laing was recuperating.
While that season definitely brought with it plenty of emotions for the Pride, it was also a crossroads for Cooke. Having reached a visceral decision to hang up her competitive skates, Cooke began pursuing a career in law. In addition to being a candidate for a J.D. (Juris Doctor) while interning at a law firm, the love of the game was far from extinguished. Balancing obligations as a referee, Cooke has also remained part of the NWHL, becoming part of the Player Safety Committee.
Currently serving as the Committees Director, she was recruited by the leagues leadership to consider joining the group for the second season. Proud to remain in the NWHL in this capacity, it was also a role that Cooke believed was a complement to her current endeavors officiating.
Undoubtedly, another key complement for Cooke is the strong leadership role that Moore holds in the NWHL. Serving in a role as Deputy Commissioner, their collaborative efforts in the run for Denna reflects an amazing leadership off the ice that represents the strong sense of family that exists within the Pride and the league itself. Discussing the motivation to engage in this effort, Moore beams with a sense of fulfillment attained, having reached an admirably ambitious goal defined by a genuine sincerity,
"Kelly and I had the idea to run the Boston Marathon for Denna very soon after her injury. At that time, we were all in a place of the unknown – trying to understand what was happening – What the extent of Denna's injury was, what that meant for her life moving forward, and along with all of those questions came a mixture of emotions.
One of the most overwhelming feelings in those few months after Denna's injury was a feeling of helplessness. Kelly and I leaned on each other a lot during that time. We wanted to do SOMETHING.
Through all of that, we had established that we wanted to run (the) Boston (Marathon) for Denna. We looked into what possibilities there may be, and after a lot of research and many discussions with Denna, she really wanted us to run for Journey Forward on her behalf.
Journey Forward is a remarkable place, and they have done, and continue to do so much to improve Denna's life and independence, in addition to many others. Denna is the epitome of perseverance and positivity. She is our everyday inspiration, and certainly the primary motivation behind the run."
(L-R): Cooke, Laing and Moore all smiles in the aftermath of a successful run at the 2018 Boston Marathon (Image obtained from Facebook)
Laing has peerlessly proven that a disability cannot contain her indomitable spirit. Employing perseverance, charm and charisma quickly captured the imagination of the hockey community. Since then, the admiration for Laing has never wavered.
In addition to the Pride recognizing her as an honorary member of the 2016-17 roster, Cherie Hendrickson, whose career has also consisted of both the Clarkson and Isobel Cups ran in the Boston Marathon, raising funds for her fallen teammate. Taking into account that Hendrickson also ran in the 2018 edition of the Chicago Marathon, proudly wearing a Boston Pride T-Shirt that featured Laing's name and number adorning the back, it was testament to the bond that exists between the two. As a side note, Laing was also in the 2017 Boston Marathon, as American hockey icon Bobby Carpenter pushed her across the finish line.
For Moore, the experiences of Hendrickson were an invaluable source of stimulus, spurring the drive to emulate her heroics. Having known each other since childhood, their shared love of hockey is only outmatched by their appreciation of Laing.
Considering that Hendrickson was also running in the 2018 edition of the Marathon, it only strengthened the feeling of teamwork between Moore and Cooke, stupendously serving as motivation. Benefitting from Hendrickson's wealth of knowledge in endurance sports, which has also included participation in triathlons, it served as an invaluable boon for Moore,
"Absolutely! Cherie is an incredible friend and teammate I have had the pleasure of having by my side since youth hockey. Its been fun to have both Cherie and Kelly as training buddies in Boston through this experience. The three of us are headed to the marathon expo together on Friday to collect our bibs and enjoy the day. I look forward to continuing to share this journey with them."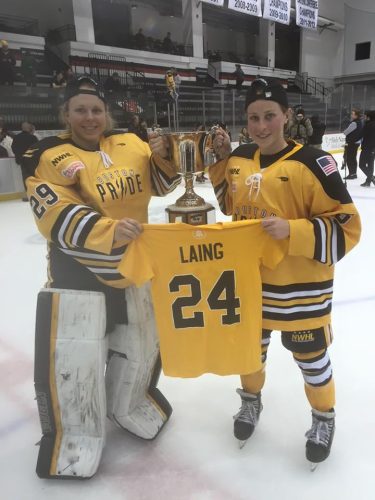 (L-R) Pride alums Hendrickson, Cooke and Moore holding their entrant's numbers for the 2018 Boston Marathon (Image obtained from Facebook)
During the first 12 months following the calamity that altered the complexion of a player, team and league, Laing displayed an amazing amount of courage, handling the hand which fate dealt her with dignity. Simultaneously setting a positive example while taking on a symbolic role which embodied the strong spirit of women in hockey, one example may have stood out above all others.
Worth noting, Laing would actually return to Gillette Stadium, the site where the final chapter of her hockey career took place. In attendance for a concert, it was an example of how Laings life would not be defined by self-pity. While said concert represented an element of recreation for Laing, a deeper look would display an element of courageous closure.
For Cooke, such closure would involve an even more profound characteristic. With Gillette Stadium serving as the backdrop, Cookes dream is that one day the two will be able to skate at Gillette Stadium together again, bringing a glorious finish to what was started on a significant day for the game.
"The biggest goal that I hope to achieve by running the Boston Marathon is to raise awareness for spinal cord injuries. The research into spinal cord injuries has come so far in the past few decades, but there is still a long way to go.
Aside from raising awareness, I want to reiterate to Denna just how important she is, not only to me, but to all those who have supported Hayley and me leading up to the marathon.
The outpouring of support that Hayley and I have felt from the hockey community is because of Denna and the impact she has had on young kids and families all over the country. She will never let her injury define who she is, and she has inspired me to challenge myself in a way that I never would have otherwise."
Recognized with the prestige of the Dana Reeve Hope Award, which was presented to her by Will Reeve, along with Boston Bruins legend Cam Neely and NHL commissioner Gary Bettman, it was a commendable tribute. As a side note, Reeves husband, the late actor Christopher Reeve, suffered a spinal cord injury after falling off a horse in 1995. While Reeve was best known for his revered role on the big screen as Superman, Laing has certainly established herself as a real-life Supergirl. She can certainly count Moore as one of her biggest enthusiasts,
"There is no one in the world like Denna. I cannot even comment on this without tearing up. Her resilience and work ethic are unmatched, and the pure brightness that she brings into this world is so infectious. Her smile will light up a room and your heart. Denna is truly remarkable and has impacted and changed my life forever.
This run means more to me than words could ever express. I am beyond grateful to be able to run on Monday on her behalf. She is my strength. Every step will be with the end goal of reaching her smile at the finish line, and knowing that this is something we have accomplished together."
All quotes obtained first hand unless otherwise indicated