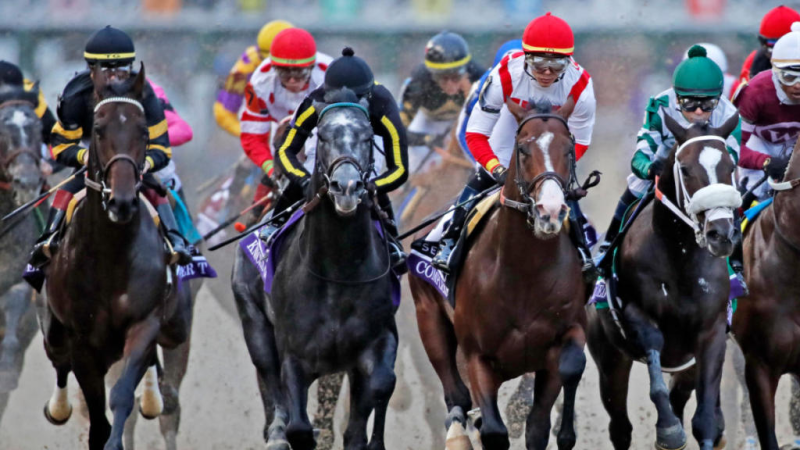 The 2021 Kentucky Derby will take place on May 1
When is the Kentucky Derby?
The 2021 Kentucky Derby meeting will begin on Friday, 30 April and ends with the big race on Saturday, 1 May.
2020 was a rare exception when the Covid-19 epidemic saw the race put back three months but the Kentucky Derby is always staged on the first Saturday in May. The last time the race's date was changed was way back in 1945 due to World War II.
The Kentucky Derby was first raced in 1875. Since then there has never been a European trained winner. Europe's best performance came in 1986 when Bold Arrangement finished second for Newmarket trainer Clive Brittain.
Below are all the latest 2021 Kentucky Derby betting odds from Bovada…
---
Kentucky Derby Betting – All You Need to Know
---
Does the Kentucky Derby have a nickname?
It most certainly does, the Derby is dubbed 'The Run for the Roses', denoting the blanket of roses draped over the winner. By tradition there are 554 red roses in this wreath. The Kentucky Derby is also often referred to as 'The most exciting two minutes in sports.'
---
Are there any other Kentucky Derby traditions?
There is a traditional and historic beverage, which comes in an ice-frosted silver cup, called the 'Mint Julep'. It is an iced drink consisting of bourbon, mint and sugar syrup.
And once the race draws near a bugler plays a 'call to the post' tune which is followed by, as the horses parade before the grandstand, a rendition of the 'My Old Kentucky Home' performed by a marching band.
---
How do horses get into the Kentucky Derby?
The Kentucky Derby is limited to twenty horses who qualify for the race on points earned in the 'Road to the Kentucky Derby' which is a series of races that was first introduced in 2013.
Points are earned for horses finishing between first and fourth in these qualifying contests. This points system replaced the previous graded stakes earning system – which probably explains the lack of previous Derby winners that were un-raced at two.
---
Best Kentucky Derby prep races
Providing seven of the last 19 Kentucky Derby winners, the Florida Derby is the best prep race for the 'Run for the Roses' by some way. The Arkansas Derby is second best. The Blue Grass Stakes has served as the final prep race for 23 Derby winners but just only one since 1995.
---
Kentucky Derby winners and the key trial race they won or performed best in…
2020 Authentic – 2nd Santa Anita Derby
2019 Country House – 3rd Arkansas Derby
2018 Justify – Santa Anita Derby
2017 Always Dreaming – Florida Derby
2016 Nyquist – Breeders Cup Juvenile & Florida Derby
2015 American Pharoah – Arkansas Derby
2014 California Chrome – Santa Anita Derby
2013 Orb – Florida Derby
2012 I'll Have Another – Florida Derby
2011 Animal Kingdom – Spiral Stakes (at Turfway)
2010 Super Saver – 2nd Arkansas Derby
2009 Mine That Bird – 4th Sunland Derby
2008 Big Brown – Florida Derby
2007 Street Sense – Breeders Cup Juvenile & Tampa Derby
2006 Barbaro – Florida Derby
2005 Giacomo – 4th Santa Anita Derby
2004 Smarty Jones – Arkansas Derby
2003 Funny Cide – 2nd Wood Memorial
2002 War Emblem – Illinois Derby (Hawthorne)
2001 Monarchos – Florida Derby
2000 Fusaichi Pegasus – Wood Memorial
---
What starting gate has supplied the most Kentucky Derby winners?
The Kentucky Derby is open to 20 runners and starting gates have been used in the race since 1930. That time period gives us some meaningful draw stats and they overwhelmingly show a low draw is a huge advantage.
Whereas gates 19 and 20 have supplied just one winner in the past 90 years and there has been no winner from gate 17, horses drawn 1, 2, 5, 7, 8 and 10 have housed at least seven previous Derby winners.
Since 1986 only one horse has won from post 1, 2 or 3. Overall gate 5 and gate 10 are the two most successful starting posts.
Almost 25% of the time the horses starting in gate 5 finishes in the top-three and, despite providing very few winners in recent times, gate 2 is even more successful with a 27 percent success rate for win-place-show bettors (aka 'in the frame').
The explanation for these exceptional figures: In the Kentucky Derby the turns account for 2,667 feet of the ten furlong race; that's more than 40 percent of the gallop. Consequently few horses can be 'hung wide' throughout and win this contest.
---
Margin of Victory
Four horses have won this race by 8-lengths albeit 1946 was the last occasion.
---
Most Wins by a Jockey
Two riders have won this race five times, Bill Hartack being the last jockey – his last victory came in 1969.
---
Most Wins by a Trainer
The record stands at six with Ben Jones taking the contest six times between 1938 – 1952 and Bob Baffert who first win the race in 1997 and most recently in 2020.
---
Biggest Odds Winner
Donerail was 91/1 in the Kentucky Derby odds when taking the 1913 race which is the overall record. More recently Mine That Bird was a 50/1 winner in 2009 and Country house 65/1 in 2019.
---
Interesting (Recent) Facts
2018 winner Justify was the first unraced two-year-old since 1882 to win the Derby
2019 winner Country House won the race in the Stewards Room following the disqualification of Maximum Security.
2009 winner Mine That Bird was only the second gelding to win the Kentucky Derby since 1929.
At $4 million Fusaichi Pegasus was the most expensive Kentucky Derby runner sold at public auction and he won the race in 2000. 18 other horses sold for $1 million+ have contested the Kentucky Derby – none were victorious.
The last five Kentucky Derby winners which were sold at auction were: Authentic (2020) who fetched $350,000; Justify (2018) $500,000; Always Dreaming (2017) $350,000; Nyquist (2016) $400,000 and American Pharoah (2015) $300,000.
---
* Kentucky Derby betting odds quoted were correct at the time of article update. Vegas odds are subject to fluctuation.