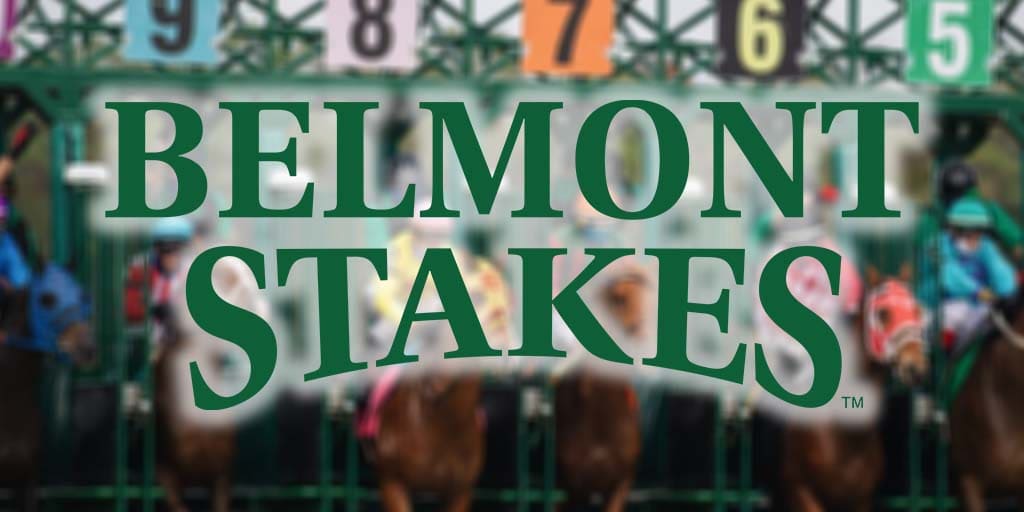 2023 will see the 155th running of the Belmont Stakes. First staged in 1867, the Belmont Stakes was not run in 1911 & 1912 (canceled due to anti-gambling legislation). It is, of course, the third leg of the Triple Crown coming two weeks after the Preakness Stakes which is traditionally staged just two weeks after the Kentucky Derby.
This year's event takes place Sat, Jun 10, 2023.
Belmont Park Facts
1910: Track hosted 150,000 spectators to see an Orville & Wilber Wright air show.
1918: The course doubled as the terminal of first American Air-Mail service (between New York and Washington DC).
1923: 45,000 spectators watched the $110,500 (to-the-winner) match race between Kentucky Derby winner Zev and Epsom Derby winner Papyrus. The US horse won at odds of 4/5 by five lengths.
1963: Track ceased racing (meetings transferred to Aqueduct and Saratoga) as a new grandstand was constructed. It re-opened in 1968 (for the 100th running of the race).
Triple Crown Winners
Only 13 horses have completed the Triple Crown since 1919.
Sir Barton (1919), Gallant Fox (1930), Omaha (1935), War Admiral (1937), Whirlaway (1941), Count Fleet (1943), Assault (1946), Citation (1948), Secretariat (1973), Seattle Slew (1977), Affirmed (1978), American Pharoah (2015), and Justify (2018).
By decade:
1910's – 1
1920's – 0
1930's – 3
1940's – 4
1950's – 0
1960's – 0
1970's – 3
1980's – 0
1990's – 0
2000's – 0
2010's – 2
Belmont Stakes Race Facts
Since 1944 19 horses have won the Kentucky Derby and Preakness but failed in the final leg, the Belmont.
13 of those 19 failed attempts did result in the horse in question still finishing second or third.
In the past 28 years, the Triple Crown has been foiled on the final leg nine times. Those defeated includes War Emblem (2002), Funny Cide (2003), Smarty Jones (2004), Big Brown (2008), California Chrome (2014).
In 2012 I'll Have Another won the Derby and Preakness but did not contest the Belmont.
1973 Triple Crown winner Secretariat won this race by 31-lengths in record time (2min 24sec). 1978 Triple Crown winner Affirmed scored by a head.
Trainer Woodford 'Woody' Stephens trained the winner of five consecutive Belmont Stakes starting with Conquistador Cielo in 1982.
The largest attendance was in 2004 when 120,139 watched Smarty Jones fail in his Triple Crown bid.

Only two of the last 10 favourites have won this race.

Of the last 34 runnings of this race the favourite has prevailed only eight times.

Since 1979 (Spectacular Bird, beaten at 1/5) there have been eight odds-on favourites in this race. Only Justify, in 2018, won.
Belmont Stakes Draw Stats
The draw plays a vital role. Below is a list of the gates the Belmont winners have come from (Gate / No. of wins)
Gate 1- 24
Gate 2- 12
Gate 3- 15
Gate 4- 10
Gate 5- 15
Gate 6- 7
Gate 7- 14
Gate 8- 1
Gate 9- 4
Gate 10- 2
Gate 11- 2
Gate 12- 1
Gate 13- 1
* Belmont Stake odds correct at the time of publication. All betting odds are subject to change.
Frequently Asked Questions
What is the history of the Belmont Stakes?

The race was initially staged at Jerome Park Racetrack in The Bronx (built in 1866); it was financed by August Belmont Snr (and named after him). Between 1890 and 1904 the race was staged at nearby Morris Park racecourse; it was then transferred to Belmont Park, which started life as a right-handed course, in May 1905. It went left-handed in 1921.

The race has been staged over distances ranging from 1m1f to 1m 5f but has been constant at 1m 4f since 1926.
Who are the previous winners of Belmont Stakes?

2020 - Tiz the Law
2019 - Sir Winston
2018 - Justify †
2017 - Tapwrit
2016 - Creator
2015 - American Pharoah †
2014 - Tonalist
2013 - Palace Malice
2012 - Union Rags
2011 - Ruler on Ice
2010 - Drosselmeyer

†  Triple crown winner