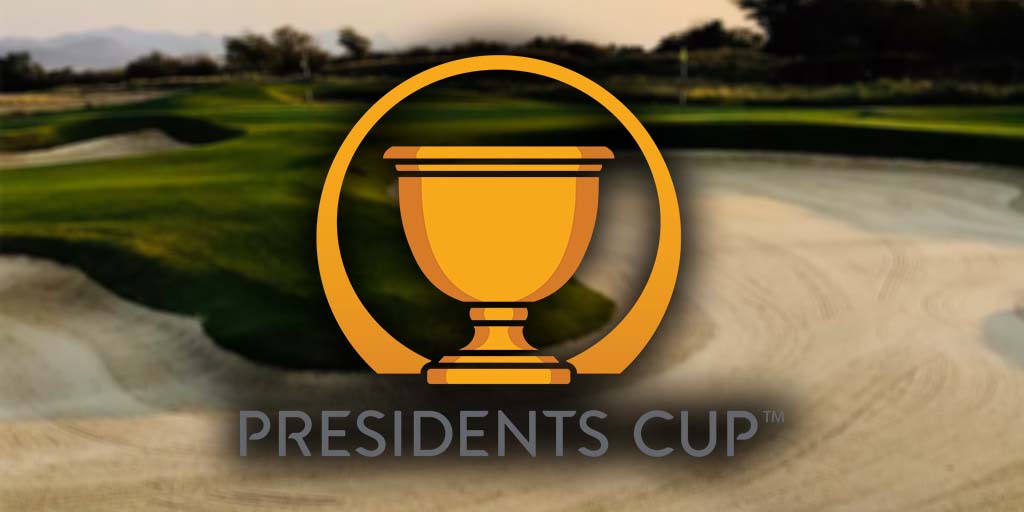 The Presidents Cup will runs in Quail Hollow, N.C from September 22nd – lasting four days, with the championship games taking place on Sunday September 25th. This international tournament excludes European golfers.
The United States's 17-year winning streak in the Presidents Cup is at stake.
Presidents Cup 2022 Info
Course: Quail Hollow Club, Charlotte, North Carolina.
Date: September 19 – 25, 2022
Par: 71 / Yardage 7,600 yards (6,950 m)
Greens: Champion G-12 Bermuda
Fairways/Rough: 328 / 419 Bermuda grass
Broadcast: NBC
Prize purse: N/A
Defending champions: United States
Twitter: @PresidentsCup
Designers: PGA Tour
Established: 1994
USA
Davis Love III (captain)
Fred Couples (assistant captain)
Zach Johnson (assistant captain)
Webb Simpson (assistant captain)
Steve Stricker (assistant captain)
Sam Burns
Patrick Cantlay
Tony Finau
Max Homa
Billy Horschel
Kevin Kisner
Collin Morikawa
Xander Schauffele
Scottie Scheffler
Jordan Spieth
Justin Thomas
Cameron Young
International
Trevor Immelman (captain)
K.J. Choi (assistant captain)
Geoff Ogilvy (assistant captain)
Camilo Villegas (assistant captain)
Mike Weir (assistant captain)
Christiaan Bezuidenhout
Corey Conners
Cam Davis
Sungjae Im
Si Woo Kim
Tom Kim
K.H. Lee
Hideki Matsuyama
Sebastian Munoz
Taylor Pendrith
Mito Pereira
Adam Scott
Tee Times – day 1
| Time (ET) | Pairing |
| --- | --- |
| 1:05 p.m. | Patrick Cantlay & Xander Schaufele (USA) vs. Adam Scott & Hideki Matsuyama (Int.) |
| 1:17 p.m. | Jordan Spieth & Justin Thomas (USA) vs. Corey Conners & Sungjae Im (Int.) |
| 1:29 p.m. | Cameron Young & Collin Morikawa (USA) vs. K.H. Lee & Tom Kim (Int.) |
| 1:41 p.m. | Sam Burns & Scottie Scheffler (USA) vs. Cameron Davis & Si Woo Kim (Int.) |
| 1:53 p.m. | Tony Finau & Max Homa (USA) vs. Mito Pereira & Taylor Pendrith (Int.) |
The United States is the most successful team in this unique golf event's history (established in 1927), having won 26 of the 42 Ryder Cups played, 18 of which took place before 1979, when the championship was split between Great Britain & Ireland and the USA.
The event returns to the US following the U.S's 16-14 victory in Melbourne in 2019.
The last Presidents Cup, held in 2018 in Melbourne, Australia, saw one of the closest contests in the entire events' history. The US team would trail for the first four sessions of play, but a fantastic comeback in Sunday's Singles matches would see them clutch out the win.
This match will go down in history for the iconic showdown in the final games between player captain Tiger Woods and Ernie Els' International squad.
Normally this prestigious tournament is held every two years, but it has been pushed back a couple of times due to the recent pandemic.
---
Presidents Cup 2022: Facts and Stats
Most victories: 11 – United States
2003 saw a Presidents Cup tie with 17-17 with Jack Nicklaus (US) and Gary Player (Int) as captains.
The International team has only won once – In 1998 with Australian captain Peter Thomson, in Melbourne, Australia.
Most appearances on a team – 12, Phil Mickelson (1994 – 2017)
Most points scored – 32.5 Phil Mickelson
Most singles points scored – 7 points, Tiger Woods (US)
Oldest player to compete – Jay Haas (US) 2003, 49 years, 353 days.
Youngest player to compete – Ryo Ishikawa (Int)
Betting on The Presidents Cup 2022
Futures betting is open for the outright winner of the Presidents Cup 2022. USA's team are clear favorites with odds set at around -125. Alternatively, you can bet on the International team with odds of +450, or if you think the matchup is that close both teams will draw, you can bet on that being the outcome at +1500.
As the tournament draws closer, you will be able to place more wager types with many different online sportsbooks offering extra bets like prop bets, matchup bets, each-way wagers, parlays, and more.
Presidents Cup Winners
While the Ryder Cup has been a pretty even matchup since the tournament was restructured. With the USA playing against Europe rather than just players from the United Kingdom. The Presidents Cup has seen the USA team completely dominate the tournament since its outset in 1994. Here are the stats:
Previous Presidents Cup Winners

| Year | Winning Team | Score | Winning Captain |
| --- | --- | --- | --- |
| 2019 | United States | 16 – 14 | Tiger Woods |
| 2017 | United States | 19 – 11 | Steve Stricker |
| 2015 | United States | 15.5 – 14.5 | Jay Haas |
| 2013 | United States | 18.5 – 15.5 | Fred Couples |
| 2011 | United States | 19 – 15 | Fred Couples |
| 2009 | United States | 19.5 – 14.5 | Fred Couples |
| 2007 | United States | 19.5 – 14.5 | Jack Nicklaus |
| 2005 | United States | 18.5 – 15.5 | Jack Nicklaus |
| 2003 | Tie | 17 – 17 | Jack Nicklaus (US) & Gary Player (Int) |
| 2000 | United States | 21.5 – 10.5 | Ken Venturi |
| 1998 | International Team | 20.5 – 11.5 | Peter Thomson |
| 1996 | United States | 16.5 – 15.5 | Arnold Palmer |
| 1994 | United States | 20 – 12 | Hale Irwin |
How Competitors Qualify for the Presidents Cup
Each team comprises 12 golfers – but how are these selected? The top eight ranking golfers that play out of the United States automatically make the team, and then the team captain fills the roster with their four final picks. The rankings are taken for the USA team from the FedEx Cup points over two years, with the second years' points counting as double.
To form the International team, the top eight ranked golfers outside of the USA and Europe are picked to play. These rankings are taken from the official world golf rankings for one year leading up to the tournament for international players.
2022 Presidents Cup Captains
This year's tournament will see Davis Love III, captain for Team USA, and Trevor Immelman, captain for Team International.
While this is Immelman's first captaincy, Davis Love is no stranger to what this role entails and captained the 2012 and 2016 Ryder Cup teams. On top of this, Love played in the Presidents Cup from 1994 to 2005. In contrast, Immelman only played in 2005 and 2007.
2022 Presidents Cup Format
The 2022 Presidents Cup is a four-day match-play event with 30 matches to be played. The games begin play on Thursday, and the team with the most points after four days of rounds wins the Presidents Cup.
What will be the format of Presidents Cup 2022

| Day | Game Format | Number of games | Total Points Possible (per team) |
| --- | --- | --- | --- |
| Thursday | Four-ball (best ball)/foursomes (alternative shot) | 5 | 5 |
| Friday | Four-ball (best ball)/foursomes (alternative shot) – Opposite of Thursdays game format | 5 | 5 |
| Saturday | Four-ball and foursomes (Split morning/afternoon play) | 8 | 8 |
| Sunday | Singles matches | 12 | 12 |
Frequently Asked Questions
What is the Presidents Cup?

It's a biennial global golf team tournament that takes place every two years. Teams are made up of the highest-ranking players from the USA and world players outside of Europe.

There is no prize purse but each competitor allocates a portion of funds generated to a charity of their choosing.

The play is held over four days, with a mix of four-ball (best ball) foursomes (alternative shot) and finally, a Sunday of 12 singles matches.
Who won the last Presidents Cup?

The 2019 Presidents Cup saw one of the closest rivalries to ever happen in the history of the tournament. Eventually, the USA team would scrape a win after making a comeback in the Sunday singles with 16 - 14 being the final score.
How are players selected for the teams?

Each team consists of 12 golfers. For both teams, there are automatic qualifications for 8 of these players, with the previous year's rankings factoring in heavily. The captain of each team will pick the remaining 4 players of the squad.
Can I bet on the Presidents Cup?

All major online betting sites offer lines on this prestigious golf tournament.

More and more bets will become available as the start date draws closer, but for now, you can place futures bets on which team will win.
What other big golf tournaments can I watch?

We have a list of all future golf events for you to check out here.