Justin Fields Propels Ohio State Buckeyes to National Championship game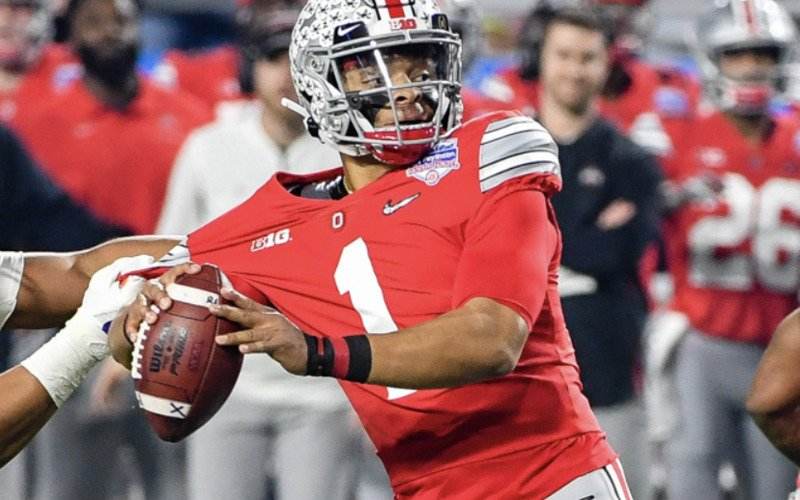 At last year's Fiesta Bowl playoff semifinal, the Clemson Tigers edged out the Ohio State Buckeyes 29-23. The loss for the Buckeyes was confirmed when Justin Fields threw an interception in the end zone on a miscommunication with receiver Chris Olave.
There was added incentive for Ohio after Clemson coach Dabo Swinney had stated that he didn't believe the Buckeyes deserved to be in the Playoff with only six games played this season (the other three playoff teams having all played 11 games).
Revenge is a dish…
That defeat proved to be an inspiration to the Buckeyes and, in particular, to Fields, with Ohio avenging last season's loss in spectacular style with a 49-28 demolition of Clemson in the Mercedes-Benz Superdome in the College Football Playoff semifinal at the Allstate Sugar Bowl on Friday night.
Ohio quarterback Fields was the star of the show as, despite taking a first-half blow as Clemson linebacker James Skalski barreled his helmet into his ribs, he threw for 385 yards and six touchdowns against the Tigers. At one stage Fields had more touchdowns than incompletions!
Fields was clearly in pain as he winced throughout the remainder of the game, but he missed just one play after being hit and marked his return with a touchdown pass to Jeremy Ruckert.
Unleash the beast
The blow clearly unleashed something within Fields, as he played through the pain barrier to complete 11 of his next 14 passes for 222 yards and four touchdowns.
"My body is pretty beat up right now, but I'm happy" Fields said after the game. That was something of an understatement.
Before Friday's game, there was nothing particularly special about the season to date for Fields. He had thrown for 1,521 yards (72.6 completion percentage) with 15 touchdowns and five interceptions to go along with 274 rushing yards (4.1 yards per carry) and five scores.
Alabama up next
Justin Fields will now use the next week to rest and recuperate ahead of Ohio's national championship decider game against the Alabama Crimson Tide on Monday January 11.
Ryan Day's team will be the underdogs against the SEC's powerhouse Alabama, but they will now believe that anything is possible and last Friday they showed that very definitely to be the case.
As Ohio coach Day said, "However many games … so many people doubted us. Now, we have the opportunity to write one of the best stories in college football history."
You can keep up to date with all the latest betting odds for upcoming college football games along with college futures betting here.